Our Championship Basketball Game!
Coach Katie, prepping our rock stars for the game
  This was Joshua's first year to play basketball.  He's played three seasons of t-ball/baseball—no love lost there.  He played one season of soccer, and he liked it better than tee ball, but still no love.  Finally, this year, he and his buddy Xavier INSISTED on playing basketball.  We decided to let him give it a shot, and he LOVED it.  He was actually sad to see the season end.
Our team, the Blue Raptors, started out super shaky.  Our practices kept getting cancelled due to this awful winter weather we've had.  Then our coach had a BABY, so Alan helped a little extra for a couple of weeks.  Ha!  Having a baby really didn't slow Coach Katie down much.  She was back in action only two weeks after having her third baby!  Seriously.
We had a few wins, but it felt like mostly losses, until lo and behold, the tournament began, and we suddenly were on a ROLL.  There were three rounds, with the third round being the championship.  Joshua and his teammates were SO EXCITED to make it to the championship.
You know this is the closest I will ever, ever, ever come to writing a sports post.  I actually used to have to cheer at basketball games in middle school, but all I remember is yelling "Miss it!" a lot, and doing a lot of hand clap/ leg slap moves that were kind of fun.  I know nothing about the actual game.
I missed a bunch of games due to kids' illnesses and the freezing cold.  (I have the right to remain Southern.) When I finally started going to games, I was so lost.
"Yeah!  Get 'em!…….Huh?  Oh, *mumbling* no, don't get 'em, that's not allowed.  Okay….you don't wanna do that…"
"Yeah!!  Oh, no?  He's doing so good.  What's double dribbling?"
Anyway, without further ado…..a billion photos of the championship game.  We actually had friends on both teams, so Alan took a few pics of them as well.   Sadly, I missed this game.  I was in Alabama.  Amy and Sean were our heroes, keeping Dan under control during the game.
Thank you, Amy and Sean!!!  We owe ya'll like a new vehicle or something when we move.  You have helped us so much!
THE BIG GAME!!!!!!
proud dads, and friends of ours, Jim and Jeff
Our boys and girls were ahead most of the game, but right at the end the other team swooped in and beat us by 2 points.  Yep.  Sounds like a great game!  Good job, kids!!!!
They had an award ceremony at the end:
It was so much more exciting for them, getting a trophy they'd earned, rather than just the participation trophy.
Caleb's buddy, collecting his winner's trophy
one of Joshua's best buds, collecting his trophy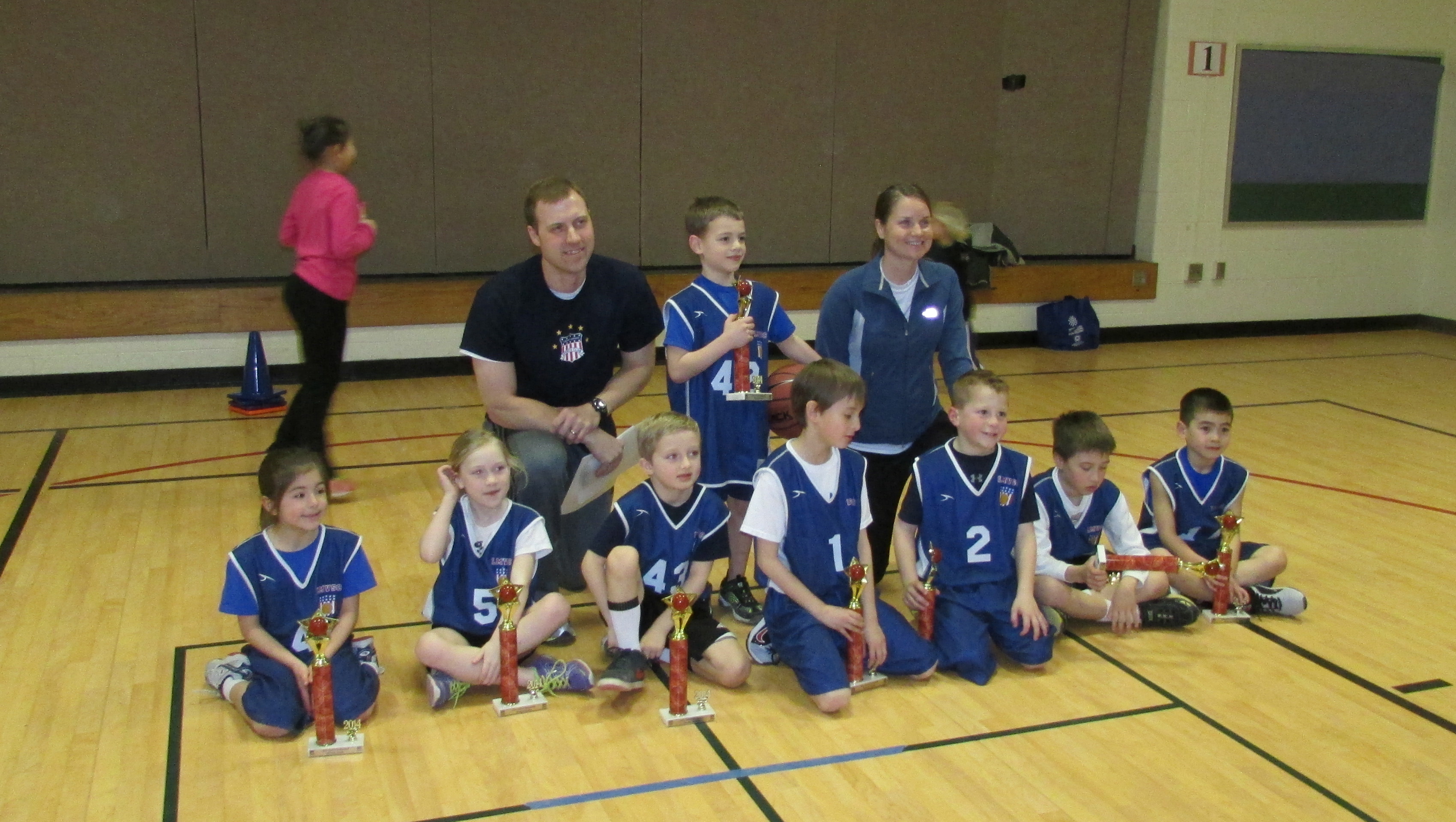 Hurray, Blue Raptors!!!
After the big ceremony, Coach Katie did an award ceremony for our team.  Each player earned a medal and a certificate for something.  Joshua was named, very aptly, "Most Improved."
The team parents also recognized Coach Katie and Assistant Coach Alan's contributions with a gift.  Thanks, team!!!
Apparently, it was an exhausting adventure for Daniel, too.
By Sunday, the boys were very ready for me to come back. They even made me these sweet cards.
Aren't they precious? So proud of all these little ones!