I love Point Lobos State Park!
Carmel by the Sea may be the ritziest area that I have ever visited. I'm used to walking through streets with shops named Gap, Starbucks, and Banana Republic. This beautiful little town was designer all the way. After passing stores such as Chanel and Oscar de la Renta, I wasn't sure I should bother to step inside the souvenir t-shirt shop.
But somehow I managed to score myself a $15 Carmel fleece jacket:
Oh, and interesting Carmel fact:  Clint Eastwood served one term as their mayor!
My favorite thing about Carmel was not the designer shopping. Let's face it. I love pretty clothes, but I buy most of my wardrobe at Target and the NX, BX, or PX….
(NX= Navy Exchange, BX= Base Exchange, PX = Post Exchange.  For you civilian types, those are just department stores on military posts. I find their clothes to be reasonably priced, for the most part.)
The BEST part of Carmel was Point Lobos State Park.
This was one of the best days of my summer. We saw seals galore as well as a large colony of Brandt's cormorants. This particular species of bird is found only on the Pacific coast.
Look on the left of the hills. See those large black squares? Those are the cormorant nests. They are all perfectly spaced.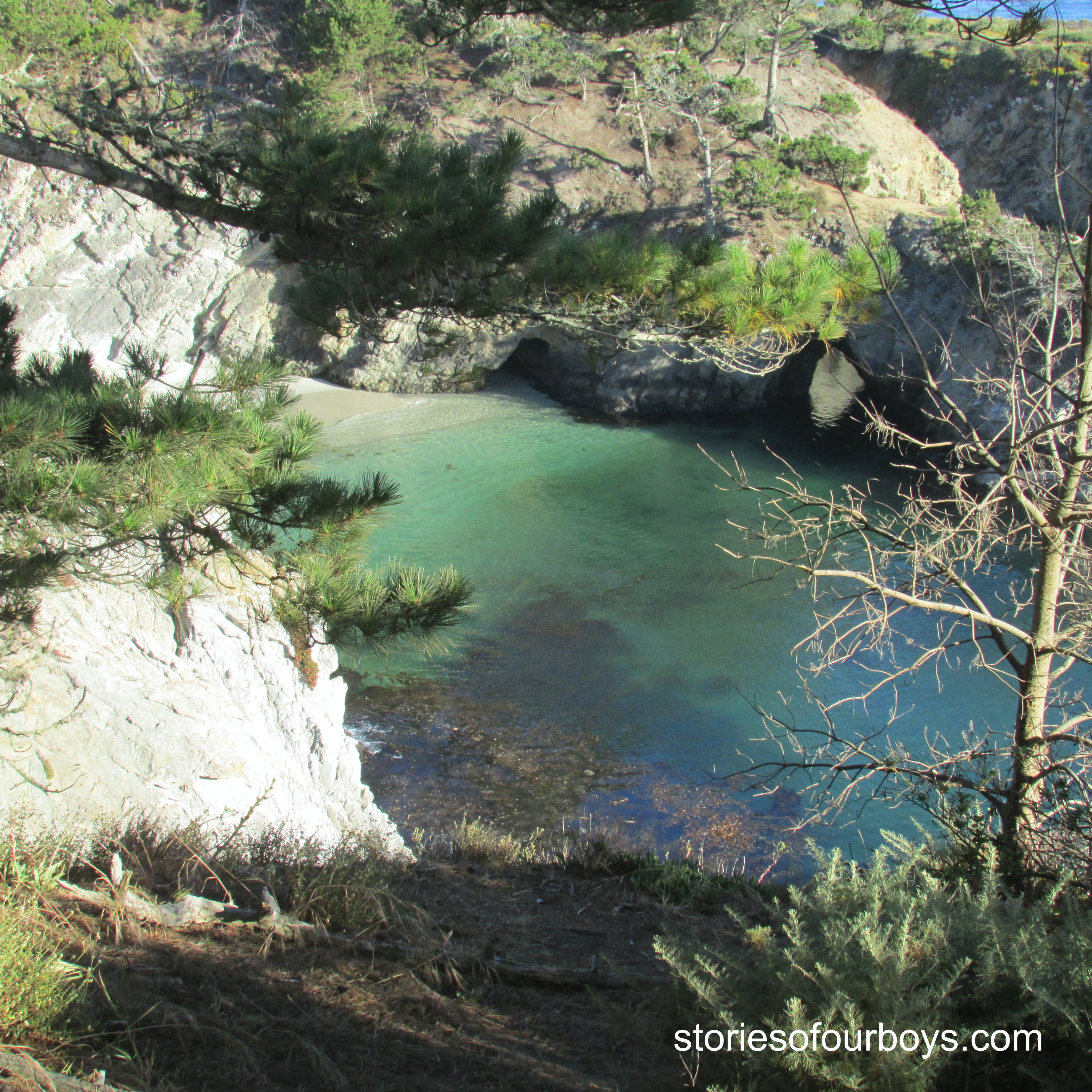 a modern day castle, by Point Lobos State Park
Seals!!!
more seals!
As we were hiking up the hills, I told Alan, "This is just so exciting for me. This is the best thing we've done on this whole trip." Alan asked, "Are you serious?" Yes!!! This place is total bliss.
If you visit us in California, I will escort each of you to this park. In fact, I think Point Lobos needs to be on our regular home-school schedule.
"When I consider your heavens, the work of your fingers, the moon and the stars, which you have set in place,
what is man that you are mindful of him, the son of man that you care for him?
You made him a little lower than the heavenly beings and crowned him with glory and honor.
You made him ruler over the works of your hands; you put everything under his feet:
all flocks and herds, and the beasts of the field,
the birds of the air, and the fish of the sea, all that swim the paths of the seas. O LORD, our Lord, how majestic is your name in all the earth!"
Psalm 8: 3-9