Guest Post: No Elf on This Shelf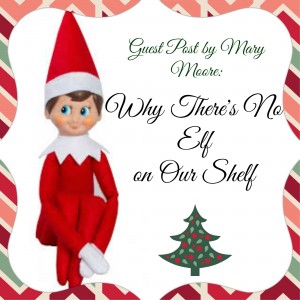 My friend Mary is stepping in today to weigh in on this hot trend: the Elf on the Shelf. We don't have one at our house–mostly because we don't want the extra work. Is that a good enough reason? 😉 No ill will meant towards the Elf per say, as Mary said, "For those of you who do the whole elf thing, you keep making elf magic. "
Some of us will happily sit this one out.
Let's hear from my friend and fellow military spouse, Mary Moore. She and I served our time together in the Family Support Group leadership trenches back when Joshua and Caleb were babies.  Thanks for sharing with us today, Mary!!
Also funny: The Elf on the Shelf creators read this article and complained, so the original website for this article removed it to make them happy. 
*************
"It's true. I loathe Elf on the Shelf, but before you give me the speech about how my kids are being disserviced by not participating in this "tradition", hear me out. Here are the top 5 reasons why I loathe Elf on the Shelf:
(5) I loathe you because right off I'm going to have to buy 3 of you. A boy elf for my son and then 2 girl elves for my daughters because if I only buy one girl elf there will be tears over each not having her own. At $30 a pop, I'm now well on my way to being broke this holiday season.
"Sorry sweet little beings of mine, Mommy can't buy you that really awesome $50 toy you wanted because she just bought herself extra work (times 3) every Christmas season for the next ten years."
(4) I loathe you because now that I've brought you home, I'm going to have to name you. No, Bob or Sue won't work for you. I'll have to come up with some elaborate Christmas-y name that sounds like you were named by Santa himself. I had enough trouble naming my three kids and now you want one too? Everyone is naming you cute little names like Clara or Snowbell but to be honest I just want to give you a four letter name that would surely distract from the Christmas season.
"Mommy, why can't we tell the neighbor our Elf's name?"
"Because, honey, Mommy will go to jail if you do."
(3) I loathe you because not only do I have to bake cookies, buy presents, wrap presents, send out Christmas cards, attend school concerts, decorate the house, and make our travel plans (etc, etc, etc) but now I have to throw you into the mix too? I'd rather use hot sauce as contact lens solution!
"Little Timmy said his Elf made elaborate, over the top cookies last night while he was asleep. Couldn't our Elf do that, Mom?"
"Just dump the Tabasco right here on my cornea."
(2) I loathe you because Elf on the Shelf has now become Elf on the toilet, Elf hanging upside down on the Christmas tree, Elf baking cookies and leaving the flour and sprinkles on every surface in the kitchen, and just plain overachieving Elf! You've left your shelf and I just don't see how you have time for all this mischief when you're flying to the North Pole every night. Plus, I'm not creative enough to think of any place other than a shelf to put you.
"Mommy, why does our Elf never move?"
"Seriously? His right hand moved a quarter of an inch when I was pretending to dust the shelf. What more do you want from me?"
(1) The top reason why I loathe you is because even if I could remember to move you and come up with big, elaborate messes for the kids to find in the morning, I will still have to compete with the mom who has achieved all "150 cute and easy Elf on the shelf ideas" in the first 10 days of the season. The kicker is not only do I have to come up with creative ideas for the kids, now I have to entertain my husband because there's a whole "racy and after hours" version of you going around. How am I supposed to convince my husband/kids to be good, if you are running amuck and not getting punished?
"Hey baby, I saw the Elf and Barbie were…"
"NO, just no."
If you feel the same as I do, I've come up with a companion to Elf on the Shelf. Her name is Maid on Parade and she's perfect for people who think the Elf should stay on the shelf. In theory, she makes sure that everything is cleaned up and your Elf makes it back to his shelf every night. In reality, you put them on a shelf and never have to move them again! Why has this not been done? It's brilliant and it might just be enough to make me buy an Elf or 3. Who am I kidding? There is nothing that would make me want to experience Christmas time with an Elf that is on (or especially off) his shelf!
Do you participate in Elf on the Shelf? Do you feel like it's time consuming and a waste of time? Or are you one of those overachieving Elf lovers? Please tell me I'm not the only one who feels this way!
P.S. I promise I'm not some crabby old lady who hates all things that make little kids happy. Sometimes I just need someone to throw Christmas cookies at me and tell me I'm pretty."
************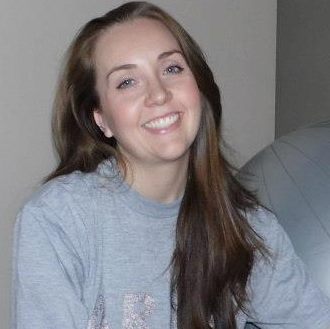 My friend Mary is an outstanding HH6, fitness enthusiast, home school teacher, and mother to three beautiful children.  She's also a lot of fun.
SaveSave