The #1 Best Gift You Can Give This Christmas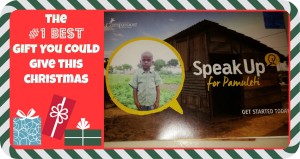 Christmas is about giving, right? It's the way we remember what God gave to us: love, forgiveness, Jesus.
I have never lived at the level of poverty that we will be discussing today. However, I have lived in several different financial levels throughout my life. The low point was my college years, when I lived on granola bars and very carefully only too $5.00 cash out from my bank at a time, because that was all I had. If that's the place you are in, or worse, I am so sorry. Hang in there! I hope better times come around for you. Eventually, things got easier for me.
Nowadays, I live much differently than that. I actually have so much food that it spoils in the refrigerator before I can eat it all. That's probably how a great portion of us live.
Then there are other areas of the world, like this impoverished area of India:
Wouldn't you love to be able to DO something to help THESE people?
I began sponsoring a child through Compassion International in 2008. My only daughter. Melwenna. Melwenna lives in the Philippines.  She is 17 this year. Each month we send her family $38.00. That $38.00 pays for her school supplies and food for her family. Then at Christmas and on her birthday, I send extra money. They ask that everyone send $20.00 for those occasions. She ALWAYS uses that money to buy clothing.
I love that Compassion helps her whole family, gives her an education, and shares the love of Jesus with her.
In 2010, Compassion International presented me with the opportunity to be an Advocate. That means that I can work at Compassion events, signing people up with children to sponsor, and I can seek sponsors for these children on my own.
Meeting the other Advocates, while working an event at Howard University, in Washington, D.C. was one of the most encouraging and informative things I did during our years in the district. Some of them had even taken Compassion trips, where they had gotten to meet their sponsored child.
I have never gotten to meet Melwenna. However, we do write each other regularly, and she is a fantastic writer.
This Christmas, I have a job to do as a Compassion Advocate.
I have until December 7th to find this ADORABLE little guy a sponsor. Did you know that when they do these photo shoots, they swap clothes around to make sure the child looks as nice as possible? It's such a big deal to these families because being sponsored is life-changing.
This is Pasupalati. He is six years old. If you can afford the $38.00 a month, to sponsor this PRECIOUS little soul, please email me or tell me in the comments, and he is yours.  My email is storiesofourboys@gmail.com.
Won't you consider giving the gift of love, food, and opportunity to this child today?