Best Christmas Ever
Yesterday was "Christmas Day" here. We like to have it a few days before we visit family so that the boys get some time to play with all of their new toys. All "Christmas rules" are negotiable, right?
That makes today the day after Christmas. I feel like I'm telling ya'll the future.  😉
After the whole Santa rig-a-ma-roar, I was curious how Christmas Day would play out. I mean, my handwriting is on EVERYTHING, and as their teacher, they really really KNOW my handwriting. Plus, we kept Christmas very simple this year. Everyone got one great big gift and four small ones, and as usual, Santa used the same wrapping paper we did.
Well, believe it or not, everything went off rather smoothly. This is the first year that I had to thoroughly contemplate the Santa issue, and this is the conclusion I have come to:
Whether or not you call it Santa, or call it Mom and Dad, it does not matter. It is Christmas. It is exciting. For children, it is 10,000 times MORE exciting, and who cares whether or not you have fun pretending it's Santa Clause. As long as your children know the TRUE meaning of Christmas, participate in giving, not just getting, and have something to get excited about under that tree, that's what matters. I DO think it's important that they have something to look forward to.
Did I tell Joshua, "There's no Santa?" No. I did not. He seemed to want to believe in Santa, so we will stick with that. It makes it easier for me anyway, what with all these younger brothers. I grew up with Santa. Alan grew up with Santa. Therefore, it's really just a fun tradition at this point.
In the words of Fran Drescher on The Nanny (one of my favorite t.v. shows): "It doesn't MATTA'!!!"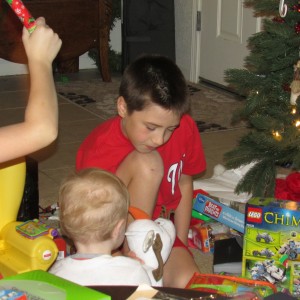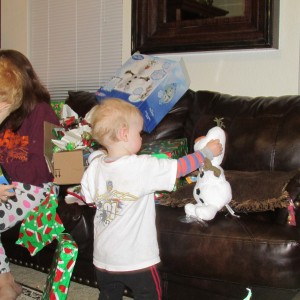 Thankfully, our angel tree family had two girls, so I did get to finally satisfy my urge to buy Frozen toys!!! While on that aisle, which I never get to go down, you know, the PINK one, I found OLAF!!! He sings and dances, he's sleeping with JD right now, and we all love him already.
JD has never even watched Frozen, well, he's walked by it, but one-year-olds don't watch t.v.–except Caleb, now that child could focus in on a t.v. screen from the time he was born.  JD is really enjoying Olaf.
"beh buh baa." (That means open this.) J.D. calls him "Off" now.
Quotes from Christmas:
Caleb said, "This was THE BEST Christmas ever!!!" as he clutched his favorite toys and ate his breakfast.
Joshua, sitting beside him, thought for a minute, "Yeah, eh, not really the BEST."
(Some people asked for very expensive gifts that they didn't get. Better luck next year.)
My favorite quote, from shopping with Joshua and Daniel for Caleb's present:
I had given each boy $5 to spend on each brother. Then I told them to combine their money, so that each brother could just get 1 really good "from his brothers" present. I had them do chores to earn this money, but I paid them inflated Christmas rates. 🙂
Joshua: I have to get Caleb a video game, and I'd like to get him a Spongebob one because Caleb loves video games, and he loves Spongebob.
Me: Joshua, I'm sorry. That game costs $20.00, and you only have $15 to spend on Caleb.
Joshua: Can I please spend some of my other money, from my wallet (money from Joshua's birthday), so I can get Caleb the game?
Me:  (so happy) Absolutely. That'd be great.
The result:
So when I took Caleb shopping for Joshua, I let him spend a couple dollars extra to get Joshua a Ninja Turtles video game. These were the only video games they got, so two of their favorite presents were actually from each other.
I love that these two have each other. They had a ball playing their 2 new games all morning yesterday.
And sometimes Christmas day, with lots of brothers sounds an awful lot like this:
Dan: (BAWLING) Josh has my Ninja Turtle!!
Joshua: (cool as a cucumber, holding Leonardo and Donatello) No. This is mine and JD's.
Me: (with baby on my hip, trying to finish making breakfast) Sorry, Dan, that's not yours.
Dan: Yes! Yes him is.
Caleb: (shaking his head) I told Dan he could play with mine..
Dan: (scowling) No! No me want yours, Caleb!!
Me: Come on, Dan, time for bed.
Daniel was so tired. Joshua and Caleb woke him up at 6am to open presents, and Daniel had been up until after 9 the night before, to go to a special Cubbies Christmas party.
Daniel did not actually go to sleep, but at least he laid in bed, played with his toys, and left everyone else alone for a while!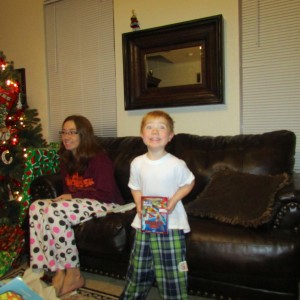 The Disney Fire Planes and Rescue movie. SO EXCITED!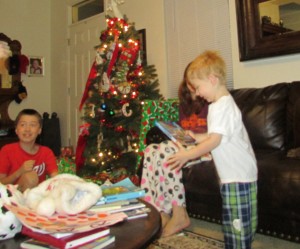 still looking at that Planes movie case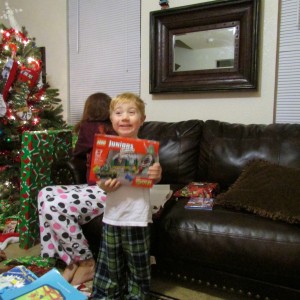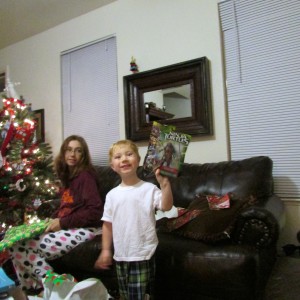 Aside from the Ninja Turtle meltdown, this may have been the most exciting morning of Daniel's life…I guess it was exhausting!
Now I suppose it's time to start packing up and cleaning house.  Merry Christmas everybody!!!!
My favorite Christmas song: