Thank you. Merry Christmas. Excuse Me. I'm sorry.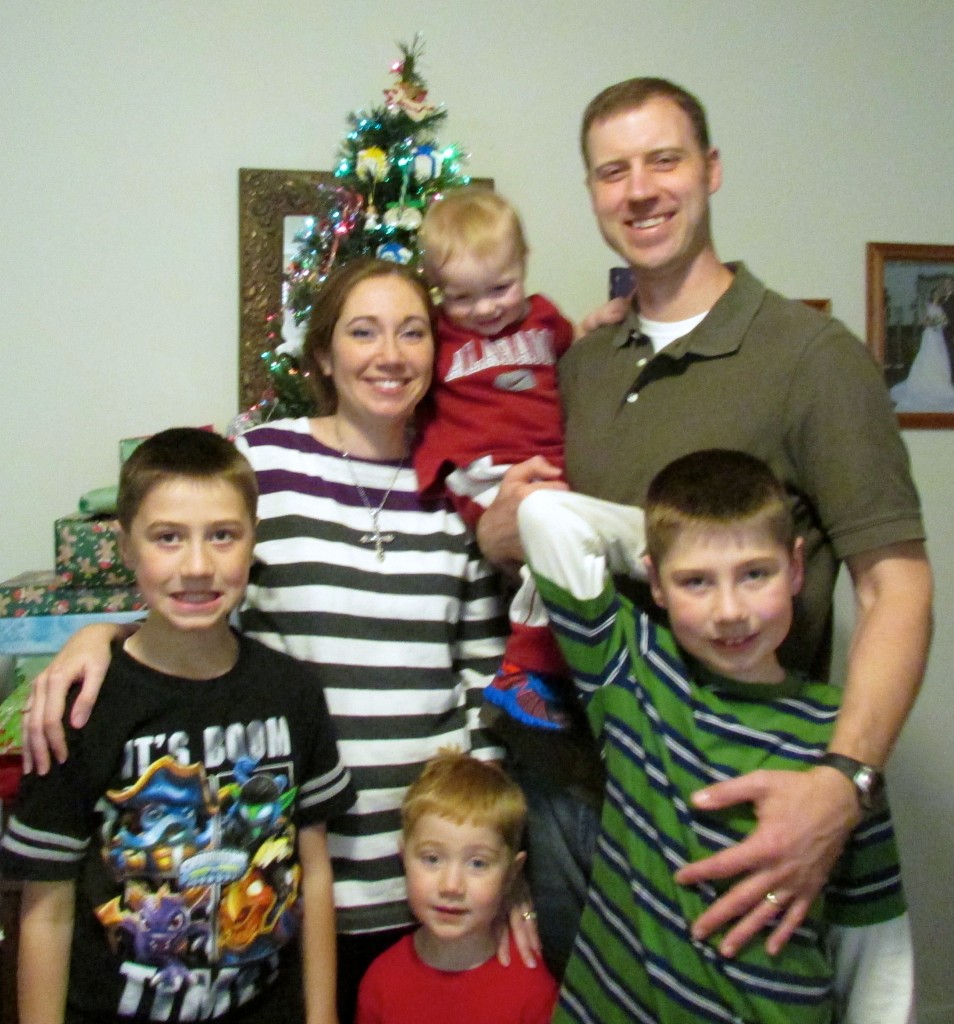 When you travel cross-country for Christmas with four squirmy little boys, there are lots of opportunities to rub elbows with the general public. I'm a little different than some parents, because I TRULY enjoy these opportunities to be out, even with my children in tow.  I love people! I miss people!
We've all read a whole lot of internet articles of parents complaining about things people say to them and their children in public!   They complain about comments like this:
"You sure do have your hands full."
"Are they all boys? Four boys!?"
"You need one more. Girl."
Well, you know what, I have definitely heard all of those comments more than once just this week. However, I love it! What they are saying is true!!!
-I DO have my hands full, and I appreciate the acknowledgement of that! 🙂 What's wrong with a little empathy?
-All boys! I know!! I am in awe of this novelty too.
-What's that you say? One more? Girl? Well, let's not get ahead of ourselves. JD is only one year old, after all.
None of these comments have been said with any ill intent. I really feel like most of us are just people trying to relate to each other. You see someone out doing something neat, and you want to comment on it. I think it's great. I need the encouragement and social interaction!!  I'm a home school hermit  mom! As long as you don't ask me what I weigh, we are good, and I will tell you whatever you need to know. 😉
And you know what helps the most in keeping peace with the public!!??  Saying "Sorry!!" "Excuse me," and "Thank you. I'm so sorry." Let's face it, when you apoligize for the inconvenience that you cause, or just for getting in the way, people feel better.
We began our trip by spending a night at the hotel airport. Did you know that we now are REQUIRED to get two rooms (unless there are suites–which there weren't) because we exceed the maximum occupency of a regular two-queen-bed hotel room?
Alan was a genius. He got a bellhop for me, to handle the luggage, while he found a parking space and brought up JD. The bellhop at the hotel piled our suitcases onto his cart, filling it to the top.  It was cold and windy in San Francisco. I was so thankful to not have to help with all that luggage, "Thank you. I'm so sorry."
He smiled, "That's okay. I have four kids too!"  I think he appreciated a little empathy too! Then he said, "Here let me take a few of those bags too. I can hang them on these hooks."
People are nicer to you when you give them a few "sorry's" along the way.
The next morning we went to breakfast in the hotel restaurant. I don't remember if I had to apologize or not, but the staff was extra nice. They kept bringing the boys rubber duckies and tiny beannie babies. I guess they wanted to be SURE that JD kept quiet. hehehe  My favorite part was when the waiter said, "Do the parents need coffee?"
"Yes, the parents do!!" was our enthusiastic response.
They had tons of delicious breakfast options, to include a buffett. What did my children order?
"Cereal."
"Cereal."
"I just want cereal."
Thankfully, they only charged us for cereal, and not for whole meals.
Breakfast was a huge success. Of course, that's also because Alan sat by JD.
Thank you, Alan!!! I know 'thank yous' go a long way too. Alan has been my hero this Christmas. It has felt like such a break from the daily grind.
We rode the hotel shuttle to the airport, and as we arrived and made our way along the curb, past all the crowds, I was saying plenty of "I'm sorry's" and "Excuse me's" as our 7 suitcases and 7 carry-ons probably bumped into people along the way. "Thank you. Excuse me. Oops. I'm so sorry. Thank you. Oh, thanks. Excuse me. Excuse me. Merry Christmas!"
Then I passed by this mom, wearing her baby in an Ergo and pushing a double stroller. We gave each other a fist bump and carried on. 
Yep. I felt special. 🙂
Then we got to the check-in line.
"Non-stops on the right, connections on the left."
Yep. We had non-stop tickets. The line on the left was a mile long. The one on the right, not so much.
Alan checked the bags, and we proceeded on through security.
I prayed for a safe, stress free trip, and let me tell you, God delivered. The security people let us through the short line that the staff goes through. We didn't ask for any special treatment. The security lady just said, "Ah, it's going to be too hard on the kids. Go ahead this way."
Whoot! Thank you, Daniel, and JD for being little!!
We had time to eat before we boarded. Everything went as smoothly as things could possibly go. Alan even sat by John David on the flight, so you will not believe what I did on the airplane…
I READ A BOOK. (Thank you, Aunt Amy, for sending me that wonderful reading material!)
I know!!! I couldn't believe it either. I sat between Caleb and Daniel. My job was pretty easy.
Huge thank you to Alan for sitting by the baby!!   His version of this trip might sound a little different… I hear that the baby wet his carseat (which he flew in on the plane–huge lifesaver)….twice.
I'm not even going to let the fact that the airline lost one of our bags bother me. 
We are having a wonderful Christmas so far!! We do miss you, Aunt Amy!!
The first half of our Christmas vacation is done. Now onto Phase Two: My family! Can't wait to see ya'll!!
Merry Christmas!!!