Broken teeth, the Boyfriend Rally, and the Missing Dustpan
Sometimes I wondered if my life would become less interesting as my children get older and "more mature."
BAAAAHAHAHAHAHAHAHA
Nope. When people say that there is never a dull moment in raising four boys, that is a very literal, literal statement.
Case in point: MLKJ Day weekend:
We had zero plans, other than Joshua's opening basketball game, which they lost.  Not a big deal to us. We are experts at losing. I don't know what that says about us…..but it was our head coach's very first loss as a coach!??!  Heh???  Bizarre, considering he's been coaching youth basketball for years and years. I'm pretty sure he was disappointed. In all fairness, our 3rd/4th graders were up against a team of humongous 5th graders that dwarfed our kids, and yes, I am petty enough to point that out. 😉 hehehe
The rest of the weekend made my basketball attendance fail, mentioned in my last post, I Did Try, sound like a walk in the park.
Sunday afternoon, I went to choir practice. Midway through practice, my cell phone rang. I was so embarrassed because we had just finished joking about that happening in the service this morning. I grabbed my phone and silenced it, but I noticed it was Alan. Might be important. Better go find out. I walked outside and called him back.
"You need to come home right away."
"Okay. What happened??"
"Caleb fell and broke his front tooth in half."
(diagonally!!!)
"Oh nooo. I'm on my way."
That still didn't prepare me for the sight of my little Ca-bob. His mouth was swollen, actually it still is swollen, to proportions I've never seen before. They had gone on a family walk/scooter ride to the mini-mart in our neighborhood, and Caleb took a spill, landing square on his mouth. We never did find the other half of Caleb's big, beautiful permanent front tooth. 🙁
Poor thing. He's so sweet and so tough. He's handling it all really well. I still haven't actually seen what his front tooth looks like. His lip is so swollen that I can't even get a glimpse of it.
Alan found a local family dentist that agreed to come in and look at Caleb's mouth last night. The dentist said that Caleb's mouth is too swollen to work on until next week. I personally thought surely it would look a little better by today, but it doesn't. The dentist also said that several other teeth are gashed as well. A lot of work will have to be done.
Lots of dental work…hmmm…All of your birthday presents just got smaller…. hehehe just kidding…
I can't show you a picture. I feel too bad for the little fella to share that with the world. Just keep him in your prayers. He can barely eat or drink anything. His mouth is cut to pieces.
So on a lighter note……a few more stories, all from this weekend:
1. We put JD in a big boy bed. Last night, at 1am, he suddenly figured out how to open his bedroom door, and headed downstairs to the kitchen. Yeah….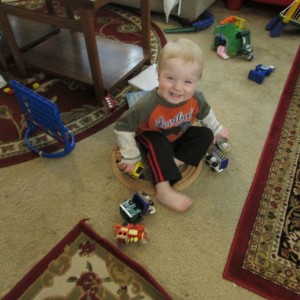 2. At 11am this morning, one of the neighborhood boys knocked on our front door.  He handed Joshua a flyer he had made on the computer that said this:
"Help *Amazing Smith* find a new boyfriend. Come to the rally at the park at 12:00, or die."
The "or die" part was scratched out with marker.
By the way*I changed the names…
*Johnny explained, "Here's this flyer. This may be a little inappropriate. Amazing's boyfriend (she's like 7) broke up with her yesterday, so we're all gathering at the park today, you know, to show our support."
Now I call her Amazing because she is this adorable little blonde girl who has played at our house a few times. She earned the nickname (in my head) because when I'm giving, "Stop opening and closing the garage door," and "The last person through always needs to shut the door," lectures, she is always our only guest that actually RESPONDS.
"Okay. Yes ma'am. Did you know that we have a baby too?"
It's so refreshing. Boys don't do a ton of talking. Do you give people nicknames in your head, or is that just me?
Anyway, the whole rally thing was so ludicrous it was hilarious. As soon as *Johnny left, Joshua just laughed and laughed. He made sure he was there promptly at 12, though. 😉
3. The dustpan
I swept the kitchen, but when I finished, I noticed the dustpan was not in its place. Wha??? Where's the dustpan?  I looked everywhere. Then I began to question the children.
I started with Daniel. He didn't know. I moved on to Caleb. Nope. I went outside to where Joshua lives, the trampoline, and asked him.
"Oh, I'm sorry, I was using it when I was being a vampire. It's in my room."
I didn't ask for further details. I was just so thankful to find my dust pan.
Happy Martin Luther King Junior Day!!!  Here's a pic from my favorite MLKJ day ever! It was the first one that Alan and I shared as a dating couple.  We had a group of four girls and four guys that hung out, and that day, in 2002, 7 of us headed down to Fort Walton beach. What a blast, but this picture is just of us girls. :