Focusing on the Positive of Each Child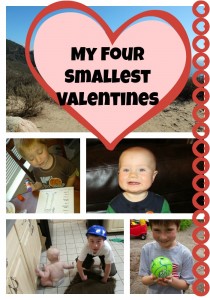 My goal for February is to focus more on the positive things that I love about my children. There are SO many, and as parents, I firmly believe we should be praising them way more than we are correcting them. Why does that sometimes seem hard? It's all in how we think, isn't it?
As I read in Michelle Duggar's book, A Love that Multiplies, I do not want my children to remember me as the mom that fussed at them all the time!
(affiliate link.)
Kids thrive on positive feedback. I know that anything I praise, I will see a lot more of.
My friend Jenifer hosts a #MommyReality Link-up each week on her blog, JenerallyInformed.com. This week's theme was "what I love." The more I thought about that, the more I thought about what I love about each individual child. Thanks for the inspiration, Jen!
John David:
I love the way he hugs. Great big bear hugs!
I love the way he sticks out his tongue and raises his arms for us to pick him up.
I love his intelligence. Today a kind nursery worker remarked, "John David is so clever. You know, I'm an educator, and I've worked with lots of different kinds of kids. John David really thinks about things. There were two boys that wanted to play with the same cars he did, so John David took the a ball and threw it for them. They ran off and chased it. He seized the opportunity to grab alllllll the cars for himself. I was like, 'Wow'! Then he did other things too, that I cannot remember. That is a sharp, very aware little boy."
Of course, we just love hearing things like this!  Hopefully, sharing will come soon…
Daniel:
-I love how much he loves to cook. He's getting so good at it! This boy knows more about baking and cooking than most 18-year-olds, I promise you.
-I love his happy spirit.
-I love how he likes to help.
-I love how he adores his big brothers.
-I love how easily he makes new friends.
-He just started going to Cubbies on Wednesday night. It's very easy to finish the Cubby verses, because you just say them back to the leader. His leader told me, "We enjoy Daniel. He's really good at saying the verses back to us. He says 'dinner' instead of 'sinner', and we thought it was so funny!"
Caleb:
-I love how tough Caleb is.
-I love how innocent and immature Caleb is, for a 7-year-old that looks like a 10 year-old!
-I love how he is always building something: Lego creations, forts, comic strips, robots made from things he found in my kitchen. It can be messy, but it is wonderful.
-I love how Caleb always sticks up for whoever he feels is the underdog.
-I love his love for science.
-Caleb started Sparks last night, after never wanting to go. He came home so excited. "I made new friends!"
-I love the way he prays so faithfully.
-I love the way he will quickly jump up and accomplish any task that you give him to do.
Joshua:
-I love the way Joshua handles his role in our family. There was never a more devoted older brother. "Mom! Can I get JD up?"
"Can I fix everyone's breakfast?"
Can I kiss you all over your face, my child?????  (only if I'm quick and sneaky)
-I love the way he always includes everyone. He can have three neighborhood boys over, and Joshua will still come inside and say, "Daniel, aren't you coming? We saved you a gun!"
-I love the way you can usually get the true story from Joshua. "What really happened…..Joshua? No one else talk!"
-I love the way he reads and reads and writes and writes. I passed on a few bad traits, so it's really good to know I passed along a few useful ones too!
-I love how quiet he is in the car. 🙂 I like to be quiet in the car too. In our family of six, Joshua and I are the only ones that don't need to talk in the car.
-I love the way he tries to keep the peace among his brothers.
-I love his leadership skills.
These sweet children make for one seriously happy mom and dad!
It's so easy to lose sight of blessings, in the midst of work, work, work, and clean up, clean up, clean up. We really are blessed. Let's not forget it!