Can we go to Chima now: the 2nd Day of Legoland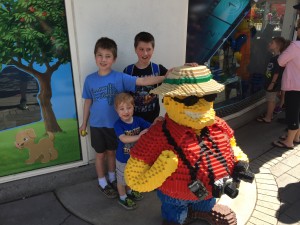 We have now been back from vacation for three days. I suppose one would expect us to be fully unpacked and ready to go back to school tomorrow.
Alas, that isn't exactly the case. We have made great strides in that direction; however, Daniel and J.D.'s suitcases remain stuffed. Plus, there is one great complicating factor. The neighborhood kids are STILL on Spring Break. They get TWO weeks. I can't do that! Then the boys would be in school until June. I want to get this year over and finished with.  So I have to teach these boys this week without the neighborhood kids beckoning my home schooled children out of their books. *groan*
But that's not what we're here to discuss is it? Let's talk about Legoland!
Day 2 of Legoland was even more successful than day one.
1. We didn't lose any children.
2. We did rides, the water park, this giant playground thing, and Seascape (Legoland aquarium).
3. Water rides are the way to children's hearts; I have decided. For men, you need good cooking. For children, you need water. 😉
Brief Recap of Day One: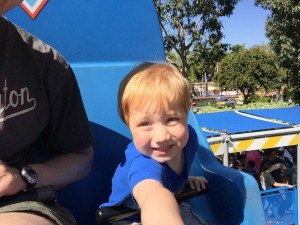 Two more pics from Day One. I found them on Alan's camera, and thought they were perfect:
Day Two
We headed straight for the back of the park. We were hoping to hit the rides that we'd missed on day one. The first thing we did was send Daniel to "driving school." It's just a ride where kids ages 3-5 drive Lego cars that are just their size.
Bizarreness!
We ran into our neighbors. Our actual neighbors! As in, they live across the street, two houses over! How weird is that!!??  We ran into them THREE times that day. I have been meaning to get to know them better, so this was a good first step.
Even more bizarre: they have a one year old boy, a three-year old boy, and a seven-year old boy. You can't make this stuff up!
No, I failed as a blogger. I did not get a picture of us, with them. tututut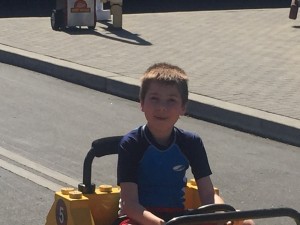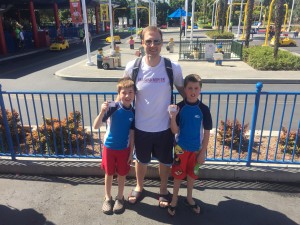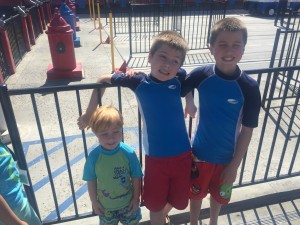 After we showed the boys the sign to prove that the water park wasn't open until 12pm, we took a little pyramid mystery adventure.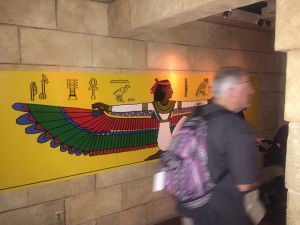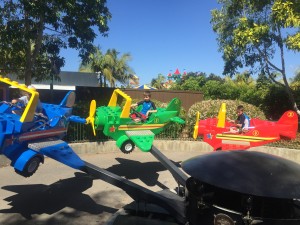 My favorite thing about that playground was watching the boys play together so sweetly. They stuck together the whole time.
We grabbed lunch, and then it was……… WATER PARK TIME!
First, there is a free splash park area, so we did that.
This is very indicative of his personality. Ya'll, this boy! He doesn't like change. He doesn't like to try new things. He is skeptical of new ideas. He's very practical for a 21-month-old. "Splash park in 70 degree weather? No, thanks."
Pretty cool dryer, huh? We didn't want to lug around a bag full of towels, so this was our answer. Don't worry. At the end of the day, Alan did purchase a gigantic Legoland beach towel to wipe the kids dry.
The Lego Land water park has multiple pools. We were very happy with it. This is kiddie pool #1. There are two very similar to this: this one in the front, and then the "Swamp" in the Chima portion of the park.
This was really sweet. The lifeguard went down the slide with Dan. Then he walked him through the deeper water back to Alan. Where are this kid's parents anyway, geesh! 😉
The Lazy River was WONDERFUL. Of course, there was nothing lazy about the way we ran past everyone in our floats. Those floats were just decorations for us. Boys. They are who they are.
Joshua was so cute. He and Caleb did this by themselves first. Then Joshua came out of the first round, and he told me, "Mom! Go put on your swimsuit while we are going around it again. When you are done, you can go around it again WITH us! It's great! The water is WARM!"
Sold.
Daniel was so cold. Alan had him take off his swim shirt and lay down on the hot concrete to warm up. Poor little darling.
Yes, my swimsuit has a skirt. Laugh all you want, but I get to walk around freely, not worried at all about jiggling bits, uncovered areas, or cellulite, and that makes me really happy. 🙂 Besides, I like to tell myself that it's a "cool" LL Bean skirt, not like the ruffled kind. Yeah, I know. I'm reaching.
Activities that only included part of the family just don't last long for us. It's not fun to have to split up the group. By this time, I had JD soundly asleep, under the LegoLand beach towel, in the stroller.
Outside the wave pool, they had this area where you could race Chima speeders and another area where you could race boats down this little pool. The boys played with that for about 20 minutes.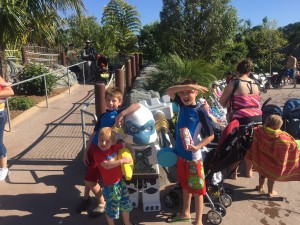 We left the water park area. I found coffee, and they found another Lego store. I found myself a nice bench inside the store while they shopped. After a good, loooong while I noticed that I didn't hear their voices or see them.
I hopped up and looked around. They were gone!!!!
*moment of realization!* Huuuuuh?? I am the lost one! They lost me??? That's not…how is that possible??
No worries. I found them rather quickly. They were all standing around, in the middle of the road together, looking confused. "Where is Mom????"
All was forgiven, as I tried to explain to a group full of males that Lego stores are actually not interesting at all to me..
One last ride through Storybook Land before we leave….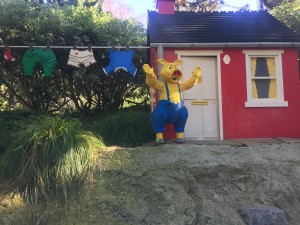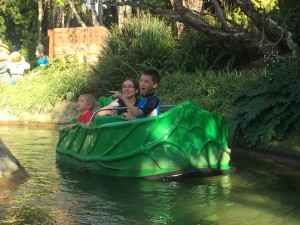 Goofing around: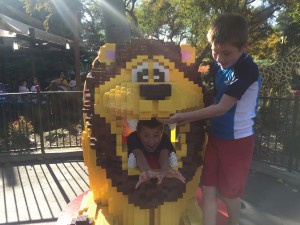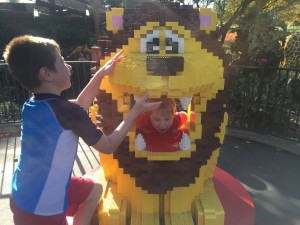 We headed over to Legoland's Seascapes, which is their aquarium.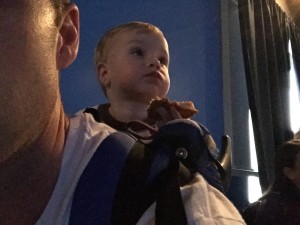 There really wasn't much to the aquarium. Onto dinner! We didn't stay at Legoland Hotel, but we did eat supper there that night:
As we headed out of our 2nd day in Lego land, Caleb ACTUALLY said, "Oh, look, a man made out of Legos!"
I guess some things never get old.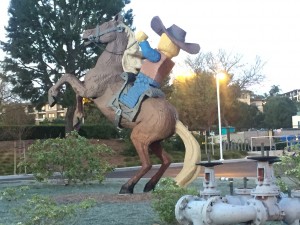 So we said good-bye to Legoland. On to the San Diego Zoo for Day 4 of our Spring Break adventure! Come back tomorrow to see one of the world's most famous zoos!