First Year Of Homeschool in Review: and 4 Things I Will CHANGE for Next Year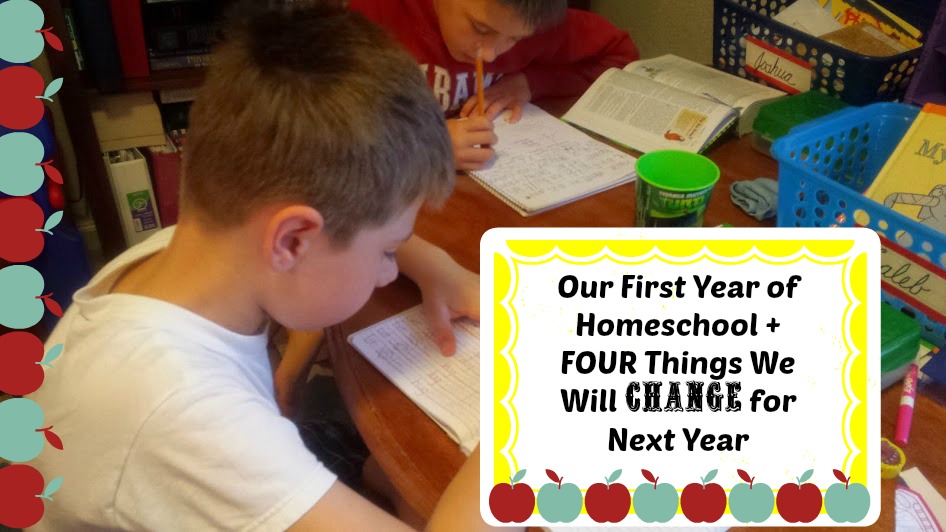 It's pretty much done. There are 4 days of school left. This chapter of our life is closing, and it's one of those chapters that I'm speeding ahead, skipping a few paragraphs, and moving right on to the next chapter.
In fact, let's put the whole book down and go on summer vacation because I am so done with this chapter!!
Ew. I do not like the things I learned about myself this year. BLEH! Can I escape with a shred of self-esteem left in tact, please?
Lessons learned about myself:
1. I need more self-control.
2. I need more patience.
3. I cannot do "it all."
4. Can I go back to being a nice stay-at-home mom with a blog? (As in, I wanted to quit.)
5. I CANNOT  be a home school mom in my own strength. It may be in some people, but it is NOT in me.
After reading all of those negative, self-defeated thoughts, you probably are guessing that I am ready to throw in the towel.
Oh, but I am a stubborn woman, y'all. (Alan has informed me that this is the correct way to spell y'all….)
This was why I prayed so much. I had to rely on help from God with all of my weaknesses.
…8Concerning this I implored the Lord three times that it might leave me. 9And He has said to me, "My grace is sufficient for you, for power is perfected in weakness."   2 Corinthians 12:9
I feel like I'm becoming a better version of myself by doing a job that is too hard for me. I won't bore you by listing every thing we learned this year, but let me tell ya. We learned volumes. We worked faithfully on our school work every single day. I was surprisingly good about sticking to our school schedule. It helped that the boys fully expected their school day to run the way it did at public school. That kept me in line, because you know I do have some free-spirited tendencies. 😉
So before I plunge forward, here's a list of a TON of POSTS that I wrote about my first year of homeschooling, in case any of you need to read about my struggles to feel better about yourself….. HAA!  😉
No, there's no way you could actually read them all over again. This will serve as a good reference list, though.
Best one: 14 Tips for your 1st Year of Classical Conversations April
Good News from the Graveyard   May
Do you boast about the faithfulness of your friends?  May
Life Skills Week  May
Ways to Use Brain Pop Jr. at Homeschool April
How in the world are you going to homeschool? March
Children Teaching Children March
For the Homeschool is Ruining My Life Days February
Montessori Brainy Kit February
My Victory of the Week February
7 Great Lessons to Learn from the Duggars Feb.
Review Olympics: Hot Lava Required Feb.
Six Thoughts from the School for Wiggly Boys  Jan.
Our New School Jan.
8 Strategies for ADD Kids Dec.
Daniel's Preschool "Curriculum" Dec.
A Week of Serious Breakthroughs Nov.
Help! There's a One Year Old in the Classroom!  Nov.
Charlie and the Chocolate Factory: Field Trip, Book, and Movie Nov.
An Exciting Day for the PTA Oct.
12 Things I've Learned from Homeschooling Oct.
Fall Happenings: Farm Day and Great Books Oct.
Home School: What We are Getting Right Oct.
Failures, Breakthroughs, and Realizations Sept.
Centers for our Homeschool Sept.
Caleb's New Reading Plan Sept.
Home schooling Progress Sept.
Day One of CC: Done! Sept.
But how do you do it all? Aug.
Our First Three Days of Homeschool Aug.
Homeschool Vs. Public School Vs. Private School Pros and Cons List Feb. 2014 (before I actually began the Great Homeschool Experiment!)
*****************************************
************************************
*********************************
Wow.  That was a lot of blogging.
Let's talk about what I want to CHANGE next year:
1.  Maid service. Oh, that's happening.
2. Make the plans in the summer so my weekends will be free!!! Man, I hope I pull this one off!
3. File system. Alan's mom gave me a fantastic idea for organizing the boys' work and plans, and I'm thrilled with it. Look for that in a future post! 
4. MORE FUN!!!! More centers, more reading, more computer time, MORE EXERCISE. I was a tough, no-nonsense teacher this year, and next year I'm hoping to please!!!
Perhaps I should ask my friends for ideas on how to make school more fun. I have some crazy friends. 🙂 Praise God for crazy friends!!!
So hit me with all your best FUN ideas!!!
And don't forget to enter the giveaway!