Southern Summer Photoblog 2015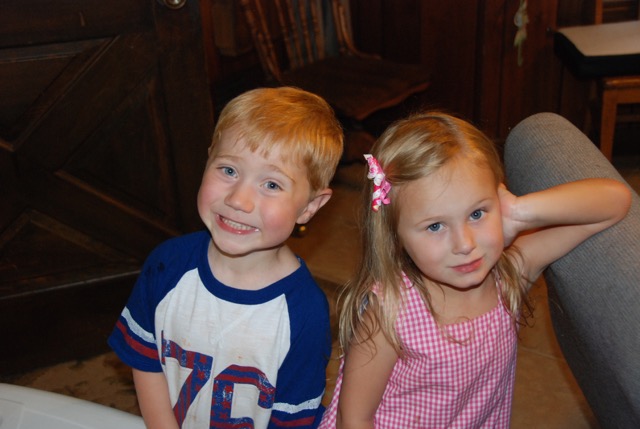 Every summer we travel south. It's a tradition. We visit as many family members as possible, stay out of the OPPRESSIVE heat as much as we can, and eat tons of popsicles. At least, my children are certainly eating their weight in popsicles. Nana keeps them well supplied.
I'm afraid Northern California has spoiled me from ever living down here again. Don't worry. Ultimately, we go where we find work, but goodness- gracious- in- the-mornin'! This place is HOT.
In California, we were wearing long sleeves! Here we are wearing as little clothing as we can get away with and still be considered 'decent.'
I think the real story of this past week in Alabama was Daniel and Tori. They are the CUTEST cousin buddies ever. Alyson and Janet captured some wonderful photos of the two of them at play.
The heat doesn't bother them too much. They are so happy.
The biggest glitch to taking part of my vacation without Alan? (He's back in California. Sad! We miss you! Get your finals done so you can join us!)
Packing the van without Alan was the hard part. I picked up this giant red suitcase to stuff a smaller suitcase inside of it, and it fell over and half of the contents spilled out onto the ground.
Eventually, I had to give up and let Alan's dad load it for me. I wanted to be all tough and do it myself, but I'm going to go with the whole 'no man is an island' thing and not feel too badly about the fact that I just couldn't.
The kids were so excited to spot this rainbow yesterday. It's been raining a little almost everyday. We need to pray for that to happen in California! Daniel didn't even know what thunder was. Alan had to show him what lightning is on a You Tube video a few weeks ago.
This is my favorite thing bout southern summers!  THIS PLACE!!!
Coach Cox said that I need to add in more veggies to my diet. He suggested adding them to my omelets in the morning. It was good!
The big boys have been studying this Biology poster, just for fun. Many questions have arisen as a result thereof. Let's just say they keep us on our toes. I just love trying to explain reproduction. *cough* ahem um uh. yeah.
Don't worry. We haven't over shared. We have managed to keep our answers brief so far, and everyone has been satisfied. They have learned a few new vocabulary words, though.
My latest summer obsession…..
I was so excited that Grandmother had coleslaw at the family BBQ the other day! I put mine right into my BBQ sandwich, just like the restaurant near Yosemite. It was just yummy.
Thanks to Alyson and Janet for these photos! I'm off to watch The Croods with the boys.