School Planning Time! Story of the World History plans are in the works.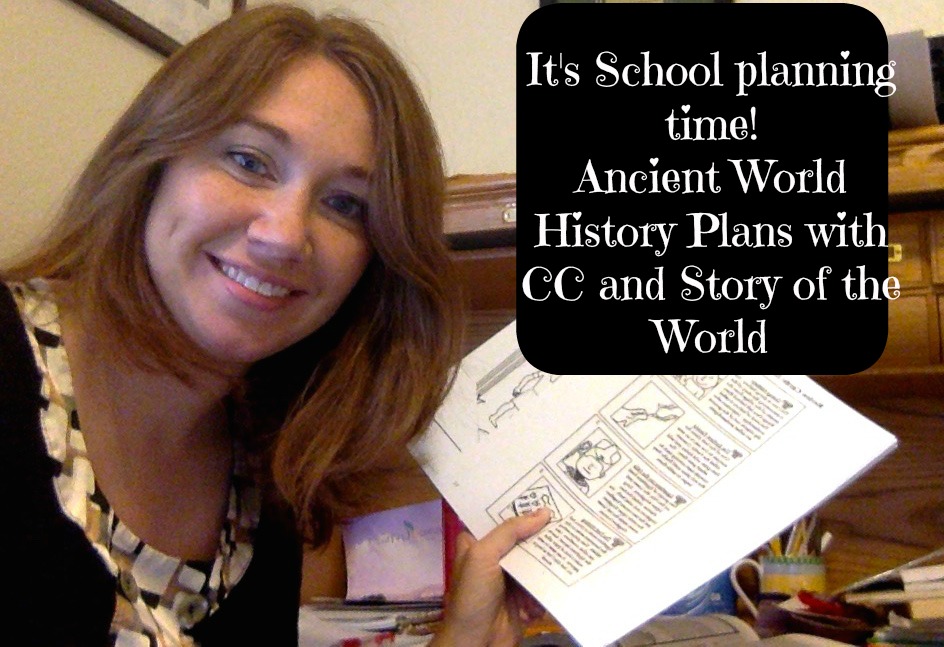 It is 2:30. Nobody mess this up. JD is sleeping. Dan is voluntarily in his room building something with Lego blocks, Caleb is building a stunt course out of train tracks down stairs, and Joshua is in the Lego closet building something too. I have to make sure no one sees or hears me. If I am seen, this wonderful moment will be spoiled, and they will start asking me questions…
Uh-oh. They are all together again, but at least they are getting along.
What am I doing? Well, I have spent all afternoon making COPIES!!! Last year, I did not have a chance to make the year's school work copies in advance. I'm sure more work will still arise in the school year, but it feels INCREDIBLE to already have the 1st nine weeks' history and math lessons torn out, printed out, and separated out by weeks in my files, and ready to GO!
In order to match up Story of the World lessons with CC Cycle 1 memory work, I turned to this fabulous lady: halfahundredacrewood.com. She has already done a lot of that for me, so I'm now online scouring that site!
I found this extremely helpful in setting up my history lessons. It also provides resource lists for science:
Story of the World Chapter Match-ups for CC Cycle 1
If there's one thing I dislike about lesson planning, it's not having a make-it-simple guide. Give me a guide, for sure! I do not want to have to dream up engaging activities, and my children NEED engaging activities. They need to be involved in the learning in order for it to stick.
That's why I forked over the money and bought the Story of the World Activity Book. We also bought the Story of the World book. It's history in a story format. They make an audio version. My kids hate it. (I just wanted to let you know, lest you feel tempted to assume it's theatrical. It's not.) I either read it out loud, or I let the older boys read it to themselves. They like it just fine if I'm doing the reading. 
I have to confess, I didn't actually have to spend money on this. Technically, I told my mother-in-law I wanted it for Christmas, and she forked over the money. She was even able to find some of them on eBay!
The Activity Book has a printable or 2 or 3 for every single chapter of the history stories. And just like that, I feel like my planning is done. No scouring the internet for freebie printables. Do you know what bothers me the most about freebies? Some of them download other stuff onto your computer, along with the history crossword, or whatever, like malware that slows my computer down.
I like it all easily laid out for me in a book. I'm old-fashioned like that.
Here's a peak inside the lesson plans. If you prefer crafts and such to crossword puzzles, maps, and color sheets, there are plenty of suggestions in here for all of that.
The Roman Empire is just one of our topics this year. Sounds like a fun year, doesn't it?
These are a few other books we plan to read:
If you can't tell, we love those "You Wouldn't Want" books here!
I also figure we'll watch The Night at the Smithsonian movies, especially the first one. The boys and I will be learning about Attila the Hun this year! Do you remember him in the first Museum movie?
Here's a little outline of what we will be learning, to include a few Brain Pop Jr. match-ups!

I and II. The Ten Commandments  I love that this is included.
III. Greek and Roman Gods
IV. 7 Wonders of the Ancient World
V. Split of Roman Empire   (Brain Pop Jr. FREE Video on Ancient Rome)
VI. Fall of Rome
VII.Hinduism
VIII. Age of Imperialism
IV. Confucius      (Brain Pop Jr. Video on Ancient China)
X. Heian Empire
XI. Byzantine Empire
XII. Muslim Empire
XIII. Kush
XIV. Songhai
XV. Henry the Navigator
XVI. Mesoamerican Civilizations   (B. Pop Jr. Maya Civilization)
XVII. Aztecs
XVIII. Mound Builders
XIX. Anasazi     (Brain Pop Jr.)
XX. Mexican Revolution    (B. Pop Jr. Mexico)
XXI. Exploration of Canada
XXII. British North American Act
XXIII. Liberation of South America
XXIV. Napoleon
These topics are meaty history lessons! I may need to up my Brain Pop subscription to include Brain Pop, not just Junior. Anyone want to go in with me, as a home school group? Just send me a message if you're interested: storiesofourboys@gmail.com.
I've hesitated to post about home schooling in the past because most of my readers aren't actually home schoolers. If any of you are interested in more education posts, please let me know.
I'd love to hear what you're excited about doing in history this year. I'd especially like field trip ideas. That is our favorite kind of learning. Does anyone know any history-related field trips, here in central-ish California? Please share!!
Happy learning! My house is unusually quiet. I'm off to check on the munchkins. (Don't worry. The two smallest are napping.)