What a truly realistic schedule would look like
I mentioned before that I'm using this book to build a new family schedule.
My first one was ridiculously over-zealous:
I've scratched some of that mess out and shortened it and replaced as much as possible with "Sit on the porch and watch Daniel ride his trike."
However, a TRULY REALISTIC schedule would look more like this:
6:00 Begin hitting snooze button….
6:30 Get out of bed. Take quick walk.
6:45 Argue with Alan over which is quicker: Keurig or coffee pot, guzzle coffee, change poopy diaper, run upstairs to try to put make-up on my face.
8am Run out the door for my 8:00 appointment. Haha, nah, I'm not QUITE that bad, but I do typically allow myself 10 minutes for each 20 minute drive that I take.
9am: Arrive home, thank Alan for cleaning up the house and making coffee. Take boys for walk.
9:30: Drill the boys on information they'll never use after college. Bwahahahaha But if they want to GO to college, this information is useful, I'm telling you!!
10:00 Play math 'games' with Caleb, hoping my use of the word 'games' will help him stop pretending to fall asleep.
10:30 Referee whoever is arguing. Okay, everyone, let's go to the library. Off we go. Did everyone pee? Where are your shoes? I'll go get JD some socks. No, you can't bring chips. Here's a book bag for everyone. Put your books in YOUR book bag. My back is struggling here.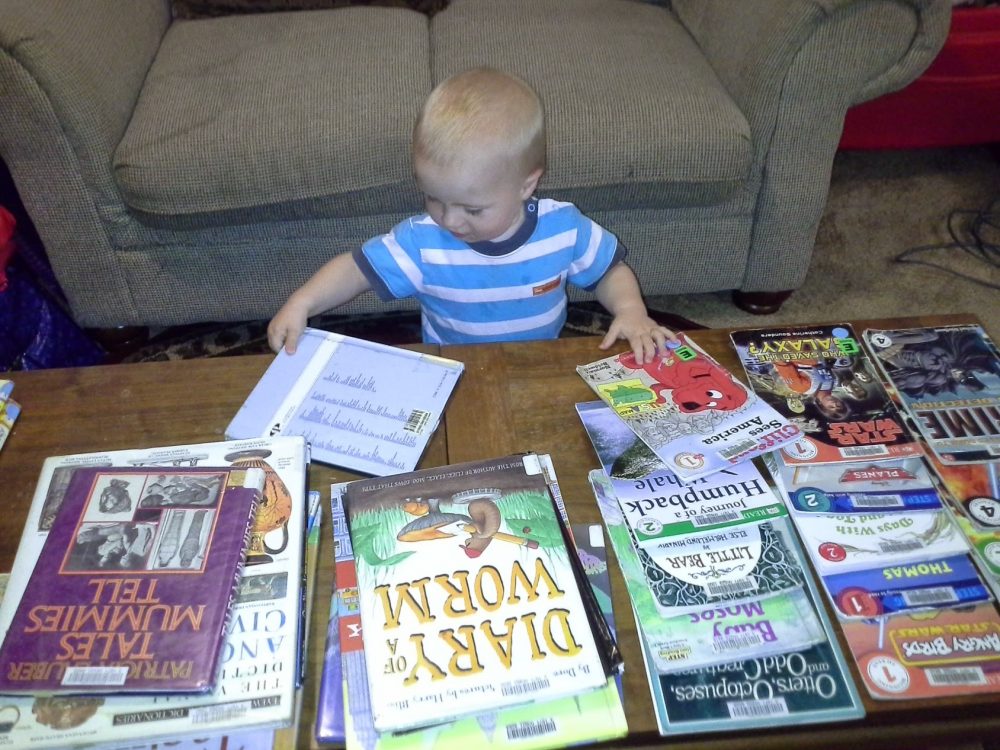 11:45 Arrive home with 50 billion books to read, tired because I forgot to take my stroller to the library, and we are SO HUNGRY.  Shove tons of food down my throat because I'm starving, and I forgot to eat breakfast. Feed the children, clean up 100 tiny pieces of cereal that JD accidentally spilled in the floor….3 hours ago….but hey, at least I finally remembered to clean it up.
12:00 Put JD down for a nap. Wait for him to hug everyone 5 times first….
12:15 Sort of clean up lunch dishes.
12:30 Read to children. Do more teacher stuff: handwriting, geography, etc., etc.
1:30 Reading tutor arrives. Chat. Make us more coffee.
1:45 Do pre-school with Daniel, quietly, trying not to interrupt the excellent learning going on in the other room.
2:30 Remember that I never started the crock pot this morning. Also, I'm starving again. Sit on the porch and watch the kids ride bikes while I stuff my face.
3:00 Wonder how many times a week it's okay to order pizza….Convince a kid to go wake up JD.
3:30 Update my blog.
4:30 Coral the children, get socks and shoes on everyone, and set out for Caleb's soccer practice. Don't forget your ball! Let's take water! Let's take snacks! Yes, I'm hungry again.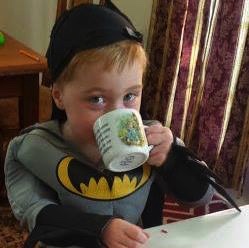 4:50 Set out on foot for Caleb's practice. Drown in sweat because it's actually 80 something degrees today. Stupid global warming.
5-6pm Try to keep my little boys happy on the tiniest playground ever.
6:00 Soccer parent meeting
6:30 Finally arrive home and face the fact that I did not cook supper….Feed everyone junk from the freezer.
7:00 Sit on the sofa and wonder why I don't have more energy.
7:30 Alan and I rally ourselves to DO BEDTIME WITH FOUR KIDS.
4 baths. 4 sets of pajamas. 4 stories. We're so crazy.
9:00 Go downstairs and stare at dishes in sink. Try to I Dream of Jeannie blink them away. It never works… Stumble through a few chores.
10:00 Head upstairs. To shower or not to shower, that is the question……
Don't worry. Don't worry. I just remembered the sweaty soccer practice. I PROMISE that I WILL shower.
Okay, most of that is just what REALLY DID happen today. But it's only 4:30, so I still have to go do the sweating, the tiny playground, and the facing dinner failure part….
I'm happy, though. I know I don't sound like it, but this is fun. I should also mention that I answer some sort of question, sometimes from a child, sometimes from a well-meaning adult, every 5 minutes. I need to make myself a "No questions at this time sign" and wear it around my neck.
Okay, Daniel is here, and I think he just confessed to putting a fruit snack wrapper in the toilet. And with that, I'd better go rally the troops for soccer practice in the scorching sun.
Roll Tide.