Home School Progress Report: Week 11, Year 2
Earlier this year, we ate at a crawdad boil, and now we have also dissected them. Caleb, my animal conservationist, was not so enthusiastic about these activities, but he handled it well.
When we went to the crawdad boil, Caleb enjoyed playing with the live crawdads, so you can see why he flat-out refused to eat them. It's not a good idea to bond with your food before it goes into the pot.
He handled the dissection activity, a few months after the crawdad boil incident, much better since we only saw them dead.
That was two weeks ago. This past week we dissected OWL PELLETS! We learned that owls eat a ton of rodents, as we found gobs of tiny rodent skulls. Sorry, or you're welcome, I didn't take any owl pellet photos.
Now onto a monumental day in my life…….
The Day I Taught My Children a Little Taco Bell Appreciation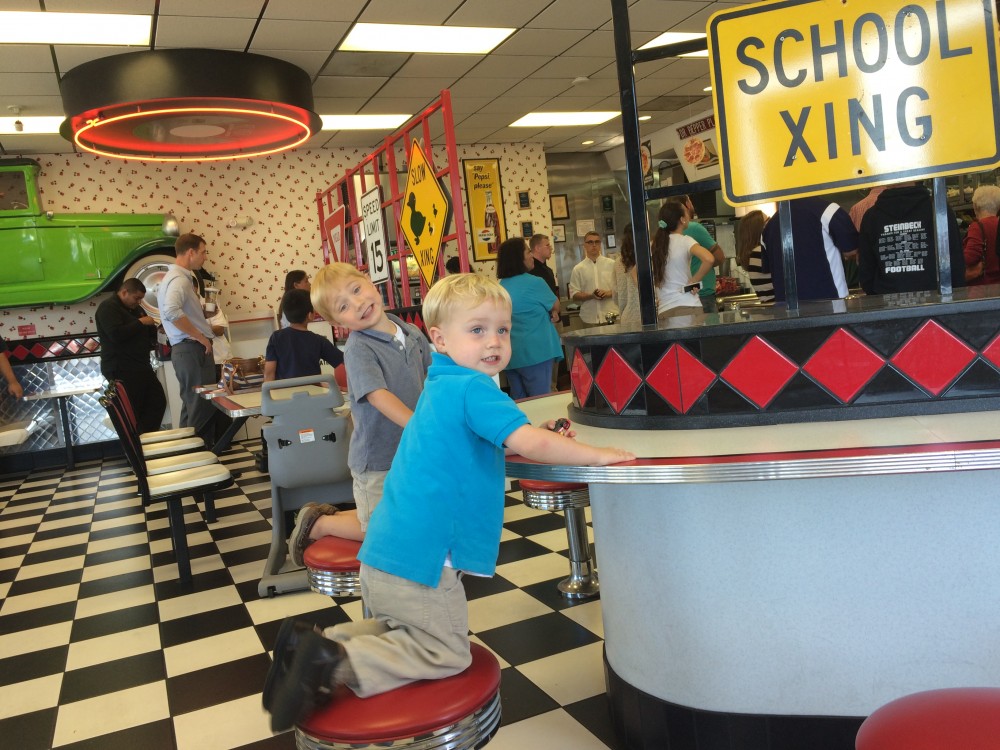 That day of the power outage, we decided to eat out, which we rarely do. Joshua started in with the McDonald's begging. That had me thinking….."Blehhhhh. Uhhhhh. Groaaaaaan. Nooooooo!"
No! You know what? No.
Alan pulled into a Taco Bell/Pizza Hut.
Then he pulled back out, "The kids will hate it. Let's just go to McDonald's," he whispered.
I couldn't take it. Not another single time. "Alan, you know what? The kids will LOVE it. Only Joshua will complain. Do you know what he is??  He is THE SQUEAKY WHEEL! Oh! That is so what he is! We all constantly bend over to what the squeaky wheel wants, just like the rest of America, but you know what, there are FIVE other people in this car who will not complain at all. It's ONLY Joshua. He is going to have to get over it. Let's go to Taco Bell!"
I could feel the excitement rising in my heart. I love Mexican food. In fact, Joshua was made out of Mexican food. I ate so much El Chico when I was pregnant with him. He has no idea.
Alan agreed to my ideas. We parked. Sure enough, the squeaky wheel began to squeak.
The other children cheered.
The whole town was there, so we had to wait forever for Dan and Caleb's tiny pizzas, but that's okay because I talked Joshua into ordering a TACO.
He ordered a Cool Ranch Doritos taco, and he liked it so much, he wanted to order MORE!
Do you think I'm too excited about my Taco Bell victory? How much McDonald's have you endured over the past 10 years? You don't want to know how much of it and Papa John's I have had to stomach.
Yo quiero Taco Bell. hehe!
In other news….
I'm happy to report that my second year of teaching 3rd grade math is going much better. Fourth and third grade math are so much alike that I can actually teach them together now, which is awesome.
No, we don't have chickens, but we have friends that do. I've always said that little boys belong outdoors on a farm. Someday, boys, someday.
(But of course, you know that I certainly do not belong on a farm…I don't camp or touch animals other than cats. I reluctantly pet people's dogs to be polite. These boys continue to change me, so who knows. Maybe someday I too will belong on a farm.)
With home schooling, the line between home time and school time often becomes extremely blurry. The after school learning hours are often equally valuable for both us and for the kids.
Check out this cultural learning that we did recently. Our Cambodian- born neighbors brought this dessert for us to try. it was delicious!
Here's a little overview of what we learned this past week:
-The Age of Imperialism (Queen Victoria's rule over India was our focus.)
-We were supposed to learn to skip count by 14s, but I thought it was more important to go back over 6s, 7s, 8s, and 9s.
-We are really good at memorizing our prepositions. So far we have learned about-outside.
-We made a seed plant poster about types of seed plants: monocots, dicots, and conifers.
-Joshua wrote a short essay about the origin of the word "tantalize." Did you know it comes from a Greek myth about Tantalus? I have learned so much from teaching my children!
I'm off to take the boys to Caleb's soccer game. Alan and Joshua went off hiking today, in honor of Joshua's 10th birthday. 10!! We are so proud of him.
Joshua had a blast for his 10th birthday. We had all the neighboring kids over for pizza, cake, and bike riding. They did a bike race and a foot race. Joshua came in 2nd of 11 kids for both races, just 1/2 second off from the winner.
We even bought Joshua the game he was begging for this year: Skylanders Super Chargers, and we kept it a secret, telling him we were not buying any video games. Ha! He was so excited. I'm also happy to report that you CAN beat the entire game in 2 days, using only the 3 characters that come with the game. We didn't buy any extra little men.
Hope you all have a weekend that's as exciting as Joshua's has been!