"No costume! Yes, Candy! No, Costume! Candy?!! Yes, costume; candy!"
When you have small children, Halloween never disappoints in delivering the adventures. Guess who got to be the sick one this year? Me.
Guess who threw the fits? Snoopy. JD looks upset, but he was happy so long as you didn't try to make him put the Yoda costume back on.
Some of us are just not costume people. We should know. We've been at this for 10 years, officially!
2005: Joshua was born, and we spent Halloween in the maternal recovery wing of the hospital.
2006: Joshua was a puppy, and he had a birthday party, during which I announced that I was pregnant with Caleb.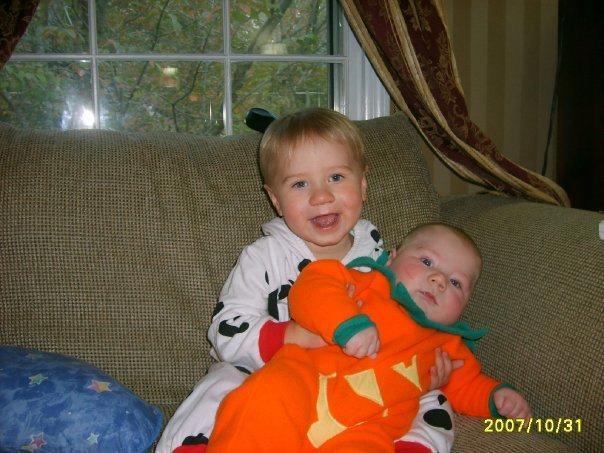 2007: Joshua was a Dalmatian puppy. He fought me kicking and screaming about putting on his costume, but I succeeded. Caleb was a pumpkin. We took them trick-or-treating with friends of ours, and Joshua was too frightened to get out of his stroller. After an hour of that, he suddenly got brave, jumped out of the stroller, and took off running in glee. Must have been the candy…..
2008: Joshua was a soldier, Caleb was the dalmatian puppy, and we finally lived in a trick-or-treat neighborhood. Amber and her kids joined us. Joshua threw a fit about putting on the costume. That boy hates costumes.
2009:  Caleb was Lightning McQueen, and Joshua a dinosaur. It was sort of a lonely year because we had just moved and had no friends.
2010: Joshua was Batman. He again flipped out about the costume at the last minute, but we prevailed. Is this typical of ADD kids, I wonder? Caleb was supposed to be Woody, but at the last minute he flipped out about the costume and decided to be a dinosaur. That was the strep throat year. (Sorry, Aunt Janet.) It was cold, and no one felt well, so they didn't stay at it long.
2011: My mom came and stayed home with Daniel while I took the boys out. Daniel was Pooh Bear. Cutest thing ever! Joshua was Wolverine, and Caleb was Iron Man. Everyone was very happy with their costumes that year. We trick-or-treated with lots of neighborhood friends. What a relief!
2012: I have no memories of 2012. We trick-or-treated with our neighbors again. I think that was the year Caleb decided to skip trick-or-treating because it was "too cold outside!"
That was also the year Joshua accidentally ate half of a Mr. Goodbar and nothing happened….proving that that stuff must not be made from real nuts….
2013: All I remember was that their friend Andrew was a zombie sock monkey. Sock monkeys freak me out, so I am unable to recall anything else…..except that I'm pretty sure Daniel was a soldier, and I don't even think I put JD in a costume.
2014: It poured rain, which is highly unusual for California. JD was the Dalmatian, and he stayed home with Alan. Every single kid has now been the dalmatian. I so need to make a collage of that!
2015: Hilarity. JD and Dan LOVED their costumes at 2pm because we are early day people. By 6pm, all costumes were of the devil, and the amount of crying we dealt with was reminiscent of 2008.
They came running in to put on costumes. JD was shouting, "My costume! My costume! I need my costume!"
Daniel promptly started crying because the paws were uncomfortable. Try as I might, I could not fix them for him. He fussed and cried and fussed and cried.
Caleb barged into my room and lamented, "My whole costume is too little for me. Look!"
He was right…..oh well….wear it anyway.
JD took all of this in, and he changed his tune. By the time Alan cut holes in Daniel's paws to stick his thumbs through, I painted a black nose for him, and we had everyone happy, JD had seen enough.
"No!!!! No costume! No costume. No costume!"
Sigh.
I went upstairs and grabbed the Lightning McQueen costume from Halloween '09. "Here, JD! Lightning McQueen! You can be Lightning McQueen!"
"Nooooo! No costume!"
"Do you want candy? If you want candy, you have to wear a costume."
"Yes, candy. Candy! Yes, candy!"
I won. Sort of.
But look how cute:
Daniel got down and started barking, so JD got down and started meowing.
Now bring on the season of thankfulness!!!