The First Steps That I Learned from My Nutritionist to Lower Blood Sugar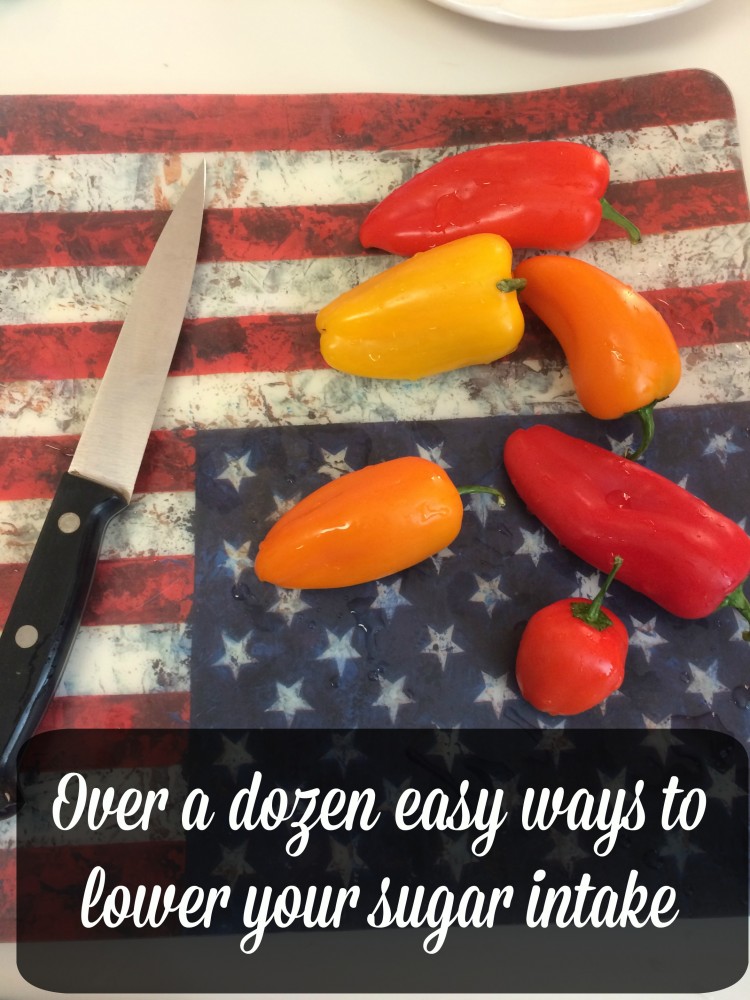 Today I met with a nutritionist, also known as my friend Lacy. I bombarded her with all the food questions I could think of, and I'm going to share the first, most doable steps that I learned. I'm writing them down NOW before I forget any more than I already have!
Lacy is a fellow home schooling mom. She also has four kids, so there's no one who better understands what I'm up against. She fully knows the drill of the busy, action-packed life!
This sounds so silly, but the hardest part of ALL of it is just not drinking soda. Coca-Cola has me the same way Marlboro has the smoker crowd! Man, I love my sugary sodas.
This is hard.
But I can do it! God will give me what I need.
Let me sum up why I'm cutting sugar.
I have high sugar and high sodium in my blood stream. 
My head keeps getting fuzzy, like when you have a fever. Sometimes I have a fever, and sometimes I don't. I also get headaches.
We think that some of this is caused by my high sugar and dehydration.
I also get mucous-overload from milk products. Talking with Alan and Lacy helped me to reach that conclusion, so I have got to cut back on the milk. Yogurt should not make a person choke on mucous and dry heave, apparently….
Inflammation in my shoulder and right hip
Here's what I'm trying to do about it:
seeing a doctor
I'm already getting chiropractic adjustments and physical therapy for my pain issues.
Now I'm all about lowering the blood sugar and eliminating the milk products.
So here are the tips (Thank you, Lacy!) that I'm implementing this week:
Instead of snacking all day, which is my current habit, I need to sit down and eat three square meals a day. Greatly reduce the snacking in between.
Why? I have a sugar problem, so in order for my sugar to be handled properly in my body, my body needs the carbs to be combined with fat and protein. This should help my sugar stay at a better level throughout the day, rather than having constant spikes from my carb snacks. And let me tell you, I have been the QUEEN of carbohydrates, which is what got me into this mess.
2. My biggest issue is that people love to tell you what NOT to eat, but they don't tell you what TO eat. I mean, if you take away my bread, my yogurt, and my granola bars, what do I have left??
They always say, "Avoid processed foods, but what does that look like exactly??"
Lacy gave me some "what to eat" ideas. These are specific to my sugar and milk issues, but I think they would be good for anyone!:
Vegetables…..like cut up fresh bell peppers of any colors, broccoli, carrots, salad, fennel, onions, garlic, celery, romaine lettuce, and on and on. Cook 'em, roast 'em, eat 'em raw, whatever.
Fresh or frozen is better than canned because of the added sodium.
Avocados! That's one of my favorite foods anyway, so that's good news. Eating some fats is important for me, as it turns out.
Meat…..steak, chicken, bacon, fish, ground turkey meatballs…
I loved her ground turkey meatball idea because our family loves meatballs, but I never make them because they are a lot of work. We also like "hamburger steak," so this is a cross between the two.
Lacy said to just put your ground turkey in the big skillet, sprinkle your favorite spices and salt and pepper on them, and as they cook, cut them into little triangles.
That simple. So yummy.
Confession: I used ground beef, but I think that's okay.
Carb Suggestions: 
Trader Joe's whole grain bread…I can't remember what it was called exactly, and I should have mine in the context of a meal.
Sweet Potatoes (like half of one)
Fruit, but with other things
Beans or peas, which are also proteins
Milk Substitutes
Almond milk or coconut milk. Since our family has nut issues, we may go with the coconut. Some of our kids can still do regular milk.
I put the coconut milk in my coffee today, and that filled me with joy. I just can't tell you. Coconut milk is naturally a little sweet.
Meal Plates
The plate should be half vegetables, 1/4 meat, and 1/4 carb.
Now obviously, she told me a ton more stuff. It's still floating around in my head, but these are my FIRST STEP things.
Thank you so much, Lacy! My family thanks you as well!
This week my goal is to sit down and eat lunch with the kids, instead of standing in the kitchen picking on sugars. Once lunch is done, those boys are going to learn the new habit of helping Mom clean up lunch, and I don't just mean their plates. I mean clean up the whole meal. Laura and Mary Ingalls did it, so I figure what was good for them is good for us too. hehe
Hope you are all having a fun weekend!