You can have the gluten, but you'll never get the chocolate!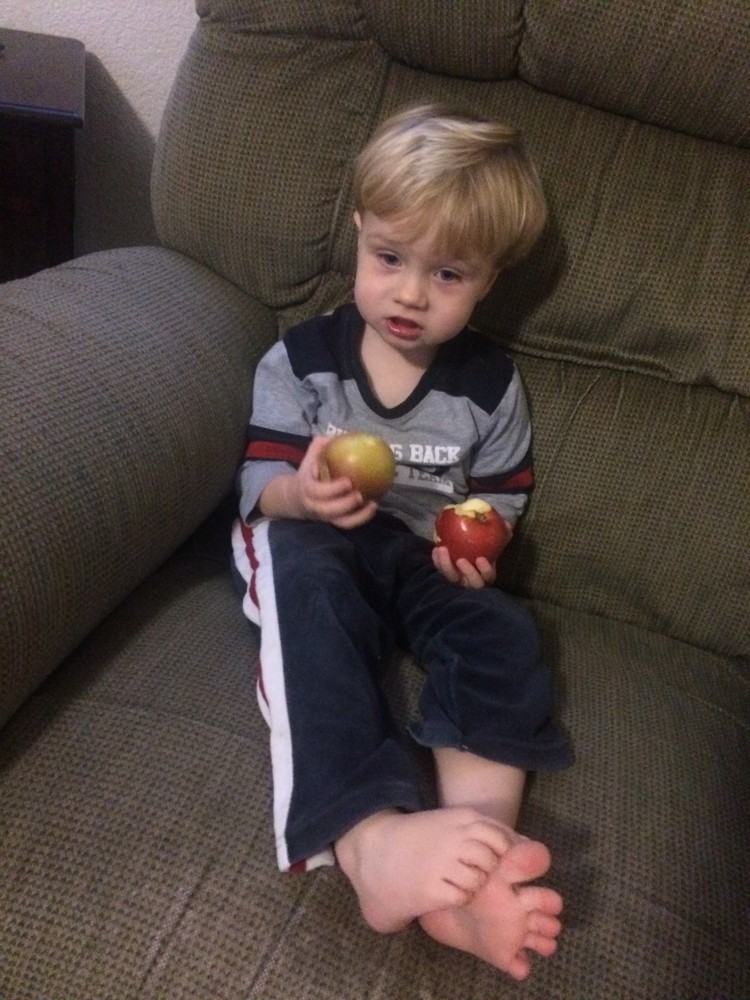 Have you ever tried to be gluten-free? Before you roll your eyes, let me assure you that I'm not about to try to convince you to join me on this.
I'm trying this, at the recommendation of my cardiologist, in order to feel better.
Can I get a tee-shirt that contains that explanation because I feel like such a trendy hippie or diet-nut at parties now.
"Are these gluten-free?"
I don't want to be that guy. Maybe I should just start carrying food around in my purse.
I turned down CAKE at a party the other day. Ice cream cake!!! I felt like such a heel.
I'm so new at this that I mistakenly eat gluten every single day still. The other day I was so very proudly chomping away at my salad, thinking, "Mmmm Mmmm MMMmmmm," and then I realized, "Oh. I just ate like 10 croutons, which I'm sure had no gluten at all….."
Oops.
The other night, I couldn't take it anymore, so I told Alan, "Please go to any store that you can find open (on a Sunday night), and buy me some gluten-free bread."
Alan came home, with get this, a NINE dollar loaf of gluten-free bread.
Did? What? How did?  Nine!!!!!! Nine dollars!!!
Now if you know Alan, then you also now officially know that Alan loves me more than life itself because Alan does not buy over-priced things. I'm not even sure if Alan buys reasonably priced things. Alan believes in saving money.
Nine dollar bread.
So I've gained like 5 pounds since Sunday, and it's only Tuesday, because goodness knows we cannot possibly let a single slice of that loaf go bad before it is consumed. It was obviously spun out of gold.
Again, it cost nine dollars. Nine.
I'm pretty sure we will never do that again, but Alan knew how desperate I was for bread that night. Thank you, Honey!
I've always said that our lives are in the hand of the Lord, and He will guide us if we only ask him to, and he provides, oh, he always provides. The whole time I've lived here, in California, I've thought, "Geesh. Why are so many of my friends gluten-free? It must be a California thing."
Ha! I happen to be in the exact perfect place to learn affordable tricks for eating this way, mostly due to my friends Joy and Lacy.
I am so thankful!
Did you know? "Up to 25% of people who have psoriasis also may be sensitive to gluten."  https://www.psoriasis.org/treating-psoriasis/complementary-and-alternative/diet-and-nutrition/gluten-free-diet
My first mission is to buy a bread maker, lest I feel tempted to buy any more nine dollar bread. I'm looking for a second-hand one because so many people get these for wedding gifts and never use them. Any of you have one you'd like to sell me?
Thankfully, my friend Lacy also said that you can buy gluten-free bread at Trader Joe's for much less than nine dollars. Ha! Phew!
I haven't actually completed a whole gluten-free day yet, but I'm making small changes, one at a time. Last week was a true low point, physically, emotionally, and mentally. I began to wonder if I'd ever get to just feel normal again.
It's been so depressing to be so uncomfortable all the time!
Today has been a serious victory. Every morning I carefully pull myself out of bed, wondering, "What will hurt this morning?" But today I have felt normal!!! Two days of total normalcy!!  I didn't realize what a toll all the aches, pains, and fevers were taking on me. It is so much easier to be happy when your body doesn't feel like it's clamping down on you!
I don't know if cutting out gluten will help me or not, but it's worth a shot. Either way, let me tell ya, this whole process has given new meaning to the verse "Do not boast about tomorrow, for you do not know what a day may bring."  (Proverbs 27:1)
Each day that I feel well, I have this sense of urgency, wanting to get as much done as possible, in case tomorrow I just can't. However, I don't want to live under that kind of pressure.
I figure the best I can do is draw close to God, weep when I need to weep, laugh as much as possible, and eat the best that I can. No need for stress. Trust the Lord, and make wise choices. That's all any of us can do anyway.
I'm off to bake something chocolate with my gluten-free flour. Now I'd like to see just one of them try to take my chocolate away from me.