Homeschool Week 64: Peace, Testing, and Toddlers in the Waiting Room
This week our family is preparing for standardized tests. I can safely tell you one thing that will never ever work at home school. Standardized tests. Oh.my.goodness.
Alan downloaded practice tests and Scantron sheets for the boys to practice with. Here's an example of why this sort of super official testing would never work at home school, at least not at ours:
"Mom, I'm done! I'm done! I'm done!" Joshua shouted as he finished his math section.
"Yay!! That's great! You may go have a break."
Ugh. In hindsight, I SHOULD have said, "Shhhh. When you finish your test, very quietly lay your head down on your desk and wait for the buzzer."
But no. I haven't been in a testing room in ….13 years, and that was the GRE, so I forgot that our behavior would be highly distracting for those still working on their tests. Poor Caleb.
Five minutes later, the timer went off, Caleb hopped up and started asking me questions. JD walked in the room, and Joshua walked in behind him.
"Hey, JD, what's this? Let me see." Joshua asked him.
JD handed Joshua a round, brown blob.
Joshua held it and said again, "What is this JD?"
"Poop," JD casually replied.
"Aughhhhh!" Joshua exclaimed and dropped it like, well, poop.
We all died laughing. I ferried JD away to the bathroom. Potty training is not for the faint of heart.
Practicing standardized tests at home has been difficult to say the least. With two preschoolers walking around, the house is never quiet. As the mother and the teacher, I take their scores all kinds of personally, and it's just another reminder of how happy I will be to send them off to a different teacher next year. The pressure!!!  It's too much.
But you know we are never all business, no never. Let's talk about the fun things that have been going on.
How peaceful does this look? Well, I'd love to leave you with that half-truth, but the fact is that peaceful wasn't quite the word for that morning. I told the boys we'd go on a walk. Only the 2 older boys are so fast on their bicycles, and I am so slow pushing JD in a stroller that we split up. Splitting up left me with a pressing sense of urgency, so I was not free to calmly enjoy letting JD run around in the grass for a few minutes. No, no. I had to eventually chase him down, robbing him of this bliss that he'd found, and belt him back into my jogging stroller.
He screamed. He cried. He protested. There was no longer peace. And then lo and behold, we happened upon an entire flock of wild turkeys. The boys were absolutely delighted, the turkeys, not so much. They made a quick exit into the depths of the woods and far away from little boys and their wheels.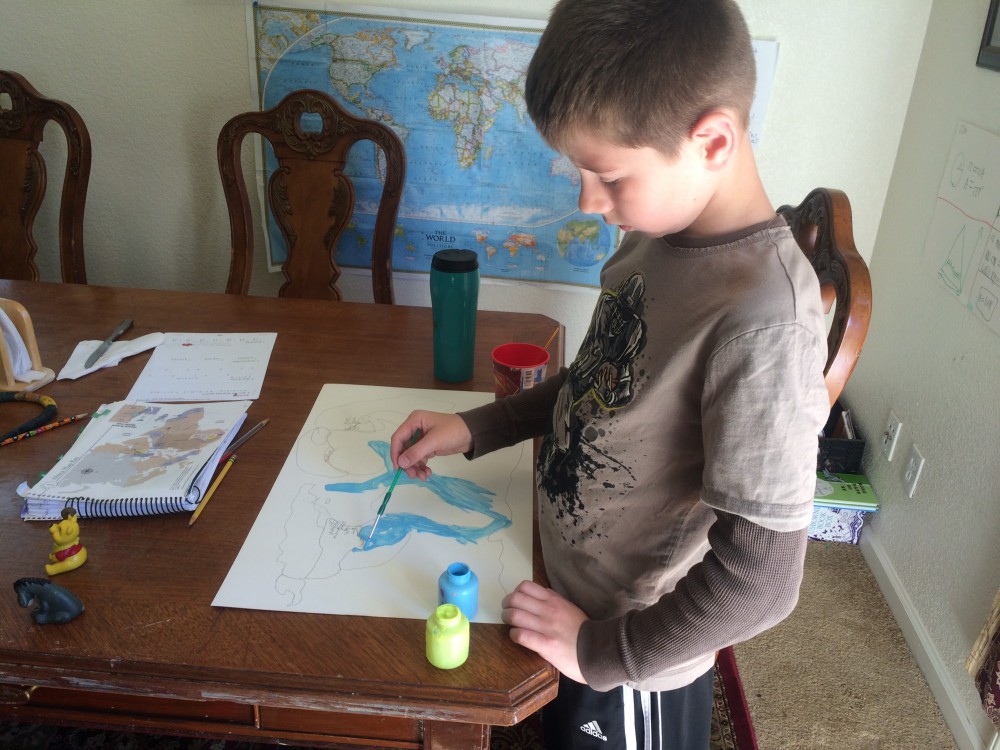 I occasionally buy new art supplies because I have such grand intentions of encouraging my artists, but I admit that I always groan a little when they beg to actually use said art supplies.
Again, if I could only sit and enjoy it with them, but there is always that sense of urgency. Must get to practice at 5. Must make dinner. Must make them do math. Must get kids to nap before my head explodes.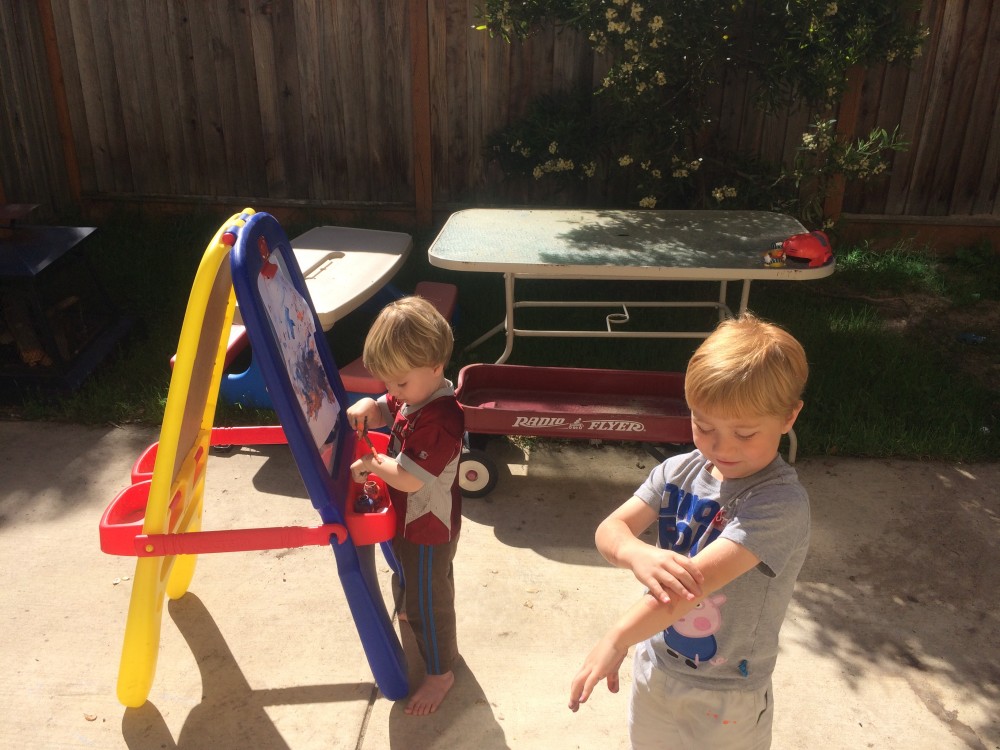 "No,no,no,no,no. Only paint the paper. Okay. Art time is over. Go wash your arms."
It embarrasses the snot out of me that every single time I go to leave the house my children say things like, "Mom, are you going to the doctor?"
Or as Dan says, "You going to doctor's 'pointment? Take me with you. Oh, please, oh, please, Mom, take me with you."
When it's the chiropractor's office that I'm headed to, I do occasionally take them with me. I thought they were adorable in the waiting room.
But here's a tip: It is always best to take only ONE kid at a time with you to an appointment. That way they stay kind of quiet and in their shell. They sit nicely, they are well behaved, and I get to look like super mom.
But sometimes, when you take two little best buddies together….well, they may or may not have a big ol' ball at the doctor's office, playing off of each other's energy, and you may or may not end up trying to flee the office as quickly as possible.
Okay, the truth is I spoiled it all by taking photos. That switched it from a serious place to a fun place. You gotta be sneakier with the photography.
"This place is fun. Let's try out ALL the chairs."
Physically, mentally, and emotionally it was sort of a rough week, but as always there is still so much to be thankful for.
I did call PA Carlquist, and she changed my medicines for me. The first day on the new one was iffy, but nothing like the Rhythmol. I will definitely be able to function on this new medicine. Hallelujah!!!
And with that, the ventricular tachycardia is under control, and the side effects aren't bad. My future is looking exciting, and I want to thank you all for your prayers. Our prayers are always answered. God hears our prayers. I have no more pain, no more nausea, and I am so encouraged. I hope that you will be encouraged too. God never ceases to amaze me in the way that he answers our prayers, not just a little, but in bigger ways than we even hoped for.
"Trust in the Lord, and do good; so shalt thou dwell in the land, and verily thou shalt be fed. Delight thyself also in the Lord; and he shall give thee the desires of thine heart. Commit thy way unto the Lord; trust also in him; and he shall bring it to pass."   Psalm 37:3-6