Visitors, Busy Times, and the Best Daddy and Husband Ever
What a week. I don't even know where to start. It was one of those, but if I explained I'd have to tell a whole bunch of other people's business, and I'm not all about that. I like to have friends….sooooo  I'll just say it was a big week. Things went haywire. Big things. Everyone seems to be okay. And through it all, we've seen the Lord work in so many ways. Praise the Lord we do not have to do life alone. We have a Father in Heaven who cares, who is involved in our lives. Through sickness. Through fire. Through hard decisions.
Jeremiah 33:3
Call unto me, and I will answer thee, and shew thee great and mighty things, which thou knowest not."
Luke 1:37
For with God nothing shall be impossible.
I used to say, "One day we will get our act together, things won't be so crazy." Ha! It's never gonna happen. This is our act. This is it.
I used to think, "Once these kids get bigger, I will be calmer. The house will be cleaner."  Ha! Will it, really? Nah. You know it's these very kids that keep us laughing and keep us from taking life too seriously.
For instance, we have Nonna and Aunt Janet in town. Sweet little Daniel sat in the bathroom with Janet, watching her put on her make-up and talking her ear off.
"I like your neckwace. That's the cross, like Jesus died on. Jesus died on the cross to save us from our sins. We all sin. Everybody sins. Except not my daddy."
Oh!  The preciousness! Of course, Janet chuckled and gently explained that Daddy's not perfect either, but Jesus is.
I love it. I love that he thinks Alan is that perfect, and he is pretty perfect, really. Not many men do all that Alan does.  Alan has been my greatest blessing this year. I've had health problems. It took me a long, drawn out process to figure out that simply dropping gluten from my diet would take away ALL of my joint pains. It's hard to believe. It won't work for everyone, but for my body, it was the root cause of my joint pain. It's gone now. I wonder if I could even take a car trip. Maybe I'll test it one day soon.
While I was the one with the fevers, the heart problem, and all the doctor appointments, Alan was the real hero here. The man had to take up so many of the things that I usually do and do them for me. The boys did some too, but Alan has missed class so that I could see doctors. He's been busy and probably stressed. This is his last quarter, and he's in a time crunch to get his thesis done, but he was there for us.
Thank you, Alan. We have such a beautiful life together. I've never appreciated you more than I have this year. I love you, I love you, I love you!
You did a home-run grand-slam job with the whole "in sickness and in health" part of our vows this year.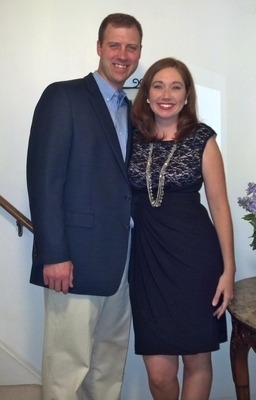 We have Nonna and Aunt Janet in town, so we might even get to have a date night tonight!!  I am so excited!!
Now on to date night!