The 2009 Disney Trip with 2 Toddlers: Magic Kingdom
We are going to Disney World!!!!
I am so excited!!!
I dug back into the Xanga archives and found these photos from our first and only Disney World vacation. Well, first and only for Joshua, Caleb, and me anyway. Even though we may have appeared to be off our rockers to take two children that small to Disney, it wasn't crazy at all. It was every bit as magical as they say.
And cold.
It was so cold the waterfall on the safari at the Animal Kingdom froze in place. So did our 1-year-old's snot. I am not exaggerating!!  We kept buying Disney sweatshirts just to keep warm, and that's a big deal for us!
So without further yack-yack, Disney World with a 3 year-old and a 1-year-old (who looks like a 3-year-old..ha!)
This is Day One of our Walt Disney World trip, and in these first photos we are on The Magic Kingdom train that goes around that park. We, of course, are headed for Toon Town. The boys cannot imagine the journey that awaits them!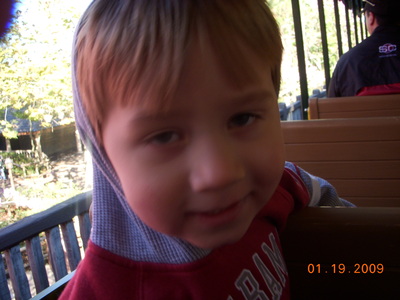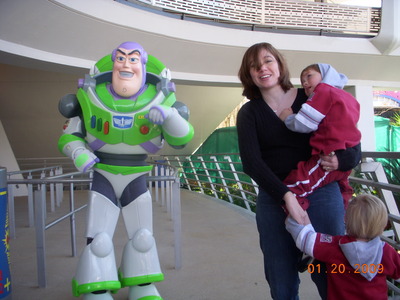 Buzz is the first character they met. But they didn't really want to meet him. Oh well. At least they're smart enough to know something was not right with this! 🙂
(We will never be the folks spending time in line with an autograph book, which is delightfully freeing! Thank you, boys!)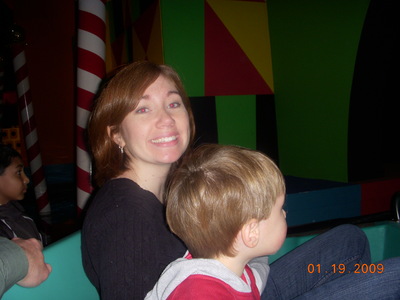 Day One, The Magic Kingdom.
Day one, we knew it was supposed to be cold,but we're thinking Florida, Disney World! It probably will get warmer later in the day. So we dressed warmly, but not warmly enough, and we FROZE.
But other than that, it was good. We made it to about 3pm before calling it a day and heading back to the hotel room. Caleb was in awe at first. He just sat wide-eyed on the train ride, taking in his surroundings and probably also wondering why we'd brought him out to freeze….He and I were also in the depths of our cold virus, so I was pretty miserable. But nothing is worth missing Disney for, so we blew our noses on Disney napkins and kept truckin'! (Dear public, I am so sorry.) Caleb actually seemed to enjoy it more than Joshua, who seemed a bit overstimulated as he threw a fit every time we left an attraction…… We met one character that day, Buzz Lightyear, but the boys weren't so sure about him.
They LOVED the little playground across from Mickey's house and they also loved any opportunity to look at ducks in the many ponds, etc. They were just little sponges soaking it all in. I wasn't even disappointed that Joshua didn't want to ride Dumbo or the teacups that first day b/c it was so cold we were always looking for heated indoor attractions like "It's a Small World". I love that song! All total, it seems like all we did was walk all day and wait for buses, but really we did manage to get in quite a few attractions: It's a Small world, Pooh's Corner (which Joshua found a little scary since it's dark in there), the Monsters Inc Laugh floor, and Buzz Lightyear space ranger ride. We also changed hotel rooms so we could get an extra adjoining room to spread out a little more. We ordered pizza in that night, and we were thoroughly exhausted.
Next time, we'll look back at Animal Kingdom! 🙂