How do you get more self-discipline when you work at home?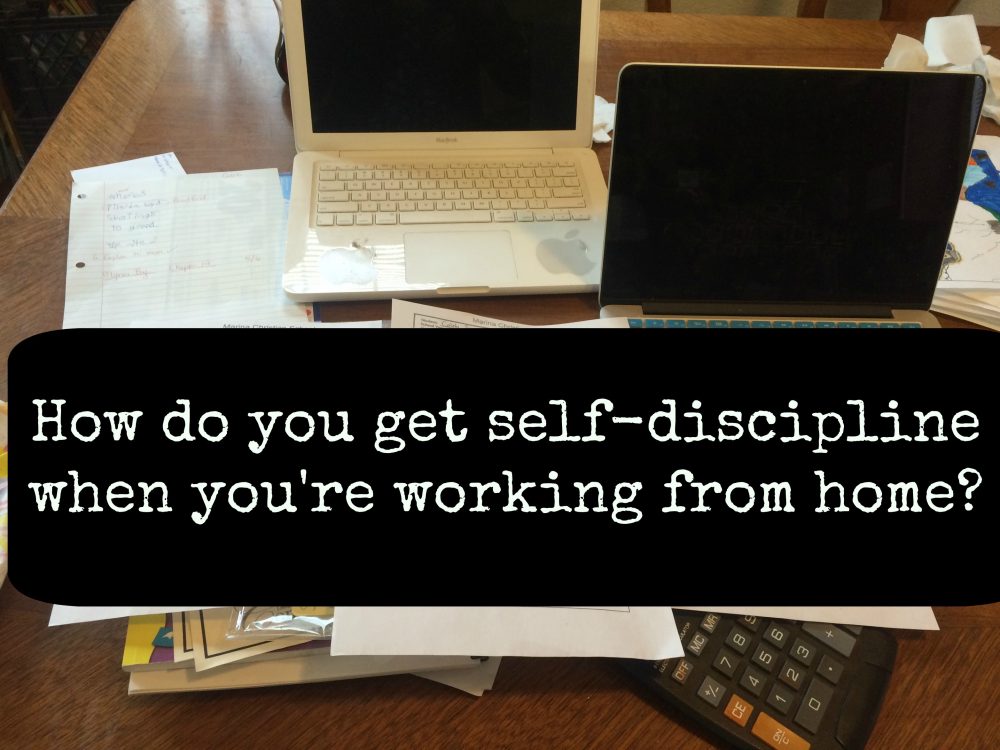 Apparently, for a perfect article, you're supposed to solve a problem for the reader. (See, I've been reading up on it. Fat lot of good it's done me.)
So I feel like I should apologize to all of my readers. Have I ever solved ANY of your problems? Noooo–unless your problem was you needed to feel better about yourself. If that is the case, I am HERE for you, man. I will tell you how short I fall of the mark, most any mark at all, and you will definitely leave feeling better about yourself.
When I ask the question, "How do you get more self-discipline?" you might think that I'm going to give you the answer….
But I'm not. Sorry. Yeah, I'm actually just asking YOU. Seriously. How? I'm supposed to be working from home this year.
Instead, I feel like I spend most of my time talking on the phone to cardiology offices, re-organizing little boys' clothing, helping JD, and reading the news. And as usual, when I say the news, I do mean my Facebook news feed. See, they call it the news too.
How do I get the discipline to sit down and write beautiful stories???
I have some ideas. Tell me which ones you like the best:
More Fall Decor  (Yes, I'm obsessed.)
Front Porch Decor
Money-Saving Grocery Shopping Tips
"Make Over Your Evenings" Course (from MoneySavingMom.com) Review
10 Things You Never Knew About Abraham Lincoln (I have learned so many Abe facts from this mega biography I'm reading.)
But how do you choose joy? (I've been researching this in the mornings.)
Why do fitness and nutrition have to be so obnoxiously important?
Why all pre-school moms NEED to join M.O.P.S.
I met a mom at MOPS last week who has this self-discipline that I lack. She doesn't even have a Facebook account. ****GASP!!!****
"How do you maintain this level of self-discipline???" I asked her. I could also ask Amy, my sister-in-law this question. She always goes to bed on time, and she sticks to a schedule with her children (I'm apparently allergic to schedules). How????? No, I mean, how do you make yourself???
My new MOPS friend explained that she is an artist, so she wants to use her free time to work on her art, not Facebook.
But I'm a writer, and I NEED to use my free time to work on my writing, so what am I doing posting pictures of myself exercising on Facebook? Why do I find it so important to share every funny Meme I find with my Facebook friends? Why must I "Like" everything my friends post???
But what if I don't "Like" their photos, and they think that I therefore do not "like" the photos?? Oh, I have to hit "LIKE"! I JUST HAVE TO!!!! Wow. It's a compulsion. I'm really nuts.
I was thinking. Maybe I should pour all of that energy I've been putting into social media into my actual blog/blogging community. Then I would have a better blog and less guilt.
Okay, so obviously I don't have any good self-discipline tips. I only have questions, crazy, neurotic questions.
Please send me your best self-discipline tricks. Do you work from home? Are you self-motivated? How do you pinch your own rear to make yourself stop cleaning house or playing and actually work-at-home???
Don't leave me hanging. I need ideas!