Thoughts on My Last Baby's First Day of Preschool
Maybe it's because I haven't had a solid night's sleep in a week. Maybe it's because he's my fourth son, my last baby. I don't know, but today I dropped JD off at his first day at preschool, and I cried all the way home.
He's three and a half, and he's ready. We knew he was ready. He knew he was ready. His brothers are even excited for him.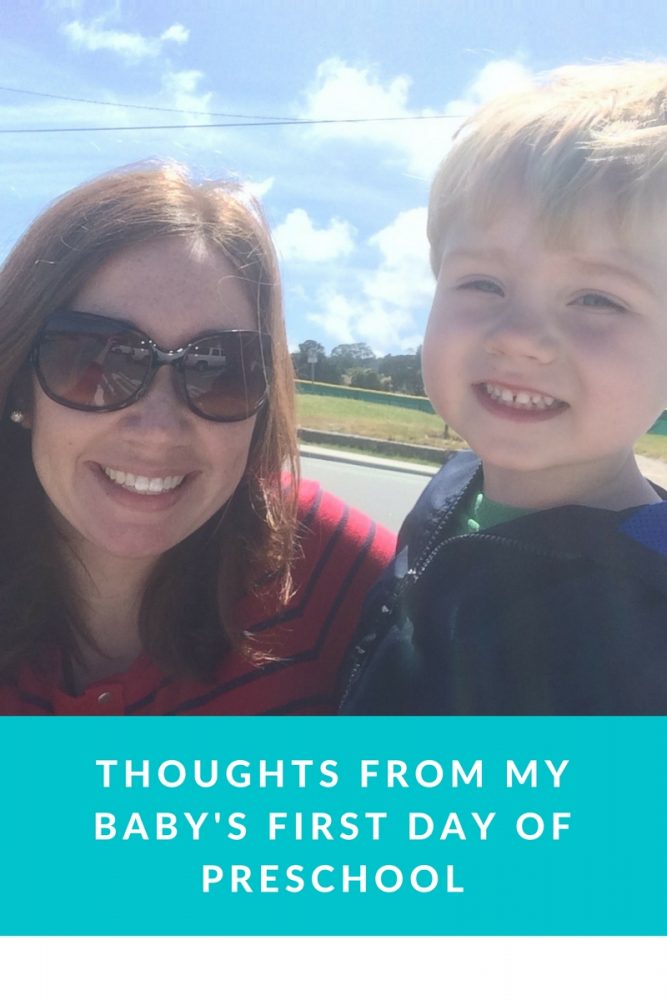 And he handled it like a champ. He proudly put on his brand new Minions tennis shoes, showed me where to write his name on his new Batman lunch box, and rushed me out the door. He didn't even pause long enough for his "First day" picture, he was just so eager to go.
And what did I do? Well, I handled it like a grown-up. I cried all the way home. I was supposed to go straight to the grocery store, but I couldn't. I had to run home to my refuge, crying.
I'm fighting the urge to sit down in the floor with a Coca-Cola and a fat stack of baby photo albums and boo hoo.
I haven't had days off like this since 2010. I've had part-time babysitters that came and took care of the boys while I went to doctor appointments, but this is different. I might finally write my book!
There is something extra special about time off when you are taking care of small children all the time. It is beyond necessary.  I hope if you are a mom of pre-schoolers that you will sanctify at least one day a week to have time off from taking care of children.
Schedule it! Make someone commit to watching those babies for you while you take 2 hours off, or whatever you can get!
Make them put it in writing.
"I promise to watch these sweet, precious children on this day at this time every single week so Mommy doesn't lose her mind or end up with a heart problem."
I miss that sweet little boy already. Oh, I love him so much. I can't believe he is my last pre-schooler. I've had at least one preschooler, usually more, in this house for 11 years now, and suddenly I find myself almost finished with this phase. I only have 1 1/2 more years!
Oh, no. I'm going to start crying again if I talk about it. How I've loved it. I have loved every minute of taking care of these babies. Okay. That's not true. I didn't love every minute, but I loved THEM every minute.
Sometimes I long for them at ages that they used to be that we will never get back. They are still here, but that age of them is gone forever. Sometimes I think back to, for example, baby Daniel, the round little ball of baby, my two-year-old boy who followed me around relentlessly wanting to help me do everything.
I think about rocking my babies at night, and while I don't want to go through all that we went through again, I'd give anything just to hold one of those sweet babies and rock them and feed them.
I think about one-year-old Caleb and how he thought his big brother was the greatest person of all time. I think about them in their little Halloween costumes and how they'd take turns sitting in my lap to read books.
Okay, now I'm pouring tears, and I have clearly crossed over to the bad, bad, super sad place, so I'd better stop thinking about this.
I'm going to clean up my face, put my contacts in, and I'm going to go to Sam's. I'm going to go be a grown-up, because that's what you do and because we are almost out of milk and totally out of my coffee creamer. And I'm going to just be thankful for the time that I had with each of those adorable baby boys. I'll keep enjoying them at the stages that they are now, and one day I'm going to be one awesome grandma.
Granted, I'm already under doctor's orders to not lift any babies over 10 pounds because of my arthritis, but I can hold them in a chair, and I can take lots of Tylenol.
Then at 1:00 today, I get to pick JD back up and cuddle him for as long as he will let me, which if I put in a movie, might actually be a long time.
Don't get me wrong, I have times when I'm so beaten down by kids that I'm not this sentimental, when I'm happy for a break. But today was JD's first day of preschool, so today was not that day.
I have seen another evil under the sun, and it weighs heavily on mankind: 2 God gives some people wealth, possessions and honor, so that they lack nothing their hearts desire, but God does not grant them the ability to enjoy them, and strangers enjoy them instead.

This is meaningless, a grievous evil.

3 A man may have a hundred children and live many years; yet no matter how long he lives, if he cannot enjoy his prosperity and does not receive proper burial, I say that a stillborn child is better off than he.                         Ecclesiastes 6:1-3
Enjoy those babies while you can. I guess that's my point. Enjoy them, but take breaks because you really can't pour water from an empty pitcher, and you know they will drain every drop from you. Take time to refill that pitcher and enjoy those little ones. That's what I'm doing today. I'm re-charging….and I'm buying milk.