Our Morning at Legoland Discovery Center, Atlanta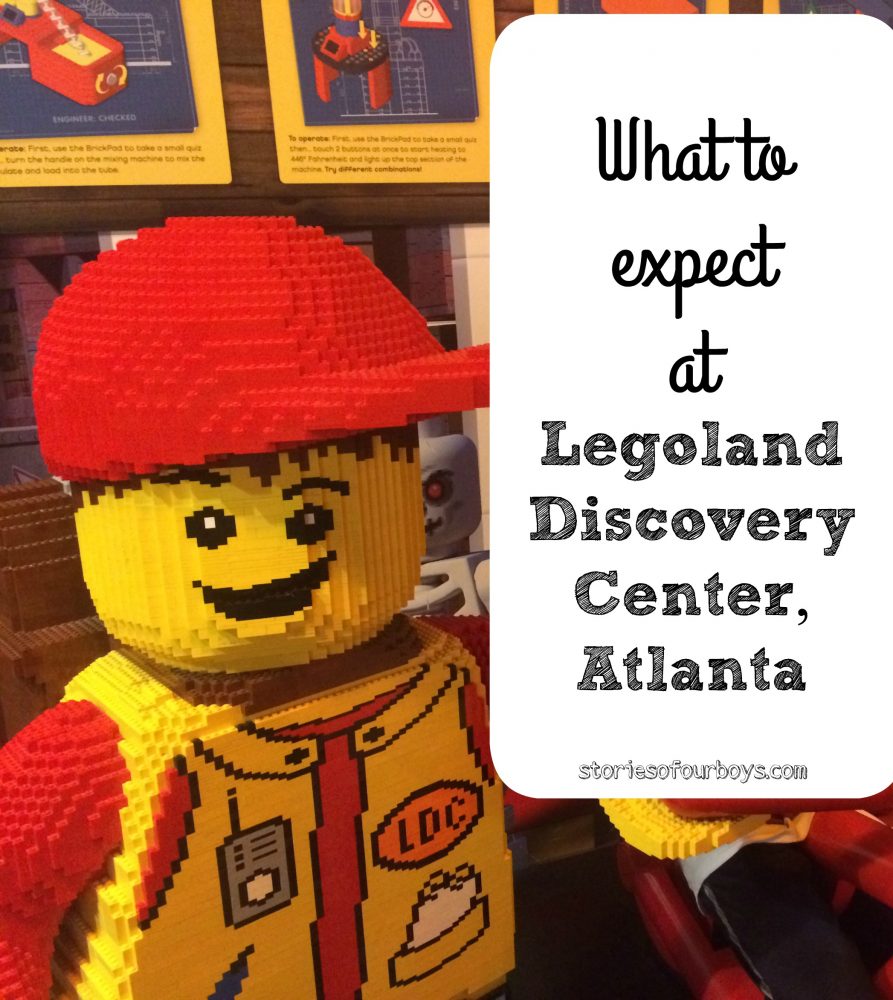 If your kids have never been to Legoland Orlando or Legoland in Southern California, you should totally just tell them this is Legoland and never have to book the larger vacation. They'd probably be totally satisfied.
Of course, we actually did go to Legoland California, and I wrote about that here and here. Our boys are obsessed with all things Lego, especially our younger 3, so these vacations were the perfect fit for us.
This year we saved $$$$ by staying local for Spring Break, and Legoland Discovery Center was the perfect fit. The boys knew going into it that this was not going to be like the theme park. It's more of a play center, and they saw a commercial for it on one of their Lego movies, so they were all happy.
We are firm believers in managing expectations. Give them low hopes and over deliver. That, my friends, is the key to spring break happiness.
Legoland Discovery Centers are scattered throughout the country, in many of the bigger cities, and this was our first time to visit one. This particular one is located in a large shopping mall, deep into Atlanta.
By the way, Atlanta traffic was not nearly as aggravating that day. We miraculously managed to keep our car moving forward, not sitting still, the entire time we were on the road.
We booked in advance because that saves you a few dollars on each ticket. When you are a party of 6, a few dollars on each ticket adds up fast.
I also found this deal on Dealspotr. It will give you a free child ticket with purchase of adult ticket, and it expires April 30, 2017.
When you book in advance, you also choose a time to arrive. We did that because we didn't want to drive all the way over there and then the place be full and have to wait in line. We waited in no line to get in, and we waited in the shortest lines ever to go on the rides. That makes this non-line-waiting-Momma very happy.
Did you know that these bomber style jackets are in this spring? Yes, indeedy, but the only one of us to own one is Daniel because he was so cold the morning of Legoland, and it was his BIRTHDAY, so we went into one of the pricey mall stores and bought him this cute jacket.
It wasn't cold once we got inside Legoland though, so he didn't even get to wear it that long. But that's okay. No one should be miserably air-conditioned cold on their birthday.
As soon as we got in, JD began to ask to build Lego men. JD's interest in Lego is pretty much limited to just the men at this age. All of our 3-year-olds have been that way.
But JD took the request to the level of whiny, repetitive begging that will put your teeth on edge. All the building stations are for bricks, not tiny men.
After listening to his tale of woe for a solid 10 minutes–I mean it could have been 5, but when you are listening to a toddler in despair 5 minutes feels like 45 minutes—-Alan said, "Well, I wanted to wait to give them their men until we get home so they don't just lose them."
"What Lego men? Is that what's in that yellow bag? Our admission tickets came with Lego men???"
"Yeah, but I mean it's just like this policeman. I don't know…"
"Alan, pleeeeeaaaase. I cannot keep listening to him saying 'where's the Lego men? I want to build Lego men.' over and over again. I can't."
So we went on our first ride, a really fun one where you shoot the Lego bad guys with a little light that blinks, just like at Disney World, and that kept him completely distracted.
After that was over, we gave him the one Star Wars Lego man in the bag. He doesn't even care about Star Wars, but he was so happy to receive a Lego man it didn't matter. He was content the rest of the day. Yay!!!
And the little boy who started the tower in the first place (JD) was long gone, up in the pirate tower shooting a cannon over and over again.
That's why family outings and vacations are so important. You get out of your house, away from your screens, away from your friends, away from your JOB, and you have no choice but to focus on each other for a little while. You have fun together, which strengthens your bond as a family.
I hope you all get to go on a few good family outings or vacations this summer. We did this and we did Calloway Gardens this Spring break. I'll tell you all about Callaway on a future post. Did you know that Alan actually proposed to me at Callaway?
We also spent a ton of time chillin' at home, with a lot fewer cares than we normally have. I wrote about that in Part I and Part II of my Spring Break 2017 series. We enjoyed those days too. Who can go, go, go ALL the time? That's plain exhausting.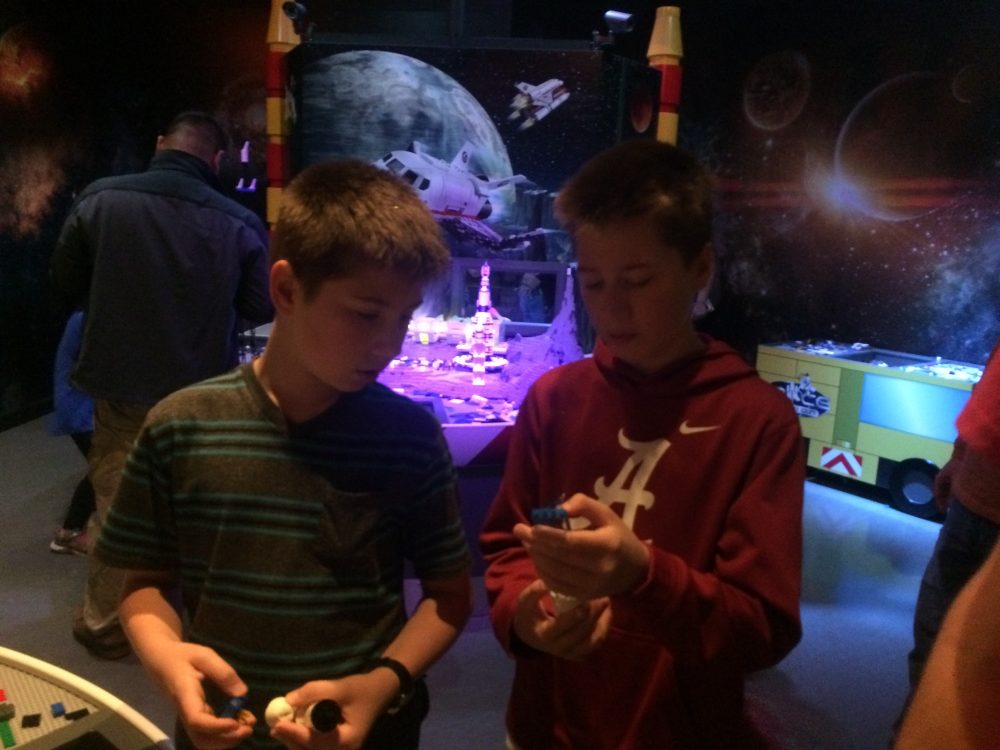 We did everything there was to do at Legoland Discovery Center, except for eat at the snack stand. Instead, we went to Johnny Rocket's right across the hall.
We did everything in 2 hours, and everyone left happy. Everyone. Oh, and of course, we made time for the Legoland Discovery Center Store.
I zipped through the store picking out a little box for their Easter baskets, yeah, it's going to be an awesome Easter, and then I parked myself on a bench outside the store. Anytime I go to Lego anything with Alan and the boys, I spend time sittin' on the bench. I don't see how they manage to fill up that much time gazing at Lego sets.
This was a perfect family day out for us. It was such a breeze sticking to day trips this Spring Break, rather than a big vacation. Come back this weekend for Spring Break Part 4: Callaway Gardens! My new favorite spot in Georgia!