The Story Traveler's Bible: 5 Easy Ways We Teach Our Children About God

Our number one priority is that we set our children off on the right track spiritually.
We aren't training them to live to please just their parents, society, or a set of rules.  Once you're an adult, those things all become mushy anyway.
We'd rather they have a relationship with God. It's not about religion; it's about knowing how to pray, knowing why they believe, having faith, and making these choices on their own. It's about feeling responsible to a being higher than ourselves.
We want them to know that through any crisis in life, and the good times too, they can cry to Jesus, to our Heavenly Father. Alan and I will eventually die. Their brothers will too, so they need someone who will always be there. That's what they can find in their relationship with God.
Here are 5 super simple ways we foster their relationship with God:
#1. We teach them to pray.
From the time they are babies, we pray with each child individually before they go to bed at night. Sometimes it's just Alan or me, but usually it's both of us with each boy. When they are babies, I say all the words.
By the time they are talking, I let them say their own prayers, and I give them ideas for what to say by having them repeat after me. I change it up, not saying the same old thing every night.
For example:
"Thank you for this day. Thank you for my mommy, my daddy, my brothers, and (whoever else comes to mind). Thank you for my toys. Thank you for my house. Thank you for my food. Please help (insert sick relative) get better. Amen."
By the time they are 3, they rarely repeat after me. They say whatever is on their mind, and sometimes it is adorable, and sometimes it is downright hilarious.
One of my boys used to say, "Thank you for

my mom and dad. Thank you for polar bears. Please help the polar bears. Thank you for badgers, raccoons, sun bears, grizzly bears, dolphins, beluga whales…" and he'd go on and on and on naming every animal he knew. So precious.
As they get older, we add in teaching them about praying for forgiveness when they've hurt their brother or disobeyed.
#2. We take them to church.
It's so much work when they are little to get them all cleaned up and dressed and to the church on time, but it's so incredibly worth it. Hearing these Bible stories from another adult, hearing about how God loves them, and getting another Christian's perspective on walking with the Lord is powerful. 
It backs up everything they are learning at home, encourages them in their faith, and exposes them to other leaders and kids like them. I have had so many mentors over the years that were my Sunday school teachers and other Christians who enhanced my understanding with their unique experiences.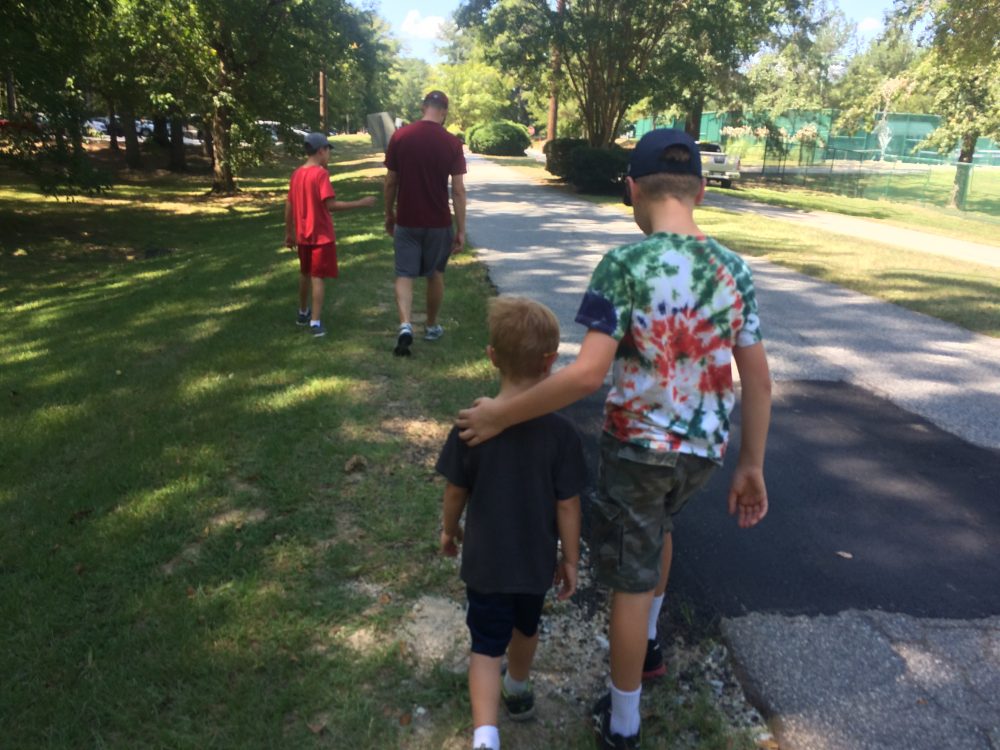 #3. Talking about what the Bible says
I should actually do this more. I tend to remember when I discipline the boys. I tell them, "Hey, Mom doesn't like to punish you, but it's my job. God tells me to. The Bible says an undisciplined son is a shame to his parents." And well, we all know that's true.
I try to remember to use Biblical examples when I'm coaching them on how to handle difficult people or situations or jobs.
#4. Modeling good habits
Feel free to laugh at me here because I guarantee you I've taught about as many bad habits as I have good…ahem…
But that's okay. Kids need to know that people aren't perfect, and we have to love and accept all sorts of people and be very forgiving.
We all know "more is caught than taught." I want my children to see me reading my Bible, see me praying, see me helping the poor, and know that I am a kind, loving person who truly believes what I'm teaching.
For example….
I remember when I was home-schooling. Caleb and I were both going through a phase where we were having trouble with our out-of-control emotions. His was probably the result of my BAD modeling because I was going through a difficult time, but at least I was able to coach him on how to control his own emotions, by learning from my own mistakes.
I said, "Caleb, you may not ever be able to master your feelings on your own. When you feel that anger start to rage, and you want to give in to it, immediately stop and pray. Pray for God to help you keep it together."
So one day, one of my boys came in, all upset and indignant, to tell on Caleb.
"Mom! Mom! I accidentally (did whatever), and Caleb got mad, and he HIT me, and then he just got down on his knees and started PRAYING!" said the flabbergasted and deeply offended brother.
I was so happy I could have soared with the birds.
"Oh, wow! That's wonderful!" I joyfully answered.
"What! Wonderful?? What! He HIT me!!"
"Don't you see? It would've been much worse for you if he hadn't stopped and prayed. He stopped and prayed to keep from hitting you any more. Be thankful!"
#5. Using illustrated children's Bibles to teach them God's Word, like the Story Traveler's Bible.
Reading the Bible to the boys goes over a whole lot better when we use a book with mesmerizing pictures, like this one. You should've heard the weeping and gnashing of teeth we used to hear when Alan would make our 7, 6, and 2 year olds listen to an entire chapter of the KJV Bible straight up.
Bible time should not be torture. We've come a long way since then.
Allow me to introduce you to a fabulous new children's Bible that our family is currently enjoying reading:
I love the details of the Bible stories that it includes.  Plus, it's so helpful how she includes these memory verses in the margins!
The boys love the brightly colored illustrations by Tim Crecelius.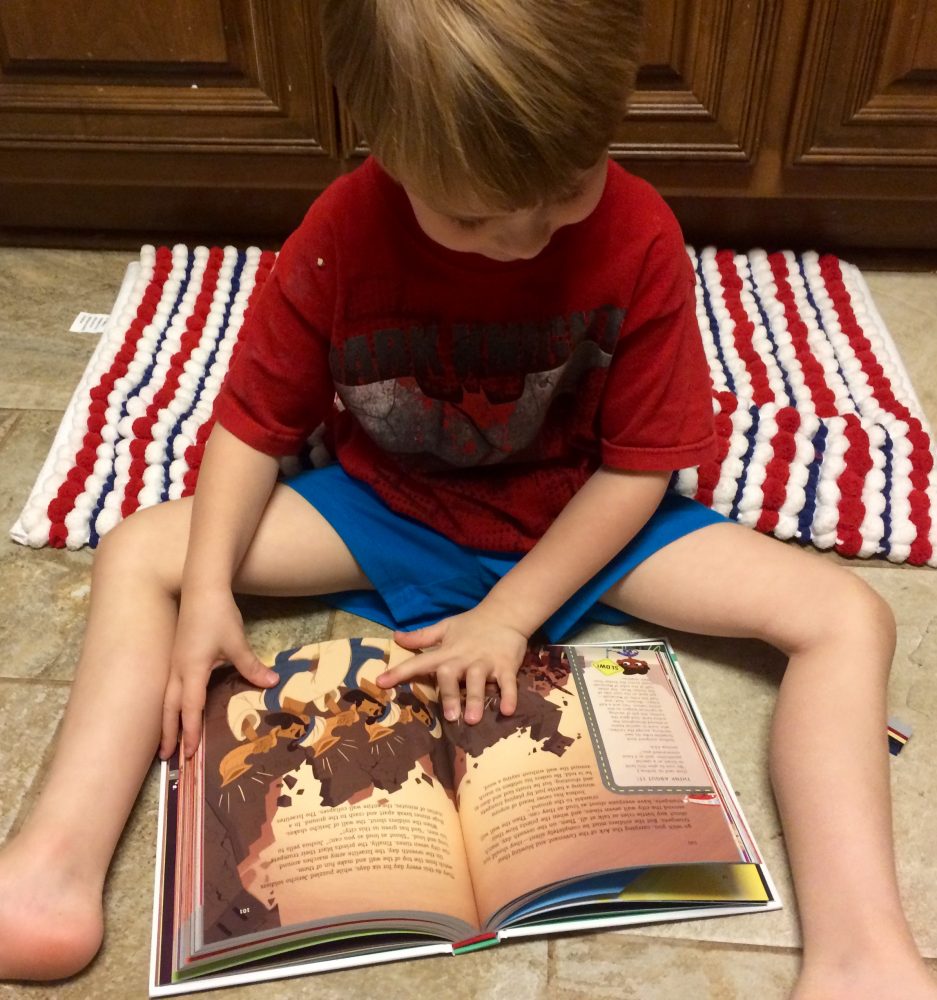 In fact, for a week I could not find the book, and I thought I'd looked everywhere. It finally turned up in my nine-year-old's room, in his little reading corner.
Now that's good silent reading material!
Look at these beautiful pages: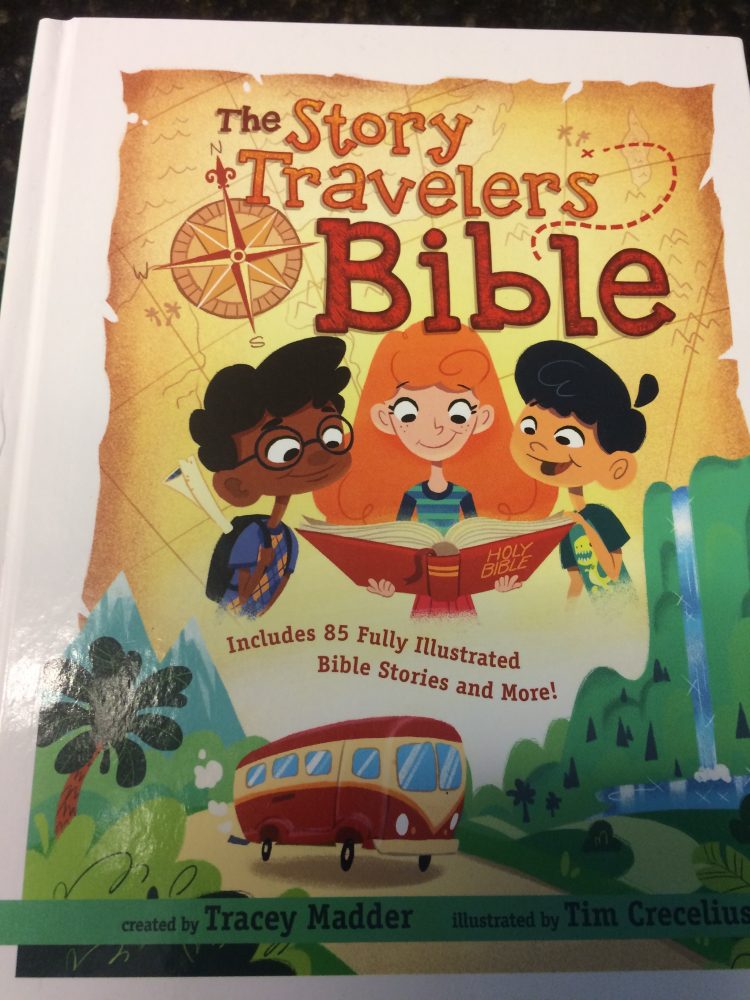 You can order the Story Traveler's Bible here, for $9.94 from Amazon.
I hope you got some ideas or found some of this helpful. If you have any ideas to add or questions to ask, comment below.  Good luck on the giveaway!!