10 Months After the Move: Joy, Legos, and Hair in My Trashcan
We have now been back in the South for 10 months.
I'm not fully adjusted yet. It takes me a year to adjust, and it takes 2 years for me to be fully attached with roots and friendships and all.
Until then, you settle for small talk, you get out as much as you can, you accept every invitation you can possibly accept, and you make the best of it. Also, it would be helpful to study a few maps.
The boys love it here. I don't mean like it. I DO mean love it.
They regularly ask me if Dad could please just work here forever.
Their favorite thing about life in Georgia is their school. They all have made friends in their classes, their teachers are nurturing and way more patient than I would be if I were teaching them, and their brains are growing by leaps and bounds.
Such a relief!!!
The moving part makes me sad for them. We still have at least a year left here, and Caleb is already talking about how much he will miss his friends. This is a truly seasoned and wise military child.
I'm loving being back close to family. It makes it all worth it to me. Aside from that, living here is still growing on me. I do have a few friends and many aquaintences though, and I LOVE my MOPS group.(Moms of Preschoolers)
Moving is getting less and less lonely as the months progress.
I have something that can get me past any issue. I have love. I have Alan and my boys. I have a couple of friends, and I have Jesus joy.
I'm telling you that Jesus joy is a thing. When I sit and pray and meditate on the Bible, this peace and joy fills me that is overwhelmingly comforting. There have been times when it was harder to get to that, but I am there now. I feel like I'm getting back to myself.
I want you all to know how adept I am getting at actually keeping a PLANNER!
Yes! It's funny. After being a fairly non-structured stay-at-home mom for 11 years, going back to working is a huge adjustment. Bear with me. As I get more organized, I know I'll be a better blogger too!
The boys are all as hilarious as ever. Joshua has become impressively responsible with his studies. He is now taking tennis lessons too, which he enjoys.
Yes, I am living the glamorous chauffeur life.
Caleb came up with the idea for his school to have a Lego creation contest, and his principal was so kind as to actually go along with that. So Caleb keeps building and destroying creations, in search of the perfect Lego entry for the contest.
In other news, Daniel now has 100 sight words, and he is so excited to go to basketball camp this summer. Actually, they are all going to basketball camp, all except JD. We are only doing day camps this year, though.
I will never live down sending them to that church camp last year where Caleb got bullied, and Joshua kept a countdown of the hours until they got home.
Sigh. You do your best. Some ideas work out less well than others. I'm their mother. I think they are turning out perfectly. Love, love, love these guys.
John David has been walking around here singing the songs he has learned at preschool. I was most impressed with the way he sings the months of the year and the wheels on the bus.
Oh!!! And did I tell you that we had visitors from our California days???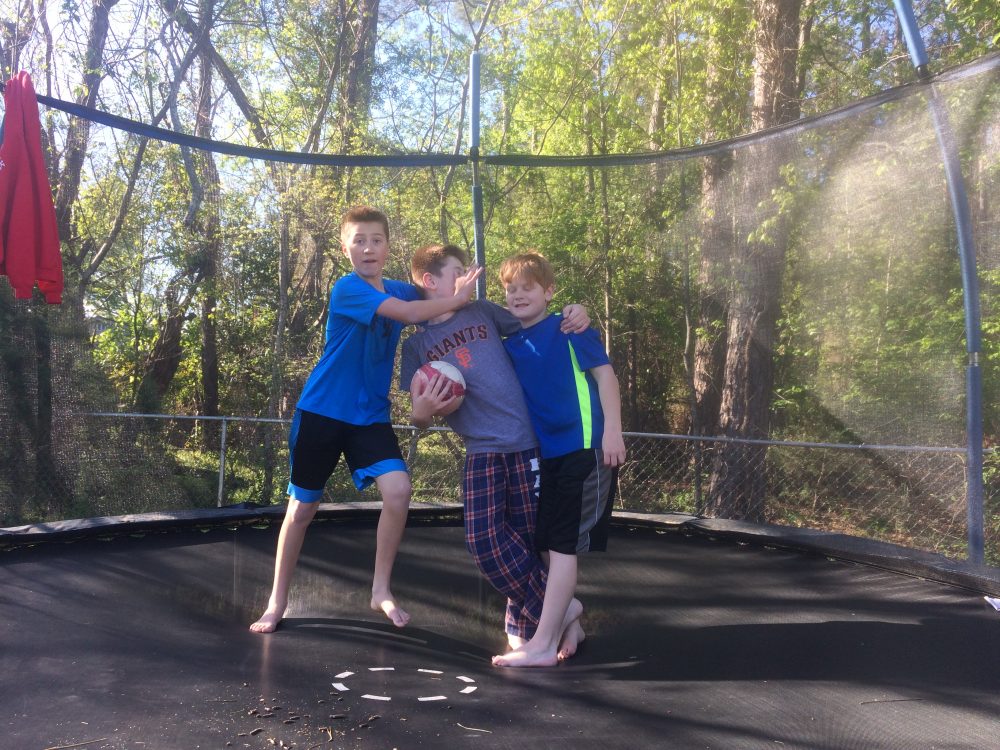 Aiden was their best buddy back in their poison-oak catching, bike riding, baseball playing, woods exploring, mischief-seeking California days. 3 peas in a pod right there.
I pulled open the trash can the other day and saw THIS, but then I felt bad because he said he only cut it because it was in his eyes….yeah….you may call that a fail, but I call it raising one seriously resourceful boy right there.
You know, I'm just trying to use the power of positive thinking. It's working.
Let me leave you with a couple of funny stories from the 3rd grade.
"Today at lunch, Monty turned SO RED because he chugged so much hot sauce."
…..Well, I'm impressed…
"Today at recess, everybody wanted to play with Cory's fidget spinner, but he wouldn't share with anyone, so we all started chasing him. And then we all had to walk laps because they thought we were playing tag," my son said, as he giggled to himself and shook his head.
Another great day in the 3rd grade, unless maybe you were Cory, and a pack of fidget spinning-wanting 9-year-olds were chasing you. Haha!!!
So yeah, we're almost settled in.
When we first moved in, I had such moving depression I had trouble remembering to smile or speak to people, and I had to start researching Bible verses about joy.
I'm happy to report that I've moved far beyond that now. Every wall has a corner. I have turned mine, and that feels a lot like joy.
"Go and enjoy choice food and sweet drinks, and send some to those who have nothing prepared. This day is holy to our Lord. Do not grieve, for the joy of the LORD is your strength."  Nehemiah 8:10
The joy of the Lord is our strength. Amen.