No, I couldn't possibly go to Israel next week.

"No, I couldn't possibly go to Israel next week."
I told my possibly off-his-rocker husband on the phone a couple of weeks ago. Who was this crazy, spontaneous person, with the wild ideas? I had a full calendar of first-week-of-summer events planned, followed by an even busier 2nd-week-of-summer.
The boys had a dozen places to be, and it is my job to get them there while Alan is the one who takes the exciting trips.
Not me. I'm the dull one.
Ha! Yeah, right. Me, dull? No. Just heavily domesticated.
But all of my protests were met with answers. Real, feasible answers.
See, Alan had been planning to go to Israel for a while. It was only at the last-minute that he convinced me to go with him.
Mom's graduation? I wanted to be there so badly! Well, she was super understanding and said I should go to Israel.
The kids? Well, they are out of school, and both sets of grandparents are available both of those weeks that we would need help.
Camp? Nonna and DaddyO will take the boys to camp. My parents and Alan's parents took turns keeping the boys.
Expired passport? You can renew it in Atlanta in 1 day, if your trip is within a small window. Mine wasn't, but I was able to drop off the paperwork and return to pick up the passport 4 days later, in plenty of time for my trip.
The expenses? Cash in all those airline miles we have saved up with Delta and crash in Alan's hotel room that's already booked.
Past that, just let it go. When else is all of this going to align so perfectly for ME, a regular old stay-at-home, sometimes work-at-home, mom to get to go to ISRAEL???
…..So I discussed it with my mom and with Alan's mom, and I slept on it……..
Then I texted Alan first thing the next morning to tell him to count me IN!
Israel was such a grand adventure. It's going to take me probably 7 blog posts to show you what all I saw, but I can't wait to share it with you. I want all of you to experience it, as if you were there. A tall order, but I will do my best.
I'm going to break it up with Real Army Wives posts in between the Israel posts because I already missed last week's, thanks to the traveling, so I need to get back on that!
Trip Preparation
Ya'll!! I wasn't super prepared for this trip, but I knew just enough that it wasn't a total disaster. I literally found out I was going to Israel only ONE week before my departure date. It was insanely last-minute.
This felt like a gift straight from the hand of God himself that just landed in my lap.
Honestly, the scariest part of the ENTIRE trip was having to brave downtown Atlanta alone TWO times to get my passport.
I should explain that I had to prepare for the trip and fly to New York City by myself. Alan had a work trip before the Israel one, so I didn't meet up with Alan until we were both actually in Israel.
I've lived all over the U.S. of A., but Atlanta makes me nervous. There's a billion ways to get lost, and believe me, I will find them.
I parked right beside the passport office, but I didn't realize it, so I got lost on foot. A nice man on the street helped me, but then he asked me for money. Homeless men seemed to be at every corner. Sort of reminded me of my California days, only I was accustomed to the ones in California enough that they didn't make me nervous.
The second day, I got all turned around, couldn't even find the passport office, and ended up  walking, lost, in downtown Atlanta. This time I made eye contact with no one, but also that meant no one helped me. I hiked back to my car and drove until I found the parking lot from day 1.
Yeah, I have no sense of direction. How did I ever survive before GPS? I cannot remember!
The passport office closes to walk-ins at 3pm, and it was 3:05 ish when I finally made it up to their office complex. I stood there, all defeated, too intimidated to ask for an exception. My passport was ready, and all I needed was to pick it up, so when they opened the door for some other guy, I scooted right in. I explained to the security/lady-in-charge what I needed.
"Is that all you were doing, waiting out there in the hallway?"
"Yes," I admitted sheepishly.
I have told you all before that I am a shy, shy person.
These Atlanta mishaps reminded me that when I'm in Israel, I need to be vigilant, not roam around looking like a happy-go-lucky easy-target like I usually do. While I was overseas, I stuck with my friend Julie, or a group of people, so there was no wandering the streets of Tel Aviv alone.
I actually felt very secure the entire trip. Downtown Atlanta was literally the scariest part of the whole thing. Plus, I chose not to drive in Israel, so out went 90% of the stress potential.
Late Thursday morning, I began my journey to Israel.
I flew from Atlanta to New York City, met up with friends that were also going on this journey, waited 5 hours for our flight to Tel Aviv, and then we made our 10 hour flight across the Atlantic.
It was an overnight flight. They expect you to sleep. But who could sleep??? I was sitting between two Israelis, I was excited enough for everyone on the plane, and there was no way I'd ever be able to sleep.
Not wanting to bother people with my reading light or the t.v., as I was in a middle seat, and folks on every side of me were sleeping, I just turned out the lights and PRETENDED TO SLEEP…….for like 8 hours.
Also, it was kind of hard to wake up the dude in the aisle seat, when I needed to use the bathroom.
But who cares? We are going to Israel!!!!!
According to my Fitbit, I slept 2 hours, and when we landed in Tel Aviv it was about 4pm the next day, but it didn't matter. I was still so ridiculously elated, I couldn't sleep that first night either.
Y'all, I was like a child on the night before Disney World. I gushed to the nice Israelite lady beside me on the plane, "I'm sort of a Bible geek, so this is like how regular people feel when they go to Hollywood!"
Israel Day 1
The guy at customs in Israel chuckled at the very sight of me.
The middle-aged, partially balding man smiled, "Let me guess. This is your first time in Israel." (I loved the thick Israeli accents!)
"Yes!"
"How long are you staying?"
"A week!!"
"Who are you here with?"
"My friends."
He looked up questioningly. Granted, I'd zipped out of that plane so fast, none of my friends were in sight…
"You are with a group? What is the name of your group?"
Panic. My group has no name. What do I say? What do I say? So I didn't say anything, I guess for too long…
"You don't remember?" He seemed to chuckle again. I mean he didn't laugh, but his face and voice seemed to laugh.
"Oh, no, it's just, there's no name really, of my group, it's just my friends…"
"Where are you staying? Can I see your reservation?"
Now I was getting nervous.
I handed him my phone with the hotel app opened. I had no data service yet, but at least he could see that I had made a reservation.
Phew! He let me in. I don't think he was actually all that concerned about the dorky, happy, red-headed American lady. But let it be known that Israel is thorough.
Thankfully, some of the men in our group had arranged 2 cabs for us, and I got up to my hotel room, opened the curtain, and saw this: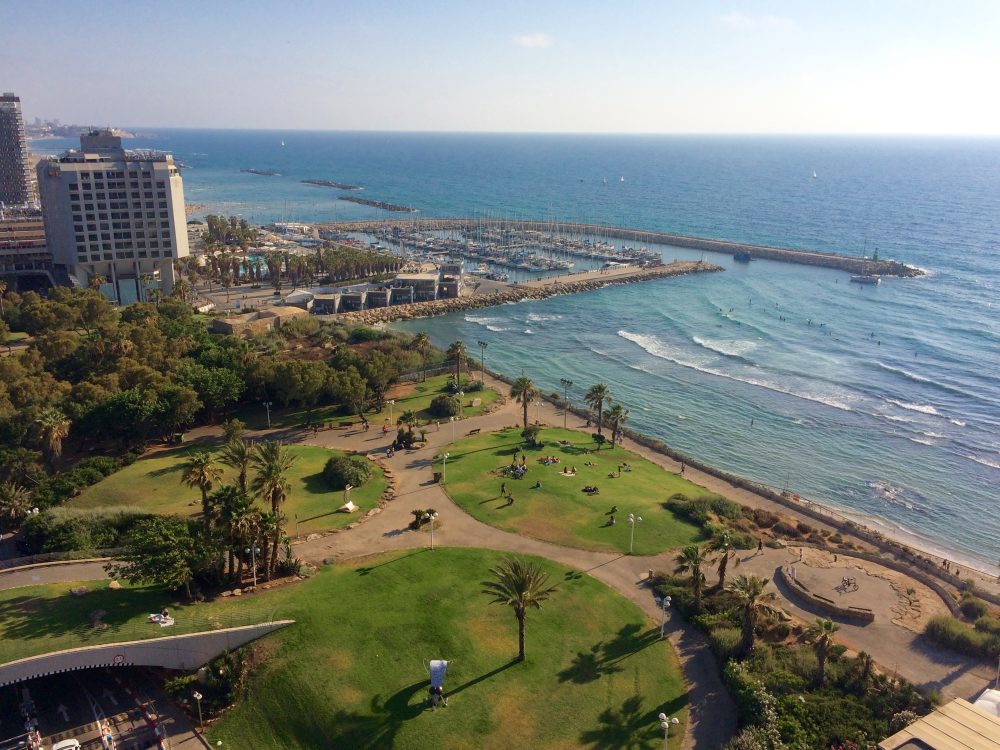 Yeah. I had a good feeling about all this.
An actual balcony in my room!!!??? With THIS view??? I would never have dreamed. When you opened the balcony doors, it was always comfortably warm out there, with the breeze coming off of the sea. Cats meandered around freely down in that park. Runners, walkers, bike-riders, and sun-lovers galore were strolling about all those pathways. And there was that beautiful water, as far as your eyes could see!
Alan arrived about four hours later, at which point he found me collapsed on the bed in my sleep deprived state. It was a great relief to have Alan there.
There were so many things to see in Israel. We didn't do it all, but we did see Jerusalem on day 2, so be sure to come back on Tuesday for the Jerusalem article, which I may have to break into two posts.
I hope you'll come along for the journey! See you in Israel! Shalom, y'all!
SaveSave
SaveSave
SaveSave