What it's Like a Year After Moving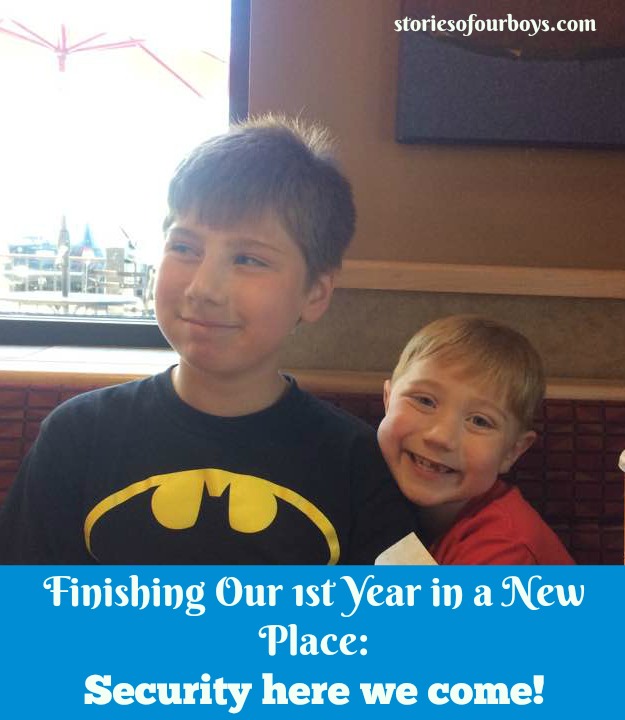 One year after moving…
A year ago, we were the new kids in town. It's an exciting place to be, but it's not a secure feeling at all. Perhaps that why it's so exciting. You're all out there without roots, marching out into the unknown, hoping the people will be kind and the environment friendly.
Phew! It's exhausting to be new: always putting your best foot forward…Actually, sometimes it's an accomplishment just to remember to smile at everyone and keep your foot out of your mouth. Forget about your best foot. Which one is best anyway???
That's why the one-year mark is a much happier place to be. No, we don't have "roots" here yet, but at least we've met people, we've been watered in, so to speak, and the garden is feeling less scary and more familiar.
Last year I had a LIST of things I was NERVOUS about:
School uniforms for the boys–Did we buy the right thing? Will they ever adjust to wearing collared shirts everyday?
Switching back to regular school–Will we survive it???
Meeting people– Will anyone like us? Will the boys make friends? What if there's a bully? What if one of them gets in fights at school?
My face is broken out like a teenager–WHYYYYYYY????
Church people–We picked this church, but will it work out? What sort of people will they turn out to be? Do they pretend to be perfect and expect me to do the same? I'm not playing that game. I'm much too old for that.
The village–Is this a good place for my children to be raised? Why is this crime report so horrible? Is this place less safe than D.C.? Because it sort of seems like it is!!!
Dropping off J.D. ANYWHERE is impossible. He will NOT let me leave him. Will he ever stop crying???
This year I have about 1,000 LESS worries and anxieties!!!
All of the worries from last year are gone. We are happy with our school, our church, and JD usually lets me drop him off without too much of a struggle.
I can't tell you much it warmed my heart to have ONE successful VBS year with my boys. First of all, VBS and our boys have not always been a great combination.
Most of my boys don't enjoy crafts, singing, dancing, or listening. Sigh. That list pretty much sums up VBS, doesn't it? Plus, they are a little shy, and they dislike large crowds, especially large crowds of kid where they don't know anyone.
This week has been completely different for us! We have achieved VBS success. I can't believe it!
First, of all, I taught Bible story time, so three of my four boys got to have me as their teacher for 20 minutes of the morning, which helped.
Secondly, they divided the 100 children into groups of 6 to 12 kids of like ages. I can't tell you what a blast Joshua had getting to hang out all morning everyday with 5 other 11-year-old boys.
And Daniel made a new friend who likes baseball as much as he does!
Seeing them so happy made my day because most years they just feel like the outsiders at the family reunion. You know? Going to events in a new place where you don't know anyone is like going to a high school reunion for a high school you didn't attend.
It was also a relief to not be moving this year. Without all the unpacking boxes and living in hotels, we've had more time to do fun things this summer. We've gone to weddings, visited old friends, played with new ones, celebrated birthdays, and hung out together at home.
We actually had to say good-bye to Daniel's favorite girl and her brother this summer, who is one of Caleb's best buds, so we do know the sadness both in moving and in having friends move.
I've almost recovered from sleeping in hotel beds….
So this summer finds us in a much more secure place than last year.
We have friends. We know how to go most everywhere we need to go without looking at a map, and best of all, we have about a hundred acquaintances.
It warms my heart to see my boys relaxing more and being themselves.
I hear people knocking "acquaintances" sometimes, but those must be people that never move. When you move frequently, you learn to treasure even the acquaintances, because thanks to them, you can walk around town and be reminded to smile and nod because you spot a familiar face.
It's reassuring to me to have tons of just acquaintances. Why? Because those are all potential people in your corner right there! Just seeing a familiar person, someone whose name you know, is enough to put you at ease when you sign up for something new and you walk into a room full of strangers.
Walking around in a sea of strangers feels a lot less welcoming to me than passing by people who smile and say hello because they know my name or they know my children.
So I would say that actually having a ton of surface level friends is not so bad.
Yes, you need a few close friends too, but you can only pour into so many bosom buddies. It's pretty awesome just to be somewhere long enough to know people's names and have a few friends to say hello to. It reminds you to smile, and when we smile we start to feel good, as though we belong. And you know what? You do belong.
Happy summer, y'all! I hope you're having a good one too.
SaveSave
SaveSave