Where have all the romantic comedies gone???
The other day something awesome happened to me. I received a screener copy of the new romantic comedy, Unleashed, to review on my blog.
I almost never watch movies at home, though I see almost every single cartoon movie that comes out at the theatres. See, I'm one of those people who loves going to the movies.
But I rarely watch them at home because there are NONE that I even want to see. I have pretty much ONE genre of movie that I enjoy: romantic comedies.
Although, actually, I did LOVE Wonder Woman this year. It was very romantic comedy-like even though it was technically an action film.
Okay, well, Wonder Woman aside, it seems like it has been decades, yes, literally decades, since there were any good romantic comedies. These days so many movies are raunchy or just dumb and not funny at all.
I personally don't see the point in watching a movie that isn't at least a little funny. I do not need movies to make me feel sad. The news does that. If I want to be sad, I will learn what channel the news is on.
Remember back in the 90s, back when I was in high school? Romantic comedies were a dime a dozen. Julia Roberts and Meg Ryan reigned supreme.
Tom Hanks was sleepless in Seattle. He also had mail, email that is.
Richard Gere picked up a pretty woman.
Hugh Grant lived on Notting Hill.
Julia Roberts was just a girl, standing in front of a boy, asking him to love her.
Brides ran away.
We went to my best friend's wedding.
Cher taught us how to negotiate our grades, proving she wasn't clueless at all.
There were 10 reason I hate you, which were really 10 reasons I don't hate you…
We learned how to lose a guy in 13 days, or something like that. Did she manage to lose him, though?
OH!! And Mel Gibson knew exactly what women want. Hilarious!
What happened to those movies?? Bring them back!!
If you agree with me at all, I have good news for you. I stumbled across this movie almost accidentally.
After a stressful week in which I saw Alan maybe a total of 4 hours, I needed to turn off my brain and relax with a happy, funny movie, after I put the kids to bed.
I put Unleashed in my Blu ray player and settled into bed to watch.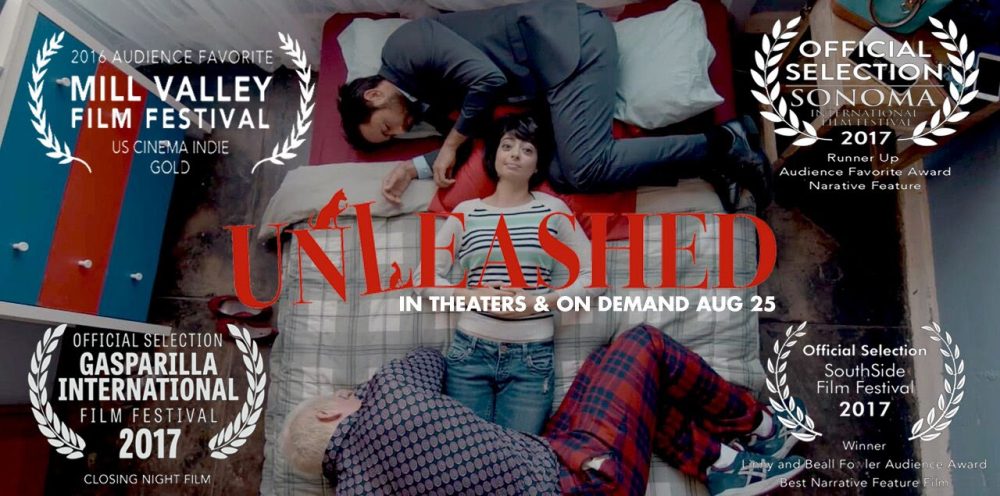 Alan was up and walking around getting ready for bed, and he kept yelling back to me, "What's so funny?"
Y'all!! I laughed HARD at this movie. The cat who becomes a man–a handsome man, y'all–had me ROLLING.
The main character is a single gal who moves to San Francisco with 2 pets. Did you ever see That Darn Cat? (An old, also hilarious film) In That Darn Cat, the man becomes a cat. In Unleashed, her pets become men because of a wish she makes.
Watching men play the part of animals-turned-humans was HILARIOUS.
Oh, and by the way, RUDY is in this movie! Doesn't it seem like he's in so many awesome movies? By Rudy, I do mean Sean Astin from the Lord of the Rings, Rudy, Mom's Night Out, and more. Oh, and did you know that Sean Astin is Patty Duke's son??
In this movie Sean Astin is the guy you're rooting for to get the girl, but I won't ruin any more of the plot for ya. Download this comedy!! You will be so glad you did! It's available at some theatres and for digital download at Amazon, Google Play and other outlets.
Is it kid friendly? I know you're wondering. Eh…
That depends on your kids. It does have a little bit of language and adult situations. It's probably PG, but then there is one scene of her getting ready, wearing a bra and pants, so it definitely depends. I just wanted to give you a heads up on that. There are no violent or sexual scenes, other than kissing, and there isn't much of that either.
I watched it after my kids went to bed, and was able to thoroughly enjoy it without having to constantly hop up and help small people…
Long live chick-flick comedies! You will laugh so hard at this one!