August Lane: My New Favorite Place to Shop Online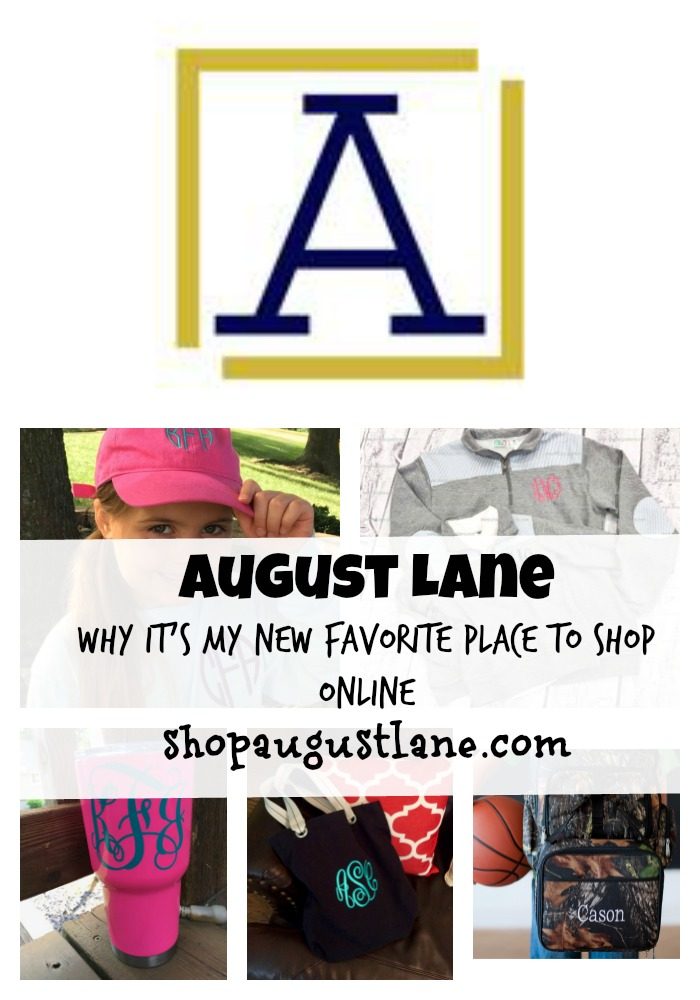 ****This post is sponsored by shopaugustlane.com. All opinions are my own.****
Today I want to share with y'all my new favorite online store, August Lane. At August Lane, you can find personalized clothing, accessories, kids' clothes, and home items that will make you smile each time you glance down at your monogrammed tote bag.
When I first found this site, I may or may not have spent quite a bit of time pinning and wishing.
This store has the CUTEST stuff!!!
Here are a few things that I ordered from August Lane, monogrammed with my initials:
This is perfect for several reasons:
It's light weight.
The monogram classes it up big time.
AND it's oh-so-cozy!!
I normally carry it around for buildings that go overboard on the air-conditioning, like our church's conference center which seems to always be set on 60…..except for this week. THIS week the air conditioning quit working at our house. Y'all!!! It's 93 degrees outside, so I might actually just drive around looking for an air-conditioned building to go sit in.
Oh! The jacket also has thumb holes!!!
I felt so cute wearing this—that one day that it was finally cool enough to wear sleeves. I can't wait for it to get cool again. C'mon fall!!
And of course, my bag!! It was supposed to be my Sunday School teacher bag, but I like it so much I've been using it as my purse too!
We have had a HUM-DINGER of a September, thanks to our broken air conditioner, the hurricanes, my mini-van being trapped in my garage for 3 days because the garage straight up lost its mind….all while Alan was temporarily overseas…..yeah. Did I mention life has been practically puking problems on us lately?
Don't worry. Alan is back now, and he is hoping to have it all repaired this weekend.
It may sound silly, but frilly touches like my monogrammed initials on my jacket and my hand bag do help brighten my day!
I don't think I had ever ordered a single monogrammed thing before I found shopaugustlane.com. Why? Well, I love the look of it, but we move a lot, so I do not know the places to go anywhere I live to find services like this.
Also, it just looks expensive, you know?
What I LOVE about this online store is that you can find pretty stuff for good prices. Everything is so cute, completely affordable, AND I can order it from anywhere, without leaving my house.
Let me show you a few of the other adorable things I found at August Lane!!!
Prices
This is what makes it a steal. If you buy a "personalized mug", for example, and it says $23, that price INCLUDES your monogram.
Sweet!!!
There are always several items on sale, if you are shopping on a budget. Currently (mid-September), long-sleeved t-shirts are on sale for $12, and that includes your monogram!
I noticed when I received my own shipment, that they even provided a coupon for my next order, so this is definitely a place where you can score a good deal.
Sizes
If you are ordering clothes, order your normal size. I found my jacket and my shirt to run true to size.
Want to win a personalized jacket of your own??? Enter the giveaway below!
a Rafflecopter giveaway

If you're unsure how to work the raffle-copter giveaway entry, just comment below and I will enter you.
Hope you all have a fabulous weekend! Here's hoping Alan can fix our air conditioner before we all melt!
 God is not unjust; he will not forget your work and the love you have shown him as you have helped his people and continue to help them.

11 We want each of you to show this same diligence to the very end, so that what you hope for may be fully realized.

12 We do not want you to become lazy, but to imitate those who through faith and patience inherit what has been promised.      Hebrews 6: 10-12
SaveSave
SaveSave
SaveSave
SaveSave
SaveSave
SaveSave
SaveSave
SaveSave