Real Army Wives: Grim Reminders and My Guardian Angel
*******This post is part of the series True Stories of Real Army Wives. This blog series takes place in 2003, at the beginning of Operation Iraqi Freedom. All names of current military members and their spouses are changed.******
To read last week's post, click here.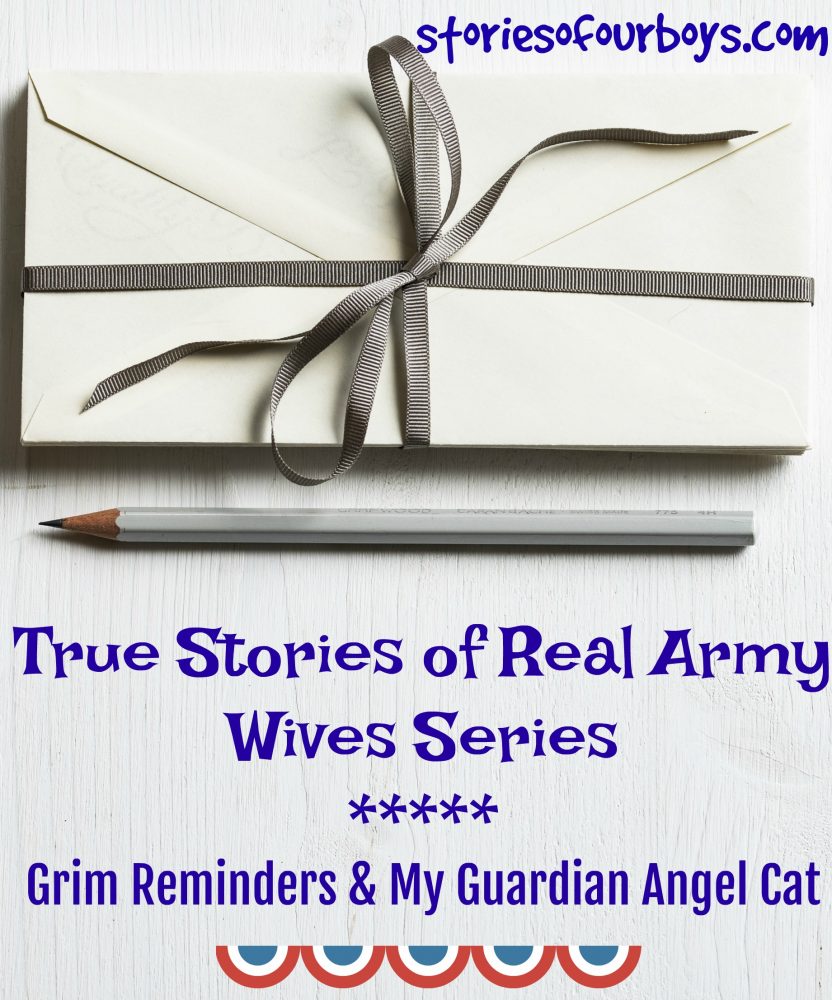 Several things happened as that summer ended.
Ashley, a friend of mine from church and one of the first people I'd met in Killeen, experienced a tragedy. Her husband's XO was shot and killed.
That was personal for Ashley. These casualties of war were personal to all of us, but it hurts so much more acutely when it's someone you know.
Just knowing a friend of a friend was killed in action was haunting. Anytime someone young dies it just doesn't feel right. It's enough to make you scream. Why must there be so much ugly and injustice?
Who would be next? These reminders hung over our heads. None of us were safe. Not everyone was coming back home.
Good things still happened, though. Life went on.
Towards the end of July, Bruce Berry, the choir director from last week's story, introduced me to a sweet girl, about my age named Kayla. You can imagine my surprise when I discovered that Kayla's husband was not only a deployed soldier, but he was in my husband's unit! More than that, he was in the very same company, HHB, as Alan!!
Kayla was going to college in Oklahoma when our husbands had first deployed, but now she was moving into a duplex in Killeen and was there to wait out the rest of the deployment with the rest of us.
We took her out to eat after church that day with Ashley, Theresa, Cloe, Sarah, and several other church friends.
The final adventure of summer came a few days later, at the pool.
My friend Annie was in need of a pick-me-up. You see, Annie was in my teacher certification classes. She was engaged to a soldier who was transferring to Germany THAT DAY, only to promptly deploy to Iraq himself.
The day of the deployment is an emotional train wreck for most of us.
We decided to help Annie keep her mind off of her troubles with a day at the on-post swimming pool. Elsie, Sarah, Kayla, Annie and I suited up and headed out in the 104 degree heat.
We all felt too guilty to even complain about the insane temperatures because our husband's were up against 135 degree heat in Iraq. Alan always said the Iraqi heat felt like someone blowing a hot hair dryer in your face.
We were having a relaxing time, but phones kept ringing. First, Annie's phone, then Sarah's, so Sarah left early. I remember that Kayla's phone had the loudest ring I had ever heard in my life, something she cleverly used to make sure she didn't miss her husband's calls.
Army wives show no respect for those "Turn off your phone" signs. We reserve that right to answer our phone.
I had the feeling I should hop out of the pool and check my phone, and sure enough, the minute I did, MY phone rang! And it was Alan!!
I excitedly chatted with my husband. At that point in time, phone calls were an infrequent treat, occurring every couple of weeks or so.
Kayla and I thought it was the coolest thing when we discovered that our husbands were in the very same line to talk on the phones. One of them actually told the other, "Hey! Our wives are hanging out at the pool together!"
We probably stayed at the pool for a couple of hours, but then we were ready for lunch, so we headed over to the little Aafes gas station that had a Blimpie's inside it.
I ordered my sandwich, poured my drink, and I was walking towards the napkins when I heard a humongous CRASH!
I whipped around to see what happened.
Chairs were upside down, and there was Kayla, laying in the floor, unconscious!!
Wha????
The Blimpie's employees called 911, and an ambulance arrived very quickly. I helped them put Kayla on a stretcher and talked to her as she came too. Her face and chin were cut from the fall.
They decided that she was so dehydrated from being in the heat without drinking enough water, she'd passed out. They took her to Darnall Hospital to treat her. Kayla said that she had never passed out before.
We were all worried about Kayla, and it also served as a reminder of how dangerous the heat is……and where were all of our husbands? In a desert, wearing about 20 or more pounds of clothes and battle rattle, in 135 degree temperatures.
Annie and I had to head back to class, so Elsie escorted Kayla to the hospital and kept tabs on her. After that day, Kayla became a regular visitor to my house and one of my closest friends.
And just like that summer was over.
Long days of eating out and shopping with my friends were over. Gone were trips to Temple,  Austin, and Sea World. No more could I spend the afternoon shooting the breeze with my neighbors in my living room.
I had my first full-time job to work. Teaching classes were complete, and now it was time to actually be a teacher. I had a classroom to assemble, in service training to attend, 12-hour working days to put in, and a whole new part of town to learn with new people to meet.
At least I wasn't living alone anymore. This next phase of life was going to be harder than the last, and I was going to need Kitty by my side.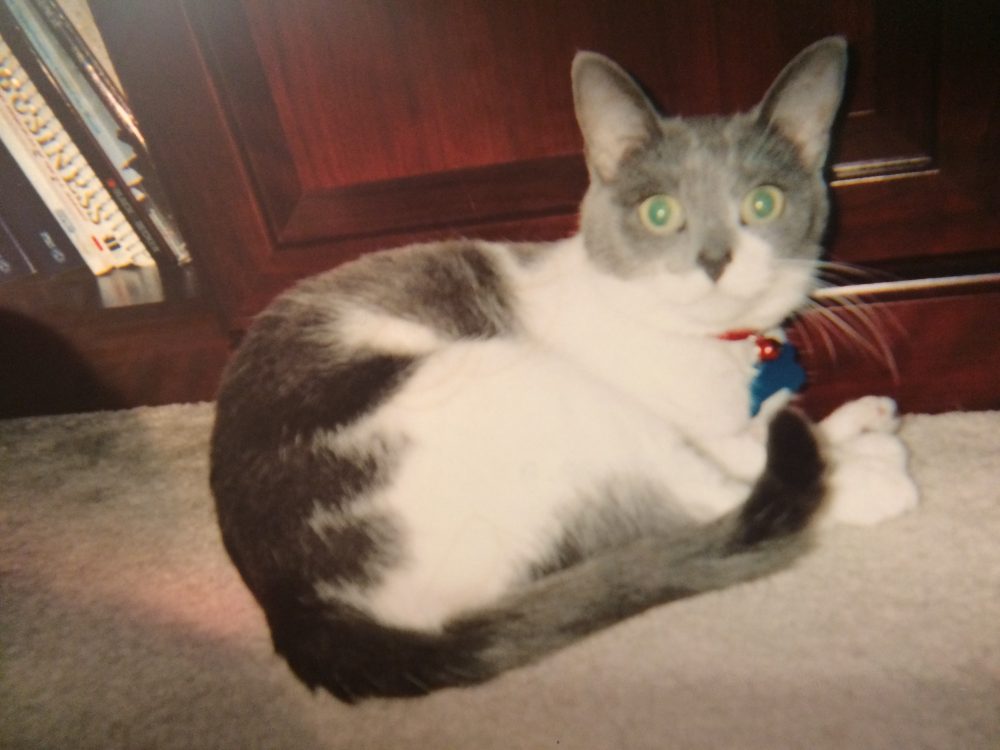 Training Kitty
Kitty was to be mine for 3 months, while her owner was serving in Qatar. Kitty's actual name was Church, but I disliked that name, so I called her Kitty.
Kitty arrived just in time to bond with me before my school year started. I was a total stranger to her, and she had originally been a stray kitten that her owner took home, so when she arrived at my house, she was sort of a basket case.
Kitty's answer to handling life's problems was to hide from them, to hide from everyone actually. Kitty took off the moment I set her down in my house and hid in closets and under beds. Not only that, but when I'd pull her out and try to get her to socialize, she'd hiss at my friends.
This would never do. An antisocial people-phobe was NOT what I had in mind for a companion!
Kitty simply must be trained, and I'd owned a half a dozen cats as a kid, so I knew exactly what to do.
I acquired myself a spray bottle and filled it with water. If Kitty went in a closet corner or under a bed, I gave her a couple of gentle squirts of water until she came out. Cats hate being wet.
Once I had her out, I sat down with her and petted her nicely and talked sweetly to her. I won her over in no time. My only other problem was the hissing at my friends. That took a little longer to fix, but once she got used to the fact that I entertained regularly, she adjusted.
I got out a shoebox and set it down at the foot of my bed. That was her bed, and she loved it. No longer did I have to go to bed alone at night. Isn't it funny how going to bed with Kitty in the room made me feel 100 times safer at night than going to sleep with just my t.v. shows?
It's not as if Kitty could help me if a burglar or ax murderer actually broke in, and yet just that feeling of togetherness made all the difference. Kitty was my guardian angel those three months.
It was a good thing too. Kitty came just in time for Phase 2 of our very first deployment: the so stressed about work I could barf any second phase….in which I lost 20 pounds in 6 weeks, stopped having periods, and learned how to fake a migraine…but we'll talk about that next Monday.
Isn't it amazing how some friends only appear for a short while, just when you need them most? That was Kitty.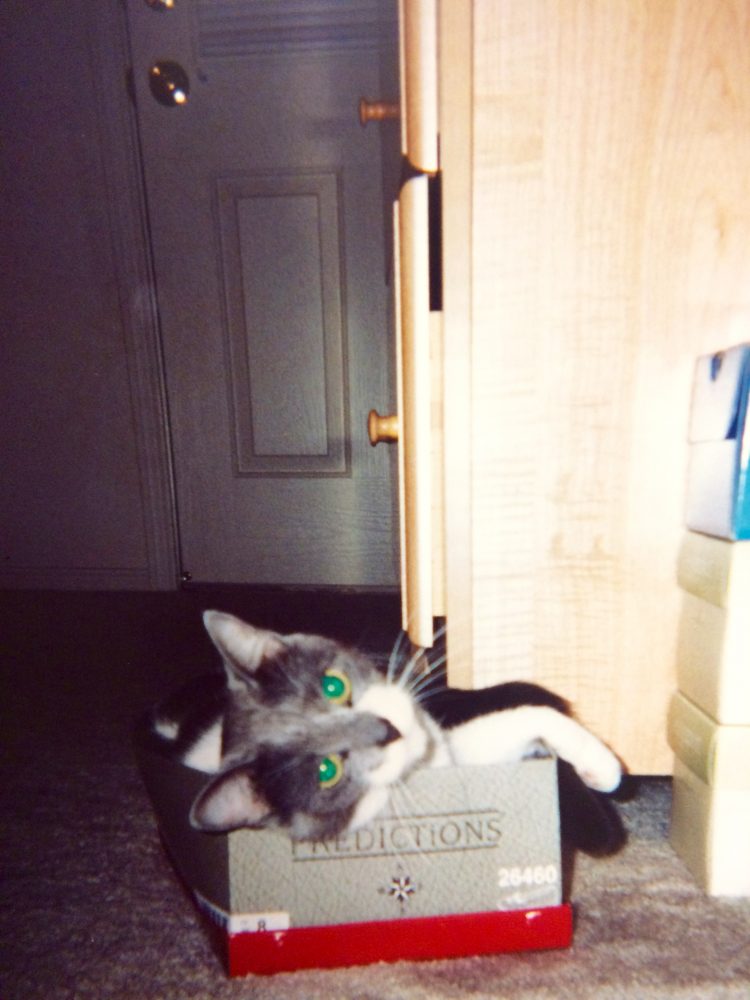 SaveSave
SaveSave
SaveSave