You know it was a happy spring break when it takes you 3 weeks (ish) and 4 separate blog posts to finish writing about it.  This was that sort of year, and if you missed the first few parts, you can catch up here:
Part III– Legoland Discovery Center
We now live in Georgia, so we decided it was time to re-visit Callaway Gardens. It has been 15 years since we were there before. 15 years ago to the day we re-visited, almost. Alan proposed to me on March 25, 2002, on the lake beach there. We returned on March 26, 2017. Pretty cool, huh?
We enjoyed re-enacting it for the boys. Caleb took pictures for you, but I didn't like how I looked,so those will be on the blog never…
The boys were all supremely disappointed that they didn't have their swimsuits with them, but it was a touch chilly for swimming still, and we wanted to scope out the whole place that day. We can go back to swim anytime.
Ever since we left California, and my beloved Point Lobos, I have had no place here to go and just revel in the beauty of nature. Actually, my back yard is pretty awesome because I do see red cardinals and an occasional snake (*shudder*), and I find little brown balls that lead me to believe that deer are occasionally jumping our fence, but Callaway goes beyond that.
Here at Callaway, our little family was all at peace and excitement, as we hiked the trails, visited the butterflies, and even got to see a captive falcon with a wingspan as big as me!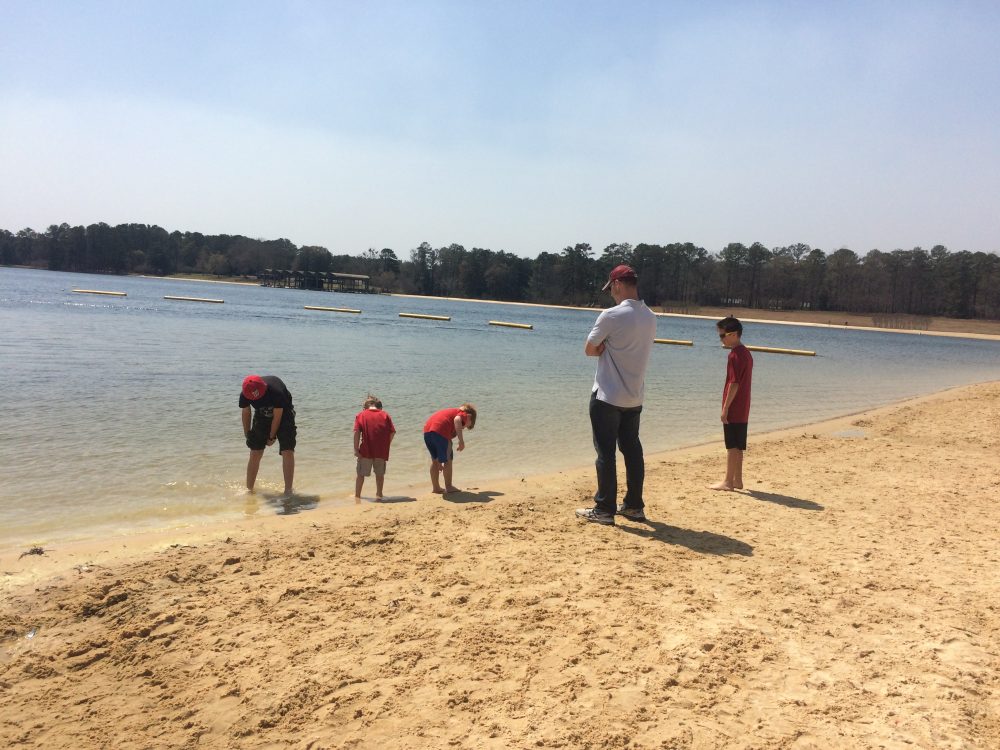 Caleb will tell you. Everyone in our family knows it. It is not possible to take Caleb anywhere that there is water of any kind and bring him home dry. He will always be beckoned in so far that he will always leave soggy. We love that about him.
This was a half-mile trail, but in the southern heat, it feels like more. Thankfully, some of it is shaded. I loved it. Absolutely loved it. It felt like home to me.
There is something about being outdoors that is nourishing not only to your body but to the depths of your soul.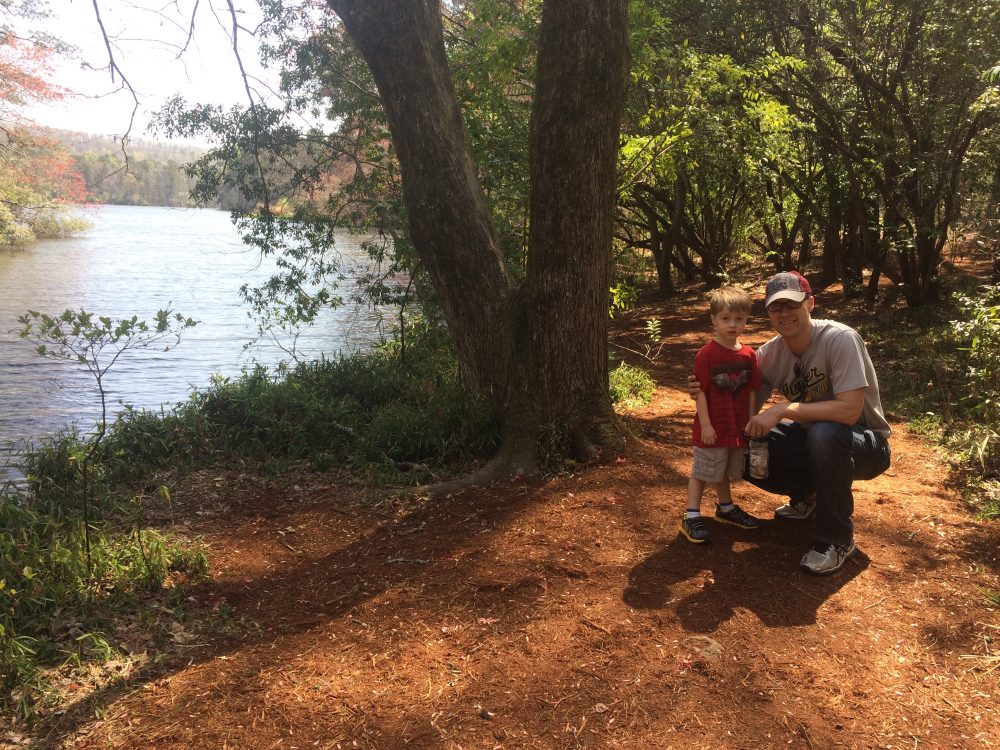 I was also reminded why, by the time I was a teenager, I thought I didn't love being outside. When you grow up in the South, MOSQUITOS reign! Yeah, wear bug repellent if you do anything like what we were doing here. And sweat, of course, sweat. Mosquitos and sweat. Still worth it though.
Normally, tons of azaleas would have been in bloom, but a week prior a cold front had come through and killed all the azaleas at my house that were blooming or budding, so there were none. I also read that azaleas bloomed early at Callaway this year. That would have been such a beautiful sight to behold, but alas, we missed it. A week later the late azaleas did finally show off in our area, so that was some comfort.
The butterflies were of course all over, and we were all excited to be a part of it…..except John David. JD sort of whimpered the whole time and got all sorts of freaked out if a butterfly flew anywhere near him, and so our time in the Butterfly Center was cut short.
But alas, it never happened. Sorry boys.
Daniel kept picking John David up and carrying him, and JD only weighs 10 pounds less than Dan, so we started referring to Daniel as the ant man.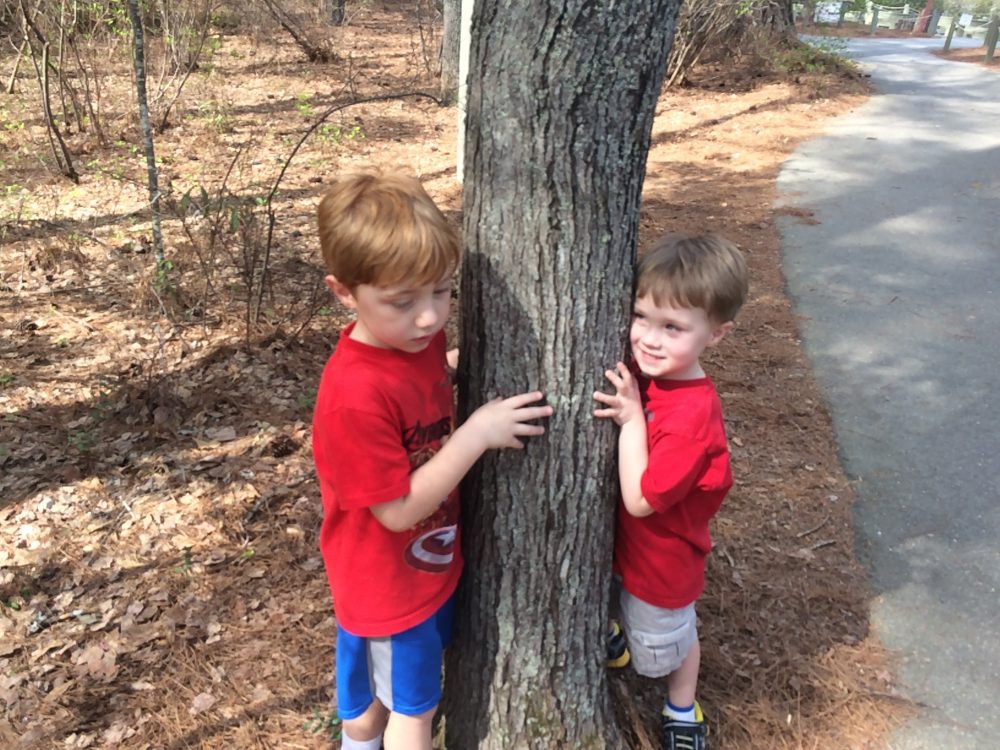 My camera phone died before I got to photograph the giant bridge with the water, over by the Discovery Center, which is one of the most beautiful parts. Next time! Because you know there will be a next time!!
"A cheerful heart doeth good like a medicine, but a broken spirit saps a person's strength."  Psalm 17:22
"The heavens declare the glory of God; the skies proclaim the work of his hands."        Psalm 19:1
And now it's back to work. I hope you all manage to squeeze in a little sunshine time today.
********Don't forget to enter the Bottle Flip Game giveaway! It ends Tuesday night at 11:59pm!!**********