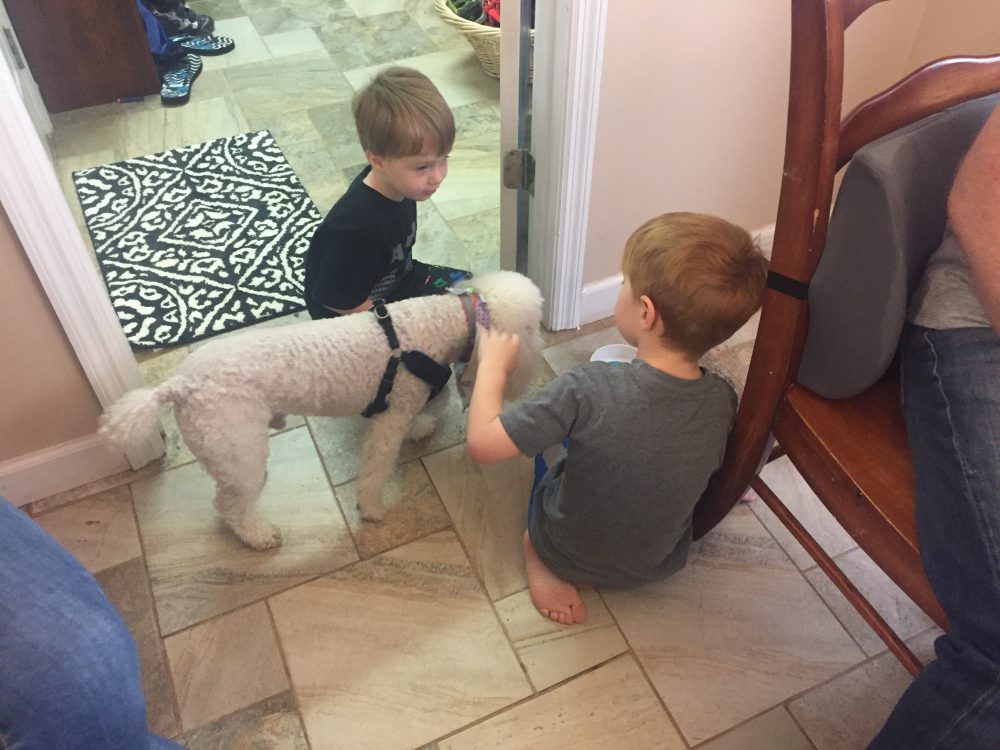 When we were moving from California to Georgia last year, I actually entertained the idea. That was mostly because Daniel kept asking if each prospective house "had room for his dog." It started to melt my cold, cold, hard dog-disliking heart for a bit there.
But Alan quickly came to the rescue with a firm, "No, Daniel, we aren't getting a dog. We don't have room, time, or desire enough for a dog. We move too much, and when we go on vacation, what would we do about the dog? No, it just doesn't work. It's not time for a dog yet."
The dogs in these photos are both types of poodles. If we ever got a dog, which we won't, we'd get a poodle, I guess.
We don't do dogs. The boys' grandparents just got a new dog, and the way that it has taken over their lives is actually a prime example of why we don't have one. ha!
#1–And this is the biggest and most truthful reason—No one is really even asking us for a dog. No one has begged or pleaded at all, no one is drawing pictures of dogs, buying stuffed animal dogs, or mentioning them in their prayers. Not a single boy actually seems to care that we don't have one. So phew! No pressure is reason numero uno.
#2. They poop.
a lot. And people expect you to clean it up, and that's just gross. Touching poop is gross. I'm so done with that phase of life.
#3. They pee.
…and sometimes they do that in your house, and again, you have to clean it up. I am finally at a place where all of my little humans are toilet trained, so why would I go back to that?
#4. I'm sorry, but unless they look like a puppy their whole life, like the one in the photo below, they aren't even cute.
Sorry, I know half of you hate me now, but I'm just saying. Dogs aren't cute to me.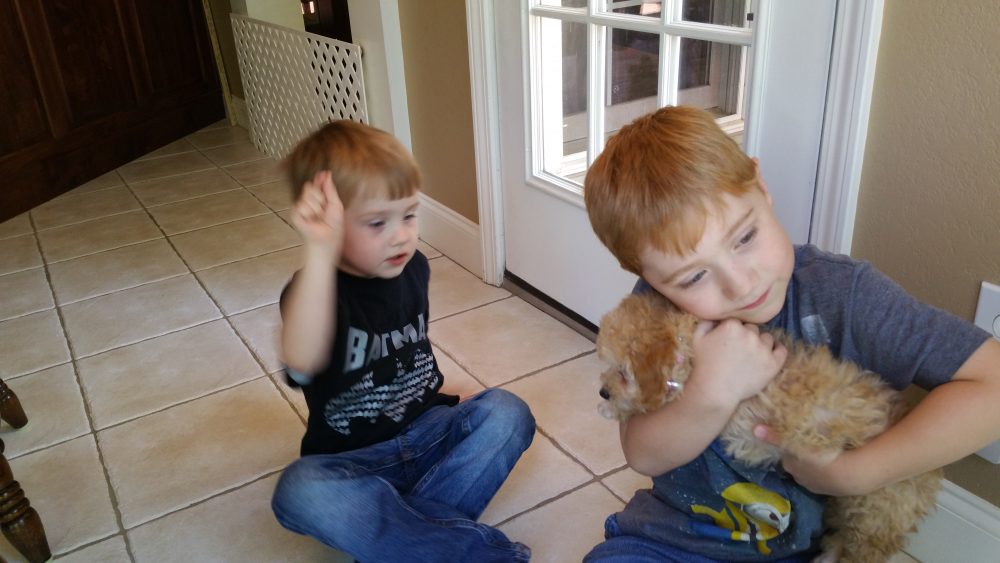 Okay, granted, that one is cute, but most of them aren't.
#5. We move every 2-3 years, which is much more difficult to do with a pet along.
Hotels, car trips, planes, waiting, house hunting. This is not a dog-friendly life style.
#6. The 1st year we live in a place, we are basically friendless, so we don't even have anyone to dog sit for us on vacations.
Okay, yes, there are kennels. I know that, but this article is about why not, not about being positive and finding a way. hehehe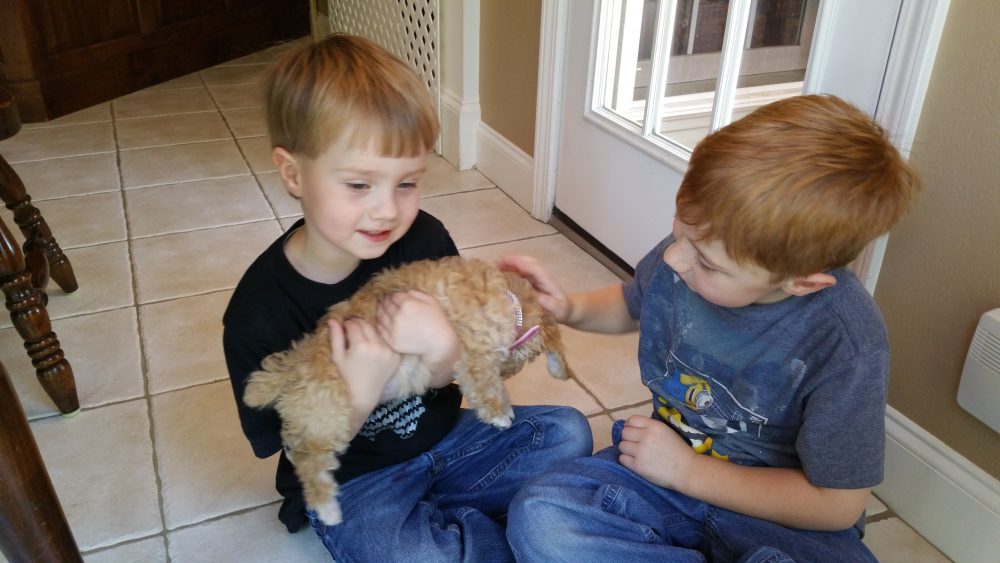 #7. They stink.
Well, they do!
#8. They lick me, and I don't like that.
#9. Unless they are trained, they jump on you with their muddy yucky paws. 
And I certainly do not have time to train some smelly dog.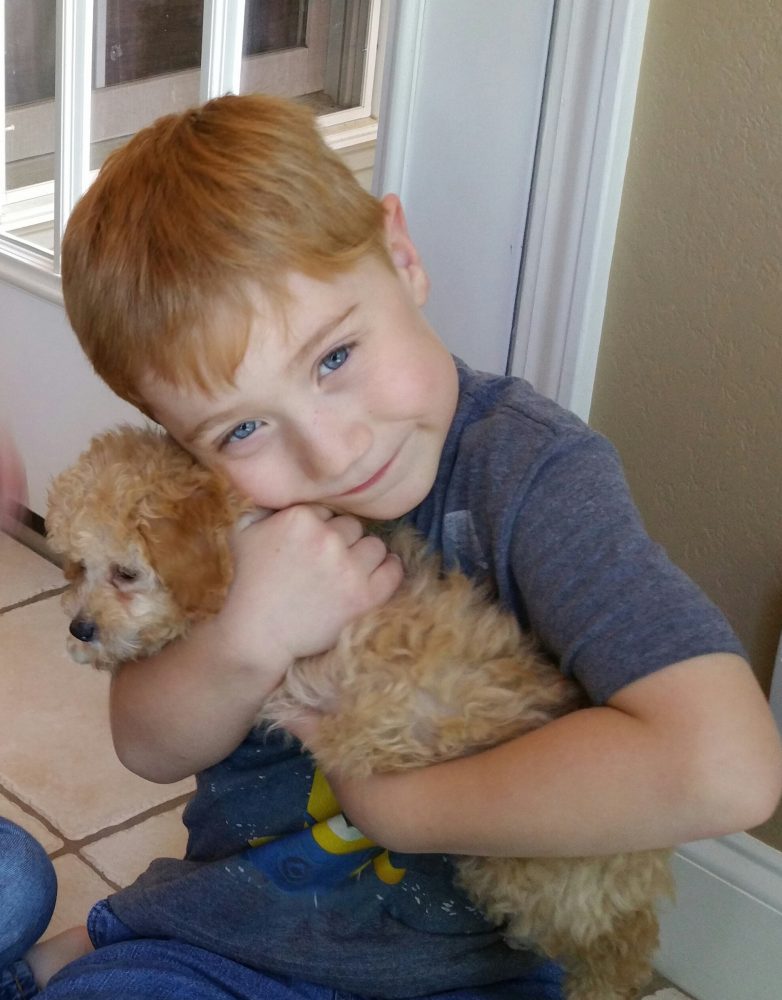 #10. And in spite of all of it, if they ever put out a concerted effort to beg us to get a dog, I'd get them one, okay. 
See, I do have a heart, but it's coupled with a great deal of practicality, and dogs are simply not practical. They don't even provide a service. At least cats do eat mice and things. Well, some cats do. No, we don't have a cat either. For good reason. That would be a rather similar list. Just add allergies and 'litter box' to this one.
This may be one of those posts that makes me more enemies than friends. But, y'all!!! I have to remind myself of ALLLLLL these reasons when I see how cute my little boys are when they play with these puppies. I will re-read this post every time the boys visit Bella (the cute puppy in the photos), to remind myself why we don't have one!!