John David is 3 years old, but he already knows that Christmas equals presents. He is also fully in love with Santa Clause, aka the King of Christmas. And in all fairness, who wouldn't love a man who shows up once a year just to give you all the things you wanted???? Sign me up for that!
So you might be wondering why I'm talking about Christmas in October, but the thing is that if you are planning a children's ministry or want to teach your kids an awesome song to perform at Christmas for their grandparents, then now is the time to order your material.
We got this lovely Christmas DVD and accompanying CD in the mail called Seeds of Christmas. By the way, it's also available digitally if you don't want to have to fool with a hard copy DVD and CD.
I tried it out the first time with just John David because he's the only guinea pig hanging out with all day while I'm working. He is also a lover of all things music. Our conversation went something like this:
Me: Oooo, John David, I have a new Christmas movie for us to watch. It has songs! (JD loves songs.)
JD: Yay!!!  It has Santa Clause?
Me: Well, um, I don't know. Let's watch it. We'll see what it has. I've never seen it before, but I do know it's Christmas.
JD: Yay!!!
Some of the songs are fast, but most of them are slower, very worshipful. I'm going to include a preview below for you to see what I mean.
We watched it without hand motions, but if you are teaching a class or your kids happen to like doing the motions, that's all on there for you. I have four BOYS. They dislike singing in public, and they especially dislike hand motions.
The last video on this disc is BEAUTIFUL. They were all good, but this one was my favorite. It has that wow factor you would want for a program, if you are performing these.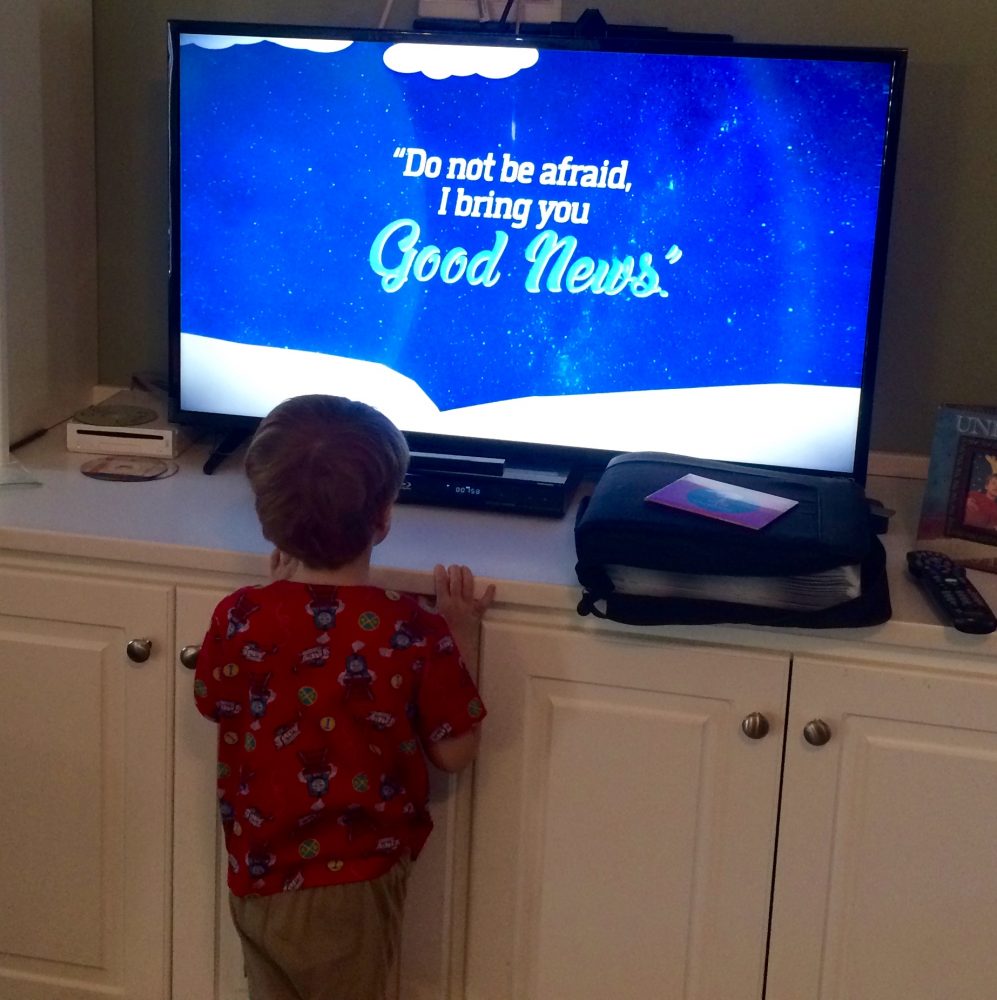 We are only using it at home, but I just adored that last video, called "Joy." You can't tell from the preview online just how powerful that video actually is. Watch it without the hand motions, and focus in on the whole Bible story of Jesus's birth played out in front of you.
So this is what sold me on this video:
We were watching the Joy video at the end, and JD could not stop asking questions!
"Who's that?"
"That's Mary and Joseph, the parents of Jesus."
"Who's that?"
"That's Jesus."
"Jesus died."
"Yes, but this is when Jesus was born. Jesus is God's son."
"He died?"
"Well, yes, later on, but this is about when he was born. See, he was a baby, born in a manger in a barn. Christmas is really about the birth of Jesus, not about Santa Clause and what we can get from him."
I can't remember the entire conversation, but you get the idea. This opened the door to talk about these important things. That's right. Christmas isn't just about presents. What a great reminder.
When the video was over, JD actually asked to watch it again!
Now here's the other unusual thing about this company, Seeds Family Worship. All of their songs are 100% Bible verses. There are no fillers or added words. They are literally just singing the Bible!!
They call it family worship because their stuff isn't just for kids or just for adults. Anyone can enjoy it and learn. You could get the music to help you learn scriptures! You could use it to help teach your children memory verses. You could even use it for your Bible class or children's choir. I am impressed with the versatility.
I was excited to learn that Seeds Family Worship is also a touring group. They are traveling performers, and because I have readers in Bowling Green, Kentucky let me tell you: they will be in your city in January. I found this on their website:
Bowling Green, Kentucky: God's Awesome Word Event, Living Hope Baptist Church, January 8. You can click here for more info on that.
Two more pieces of good news:
The Christmas Set is on sale now for $19.99. You get BOTH the DVD and the CD for that, so it's an awesome deal.
We're giving one set away!!!!  Wahoo!!! Click to enter below:                                  a Rafflecopter giveaway