A little while back, I got an email from Viktoria Altman, President of Brainy Kit. She asked if I'd be interested in receiving a complimentary kit of Montessori materials and lesson plans.
YES! Would I ever!!  I've only had two blogger offers that I was this excited about: Brainy Kit and Jamberry Nails. (Look for a Jamberry post soon.)
Now I know you're wondering what in the world I'm talking about. Well, Montessori is a hands on method of preschool that I have always been intrigued by. To learn more about Montessori methods, read this:http://amshq.org/Montessori-Education/Introduction-to-Montessorij
What the Brainy Kit does is bring those Montessori materials into the home. It makes this method more attainable for the average family, for those who may not be able to afford to send their child to a Montessori School.
I received Brainy Kit #1: the Polar Kit. We are LOVING it.
Each item in the kit has provided DAYS of fun, not just one lesson of fun.
Here's what came in the kit:
1. A book of seven detailed lesson plans: Each lesson plan has tons of activity suggestions.
2. A Bag of miniature animal replicas, Eskimos, and an igloo
3. pretend snow
4. Amazing Arctic Animals book
5. a huge sheet of stickers
6. a glue stick
7. a pre-cut-out walrus craft
8. laminated animal cards
9. laminated Polar Animal learning chart
10. colorful Penguin puzzle
11. jigsaw puzzle
Daniel, JD, and Caleb have all enjoyed this penguin puzzle. I left it out on the coffee table after preschool time, and it saw lots of play time for days, and then JD hid all the pieces…..and well, I still haven't found them all.
I would have never thought to stop and teach Daniel about the Poles. Poor third kid….but it was in the lesson plan, so I got out the globe and did some explaining. 🙂
Another idea behind the Brainy Kit is that it will help children transition from the home environment to the school environment.
Everything in the kit is so useful! This is a book we will keep in our library and reference for years. It's a great read-aloud.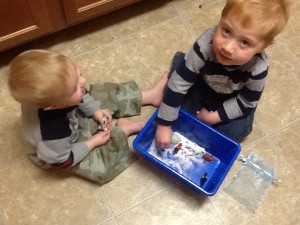 This was by far the most popular item in the kit: tiny animals and fake snow. JD joined Daniel for this one. He just couldn't resist. The great thing about this activity is that it needs very little help from Mom. They played with this for an hour the first day, an hour the second day, and believe it or not, it took them 3 or 4 days before they finally destroyed all of the snow.
I was able to teach the big boys their grammar lessons while the littles played with this. As you can imagine, I was thrilled!!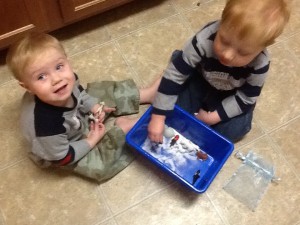 It had a walrus, a killer whale,  a beluga whale, Eskimos, an igloo, a wolf, and a polar bear. JD carried that walrus around ALLLLLLL day.
Later on, I whipped out the old Polar Bear documentary, and all four boys watched it, while JD clutched his toy walrus.
The lesson suggested adding a little water or ice to the scene. The boys LOVED dragging ice cubes around in their snow. It made the fake snow a little fluffier too, just like the way real snow changes when it's wet.
After a while, Daniel asked me, "Me have some juice, Mommy?"
I don't remember what I said, but Daniel added, "Me thirsty from eating that snow."
haaaaahahahaha  Well, of course, he ate it, really!
That was all just from last week. I haven't even gotten to the walrus craft, the stickers, or the jigsaw puzzle yet!
I am giving this brainy kit a billion thumbs up. Huge hit here!
Anyone with a 2-6 year old child should definitely sign up for these kits!
Here's the link to learn more or sign up. :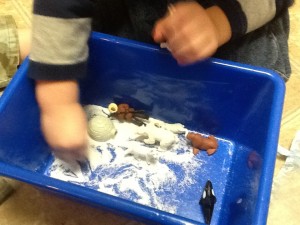 And be sure to follow me on Facebook for more great ideas!