Happy 2018, friends!!!! I'm so excited to introduce y'all to my friend Amy Lloyd today. We met back in 2010, when we were living in Washington, D.C.
Back then, Amy was busy with two little ones just as I was. Even then she was singing, which is her passion. But here's a little known fact: Amy used to be a staffer on Capitol Hill. Her background is actually in writing. She was working on the Hill the day of 9/11…y'all help me convince her to share that story with us next! (You can do the convincing in the comments section below.)
Psst! Also check out the links to amylloyd.net to hear her beautiful voice!! (What Child is this is my favorite!!!)
Today Amy is here to talk about our New Year's goals and the more satisfying, encouraging way that she has found to plan out her year and keep her focus straight.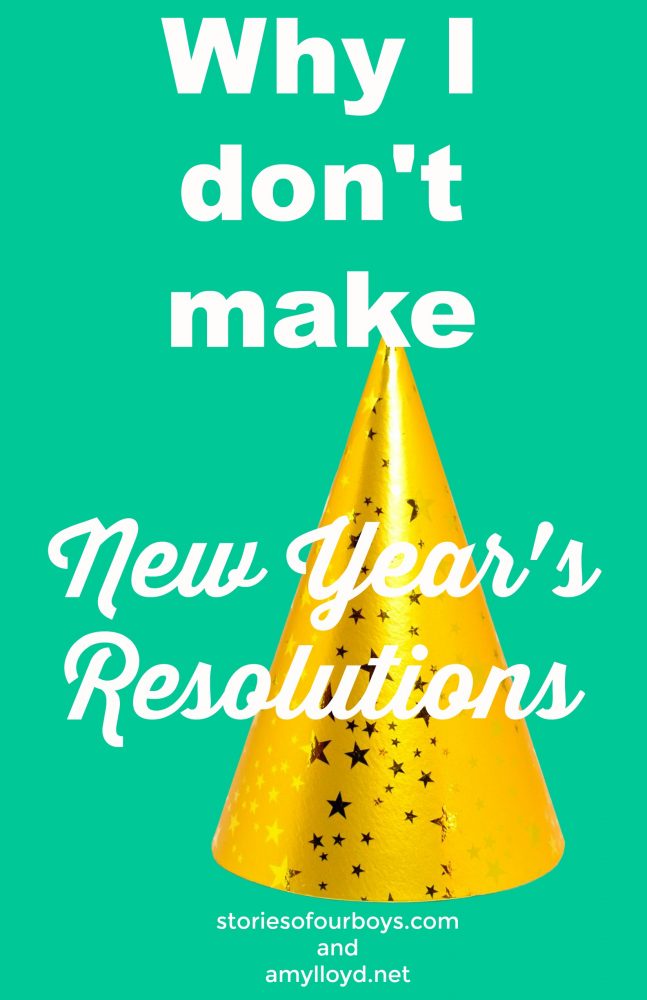 I don't make New Year's resolutions
guest post by Amy Lloyd
 I have a love-hate relationship with the New Year. I love the fresh start and the excitement of a new chapter waiting to be written. Oh, the possibilities! However, over the past few years, I have found the New Year's goal-setting process to be extremely counter-productive. I stress over priorities for the coming year. Then I become irritated with indecisiveness. And, finally I rehearse each failure from the previous year as I write that same goal once again.
I think we all agree time is a gift to be used wisely, and I still believe that setting long and short-term goals is a great tool to help live a life intentionally. I won't go into how to set goals here. There are plenty of other blog posts with those details this time of year. (And if you cannot find something free to read, there is a billion dollar self-improvement industry pushing products and services to help you.)
What I am here to say is that Providence does not always work on a calendar year, and you don't have to either.
What if your current season in life or profession does not move on an academic or calendar year? I am a mom and a singer. Although there are some aspects that work with a calendar, often both of these occupations require a lot more patience than a calendar year to see results.
Or, what happens when God's plan is to turn your world upside down with some kind of trial? In the last four years I have had a major surgery with lengthy physical therapy, we have relocated to Indianapolis after living in the Washington, DC area our entire adult lives, and my husband has worked four different, very demanding jobs.
A year ago, I had almost given up on the New Year. In an effort of self-compassion, I decided that I would wait until February to do my annual goal setting…or possibly not make them at all. Then, on December 29, while scrolling through my Facebook news feed, I saw the headline of a post by my blogging friend Moriah that read: I DON'T DO RESOLUTIONS. I was curious. Her blog introduced me to #oneword365.
Moriah explained that she picks one word that she applies to all aspects of her life for the entire year. Simple. Profound. Game-changer!
I decided I was going to try this. While being incredibly indecisive on picking my one word for 2017, on January 1, my teacher Peter posted on his blog that he was not making resolutions. Instead, he was making "renewals." That's it! My word for 2017 was renew.
I loved that the word renew reminded me of Bible verse that says: But those who wait on the LORD shall renew their strength; They shall mount up with wings like eagles, They shall run and not be weary, They shall walk and not faint. (Isaiah 40:31, NKJV)
I needed to renew my strength in all aspects of my life so desperately. I was determined to apply my one word, so I wrote it as a reminder every day in my Panda Planner. Consistently writing my one word was key. Although I highly recommend a written journaling planner, the same concept works for a pocket or wall calendar. After a year of writing my one word again and again, I can look back at 2017 and be encouraged that the word renew permeated my life.
So, what did I do with those long and short-term goals? I renewed them, which helped me prioritize and gave more purpose. My goals are long-term fixtures that are evaluated as needed as God guides and directs my life.
As I wrap this up, you might be curious as to what word I have chosen for 2018…my new word is steadfast. I started with "discipline" (too harsh), then debated upon "consistency" (too boring), then I was reminded of a book I read, A Steadfast Heart by Elyse Fitzpatrick. Steadfast means abiding, determined, enduring, persistent, relentless, resolute and unwavering. I am looking forward to studying this word more and applying it in 2018.
My heart is steadfast, O God, my heart is steadfast! I will sing and make melody! (Psalm 57:7, ESV)
Maybe you set goals but want to try one word to help your focus. Maybe goals are not your thing, but one word is simple and something you can do! The #oneword365 blog says: Remember – Your one word is intended to be your guide, not your harsh standard. It's not about doing more, but about being who you were created to be.
If you choose a word for 2018, I would love to hear about it! Comment below, on Facebook, or send me a message through my website. Happy New Year!
Amy Lloyd is an Indianapolis-based worship artist. When she is not driving her daughter to ballet, she is driving her son to tennis. True to her central Illinois roots, she is a St. Louis Cardinals baseball fanatic. For bookings and to check out her music, go to www.amylloyd.net. Follow her on Twitter and Instagram: @lloyd_amy_.