Our home school, Pacific Christian Academy, officially reopened its doors on Tuesday.
The first day went so well, I was euphoric really.
I felt like I was on a roll! The 2nd year is so much easier than the first!
And then the rest of the week just kept on coming, and coming, and coming. School has gone well, but life isn't just school. Teachers don't just work from the beginning of the school day to the end of it. We work for HOURS afterward.
Normally.
Only this week, we have had an outside activity every. single. blessed. night. I am now the embodiment of grumpy because I've had no time to plan or prep or blog or stare at the ceiling!!
I have spent my school days saying,
"Well, I am not sure where I put the days of the week, so we will find those this weekend."
"Oh, I didn't get to prep your clipboards last night, so hold on, let me get that."
Non-stop obligations and activities terrifies me. I long for quiet time at home. I have a full day of teaching and doctor appointments tomorrow, and I have to co-host a party tonight.
This is my desperate plea for prayers. I sound so drama queen, right? Ugh. Tisk, tisk, April. Pull yourself together. I'm just not okay right now. I'm "hanging in there", but this pace of life is not my thing.
I am a solution oriented person, so these are my solutions:
1. One deadline that was today will simply have to be moved.
2. One of these activities will be fulfilled, and then we will not renew that commitment. Over-stretching ourselves does not make for joy.
3. I refuse to leave the house this weekend. Refuse. It will take an emergency or flood, which is highly unlikely, or something to get my rear out of this house.
4. Much prayer and Bible study and being with my mom and husband this weekend will hopefully help me with THAT FEELING. You know the feeling where you are so stressed and overwhelmed that it feels like the roof is going to fall on your head? No? Just me? 😉
The sky is falling! The sky is falling!
5. There have been other problems, people problems, that I need to just not worry about. Let it go! Let it go! I am so Elsa right now.
You know what? One of my biggest grievances was that I didn't get to blog ALLL week-long. I feel so much better now!
I hope you are all having a good week. I'd like to say Congratulations to my sister-in-law and nephew, as he is now officially potty-trained. That is a major accomplishment.
And THANK YOU, Mom, for always coming when I call. My village wouldn't function without you. Thank you!
This verse came to mind today, and no, by foes, I do not just mean my little children:
…2My foes have trampled upon me all day long, For they are many who fight proudly against me. 3When I am afraid, I will put my trust in You. 4In God, whose word I praise, In God I have put my trust; I shall not be afraid. What can mere man do to me?…         Psalm 56:2-4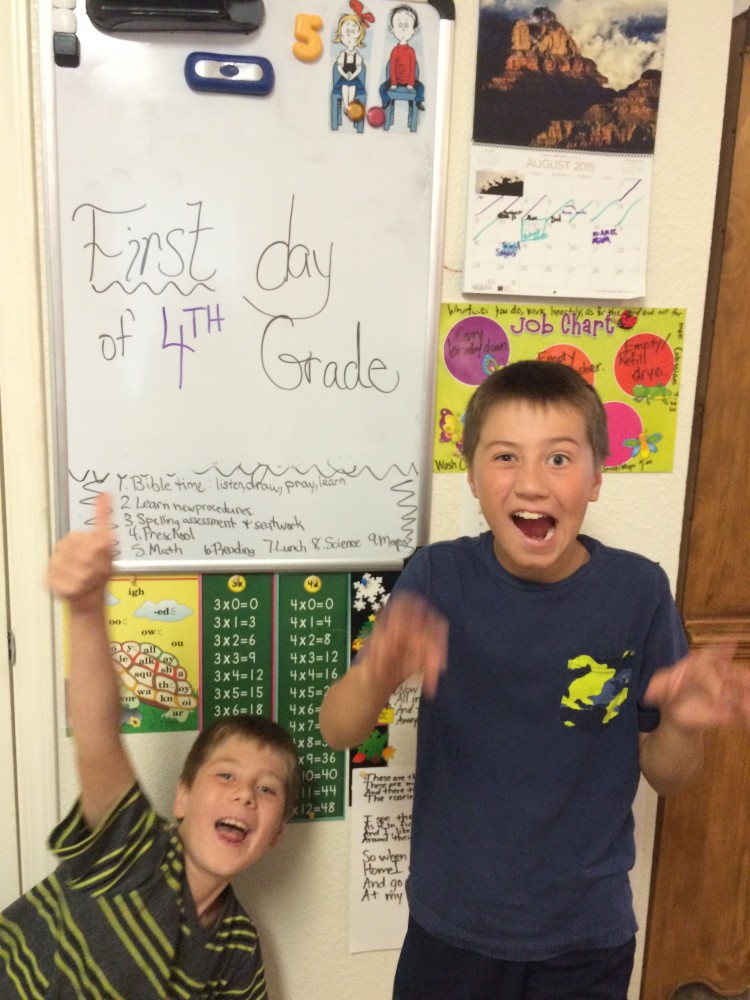 Only 2 days until Saturday! Only 2 days until Saturday!
I promise to finally upload the Back to School giveaway, with more first day pictures, this weekend. I promise. This week just fought a little more valiantly than I did, so come back soon!