Having my kids home all day cracks me up. I mean literally, by 5:30, when my husband gets home, I'm a little cracked in the head.
But I love it. I do.
What do you do on the lazy days of Spring break? Well, for any parent who decides to stay home with the kiddos during their week off of school, these are definitely not lazy days. Duh, right?
But it's still fun. I cooked 3 meals yesterday. Do you think anyone will notice if I only "cook" 2 today?
Daniel helped me make last night's dinner. He even helped come up with a recipe.
"Mom, can we have a bowl of carrots for dinner?"
"Um, well…"
"And bwocowi! Bwocowi and carwats for supper. Nothing else."
"Um, well…we do need to have some kind of meat. Chicken, maybe?"
"No. How about if you put the meat in with the bwocowi and the carwots, all in 1 big bowl?"
"Hmmm. Yes, that sounds good. How about this sausage?"
"Yes! Yes."
So Daniel and I made a delicious dinner that, believe it or not, was heartily consumed by all SIX residents of the House of Tiny Men.  Here's the recipe. Alan made me write it down.
So I typed it out for you to print for yourself.
Just click on the link below to download and print the recipe.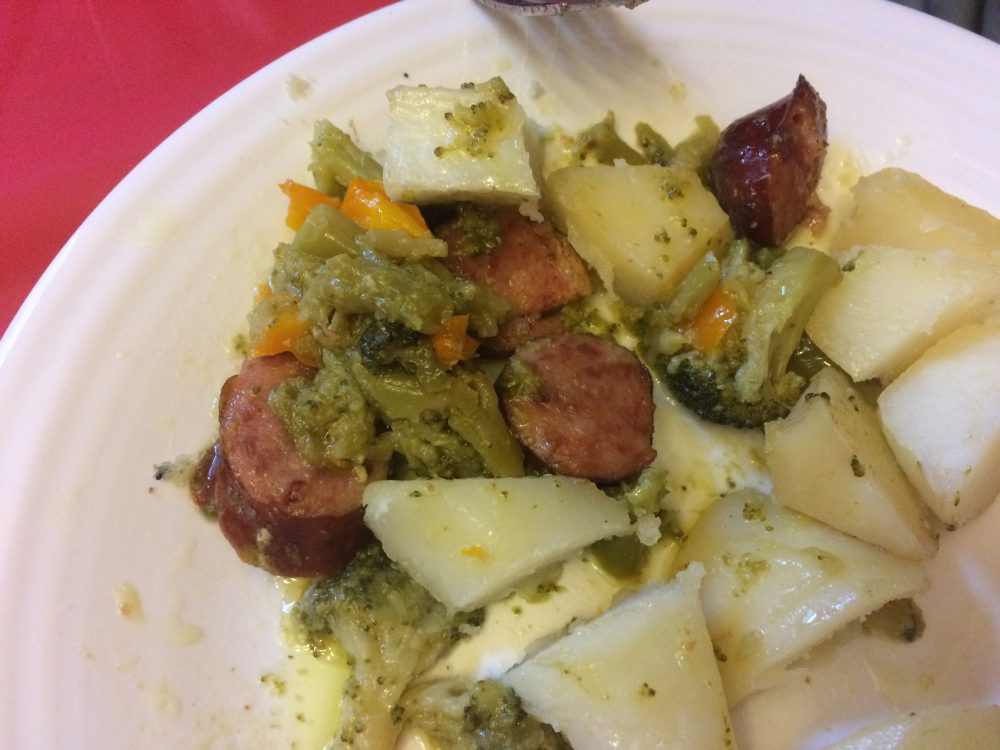 Okay, it may not be that pretty, but I promise it was yummy. Even my picky eaters did eat it, believe it or not.
——————————–
Daniel tries to hang out with the neighborhood boys, who are all 2 to 3 years older than he is. They are Caleb's age, and as far as they are concerned, Daniel is just Caleb's little brother. Daniel has been persona non grata to them.
I told Caleb he was going to have to tell them we can't play if they can't include Daniel.
Yesterday I sent them out to play, and I asked Caleb later how it went.
"Oh, I told 'em, 'If you guys can't accept the little guy, I'm going to turn you into rotten flesh."
!!!!!??????
"Ew, Caleb! What does that even mean???"
"It's from Minecraft."
"What did they say?"
Caleb made a face that looked sort of like this          8 /
Nothing more was said. So no one said anything unwelcoming to Daniel. Raising boys is apparently not for the easily offended or overly refined….
__________________________
It's been a fun week so far. Lots of driveway basketball, Lego Star Wars video games, and popcorn eating has taken place.
Caleb's genius plan for spring break was announced on Day 1:
"Let's make a rest schedule for this week."
I laughed, but he appears to be sticking to it.
People probably think I never dress him. hehehe
Hope y'all had a great week too!
SaveSave