Ah, Christmas. Yes, I have small children, so a part of me is like this guy:
But the truth is, I can also be April, the stress ball.
I LOVE the idea of Christmas, but I won't lie.
It's supposed to be about God's gift to man: Jesus= salvation=inner peace….a gift freely given and not deserved.
It's just so hard to remember that.
The truth is I'm a lot more stress ball than I am Buddy the Elf. I spent all of November living in denial that Christmas was in fact upon us, so now I have less than three weeks to do all of my shopping–  all while still figuring out this whole home school thing.
Hopefully, there will be no funerals this year. In my family, Christmas is marked to pieces by funerals. Last year it was Granny. The year before that it was my Grandpa. When I was in high school, it was my MawMaw. So we just have this tinge of sadness that goes along with our holidays…
Thankfully, I don't blog to whine about my problems. Aren't you glad? Eh? What's that? You think I DO whine about my problems??  Well, maybe you're right, but rest assured that is not my goal!
Actually, I want this to be a very UP-lifting place for all of you during this, what I consider to be, stressful time of year.  I use blogging as an escape from chores–you do NOT want to see the number of toys in my floor right now–and escapes should always be happy. 🙂
Here are a few happy stories from our week that will hopefully make you smile:
Daniel likes to get out a Bible, or any Christian book really, and sing.
"It's Christmas. Oh, Lord, God! Oh Loooooord!"
My thoughts exactly, Daniel. 😉
******
 As we speak, Joshua is leading his brothers around the house, all FOUR of them playing some imaginary game together. PRECIOUSNESS. We decided to take away the video games during the week. We are making them less happy in order to make them more happy.
Heh? Yep. That's what I said.
Less happy in the moment that they make the video game request = more happy in the long run
I'm hoping this will give them more time to be BORED–more time to play TOGETHER (and that's definitely working), and more time to focus on learning more valuable things.
For example, if Caleb were allowed to play Mario at this moment, and Joshua were playing an iPad game, the littles would be clinging to my ankles, wanting me to entertain them. It is also likely that Daniel would be moping and whining for Caleb to stop playing Wii so he could watch cartoons.
INSTEAD, they are all "being dogs" together. You can't beat that!!
There are more toys in the floor, though. : / Ah well.
I told them they could watch a movie if they cleaned up all the toys from the floor. They decided they'd rather not watch a movie…. Don't worry. They will get the toys picked up later when I turn them into forced labor…
*********
Did you even know this was possible? Upside down selfie. He can do this now because I found my camera battery charger!!  That's right! Clear photos are back on the blog!!  Roll Tide.
Remember the Frumpy Mama post? Well, I finally made it to two doctor appointments. I have not fixed my eyebrows or hair yet, BUT I have worn REAL clothes at least twice this week already. 🙂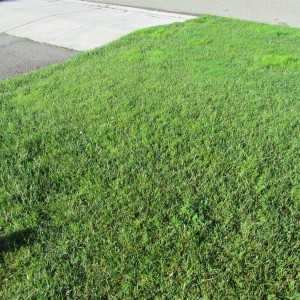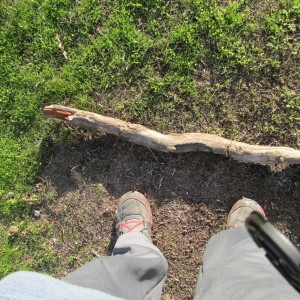 Guess what!!  December is the greenest month we've seen in California yet!! When we moved in, in August, everything was brown and full of briars. Now there is green grass everywhere! The high temperature is usually around 65. Haa!!! Not a bad deal, eh?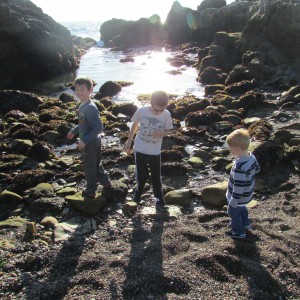 Point Lobos is our favorite place to go. I took the three oldest boys hiking there last week.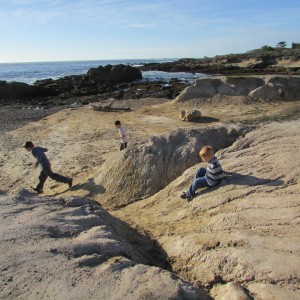 I'm so thankful my camera is back in action!!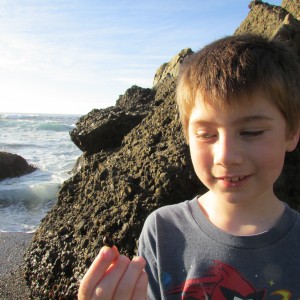 "Look, Mom!!  A real snail!"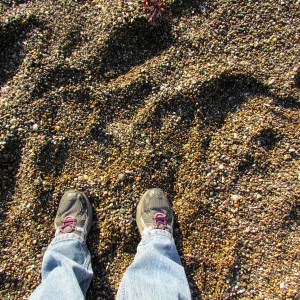 Point Lobos has several beaches that have billions of tiny pebbles, rather than sand.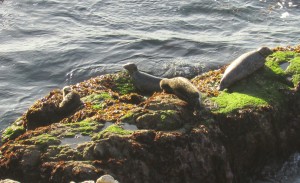 Three Seals and an Otter
Laugh if you want to, but I'm pretty sure I've photographed that seal on the left before. He has some very distinguishing skin patterns.
Joshua got a call from Xavier
We had Thanksgiving with an incredibly sweet ranching family in Carmel Valley.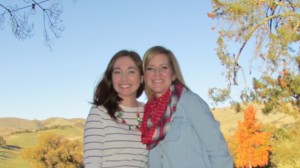 I'm hesitant to put anyone's name on the internet these days. I'll just say that this is my friend, M. M reminds me so much of myself–only more talented in home decorating than I–that it's almost scary. Have you ever had a friend that you knew you could say just about anything to, because you know they are thinking it too?  That is a RARE kind of friend, and we only just met this summer, but M is such a kindred spirit, that I can seriously say whatever I want.
**********
Aside from the, "Augh!!  It's Christmas already!!" thing, California this time of year is FULL of surprises: it's the greenest time of year. I know! The highs are like 65 degrees. Glory!
Things are different here than the media might lead one to believe. There are a lot of different subcultures. As you can imagine, I am very much in the homeschool mom/church going/ traditional values bubble. I haven't met any of the stereotypical hippies that we like to tease this state about, but that's mostly due to my living in a bubble. Birds of a feather flock together. If I were a drug culture person, all my friends would be high, and I'd say, "Dude, no one worries about right or wrong here," because like minded people hang together. Do you know what I mean?
 The people I know here, both locals and newbies, are all people I either have a lot in common with or are people I want to learn from.
One stereotype I can tell you is DEFINITELY true. Californians eat better than anyone in the world. They eat cleaner and greener. Even our small city has both a Whole Foods and a Trader Joe's. Vegetables are consumed heavily, but what do you expect? Veggies are grown here YEAR-ROUND! It's a delicious place to live!
I'll leave you with this funny story that would never happen in any of the other places I've lived. We were at church, a while back, and they were planning a potluck. The coordinator got up and actually said this sentence, "Please, we don't need EVERYone to bring salads. We need some people to sign up for beans. We don't want to end up with 50 different salads like last time. "
BAAAAHAHAHAHAHA
I love you, Californians.