*****Alan's mother, Donna, aka Nonna, is here today to share with us a speech she gave at her church in 2004, when Alan returned from his first deployment to Iraq. This is part of the series, The Real Army Wives, appearing every Monday on storiesofourboys.com.*****
When Alan accepted the ROTC scholarship after his second year in college, we knew that someday he might have to go to war, but war was not in sight at that time and the next war would probably be over fast because of all the technology. His decision to sign up was stressful for all of us, but he had really prayed about it. Alan felt like he owed it to his country, was fit and able to serve, and could use the army as his mission field.
Now how could we argue with all that? We were very proud of him and supported his decision. My husband, David's, daddy had retired as a Lt. Col. and was gung-ho Army, as well as our nephew who is an Army Major. I had an uncle who had died in Vietnam so our family has always understood how important the military is to us. We have always been patriotic and thankful to God to be Americans.
Alan was a college senior on 9-11 and we all knew what that meant. That's when we became even more aware of world events.
When Alan was commissioned upon graduation, he promised to support and defend the Constitution of the United States against all enemies, foreign and domestic; to bear true faith and allegiance to the same. He took the obligation freely, without any mental reservation or purpose of evasion, and would well and faithfully discharge the duties of the office upon which he was about to enter…so help him God.
Now when you hear your son take that oath, it really touches you. We were so proud of him.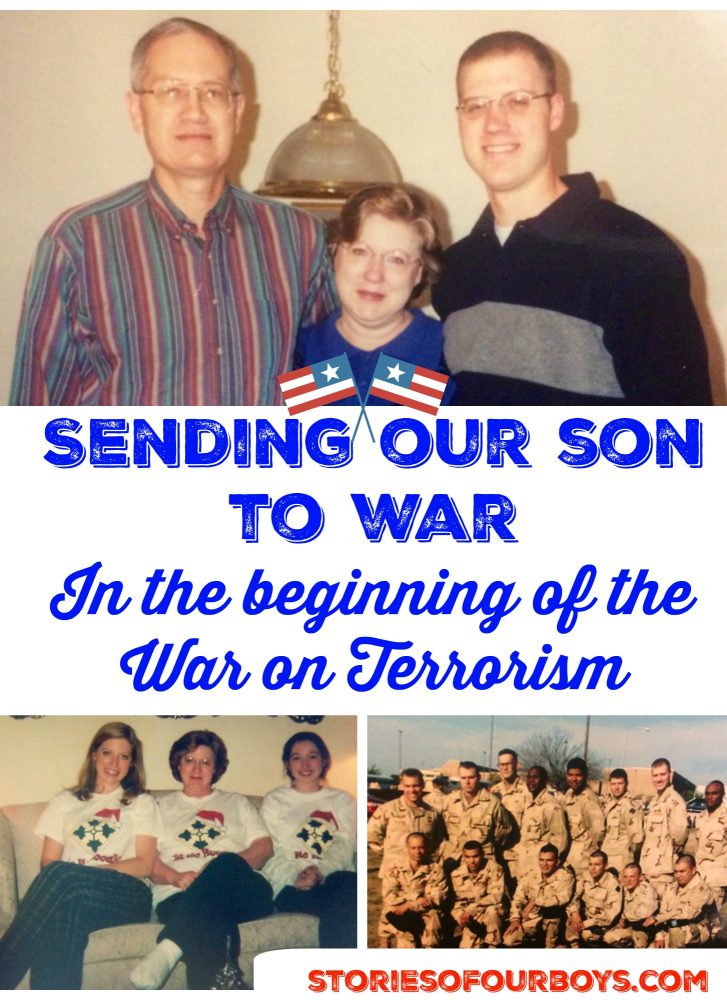 Sending Our Son to War
When he received orders for Iraq, they were for February, 2003.
He and April had only been with the 4th ID at Ft. Hood since the middle of January. Remember all the fuss with Turkey about whether or not our troops could pass through there to enter Iraq? Well, this went on for several weeks so their deployment date kept changing.
We talked on the phone with him several times a week. He was packed and ready to go at a moment's notice. David and I flew out there the end of February for a weekend. Alan's duffle bags, gas mask, chemical suit, etc. were all in the hall-we just had to walk around them. Alan was ready to go. Like he said, it was like practicing football week after week and waiting for your chance to play and prove what you could do.
He wanted to just go, do it, and come back. It was so hard to leave them at the airport that trip. It helped us so much to know that April was there for him.
I guess the worst part was the waiting for that call to say he was gone.
Our TV pretty much stayed on the news trying to hear something about when they would leave and what they would find when they got there. It was like, well, the sooner they leave, get there, do the job, then the sooner he can come home and things get back to normal.
Then the call came…
Sunday night, March 30. April stayed with him at the gym until early morning, then called us after he left. They had been together for 3 ½ months…that is a short honeymoon. She wanted to stay at Ft. Hood in their house. After all, his deployment was only for 4-6 months.
We anxiously waited for news, phone calls, and/or letters. Letters took 3-4 weeks each way at first.
I just kept thinking about what it must have been like for mothers during the previous wars when they did not hear anything for months or even years!
Every time the news said 4th ID was involved in an incident, then we were really glued to the TV and the internet. David found some internet sites with very up-to-date news and he checked them often day and night.
If we heard about a death or injury in the 4th ID, we were quite anxious, especially if the phone rang.
April had told us that she would call immediately if she ever had a report of injury or a condolence call. Now that was nerve-racking.
Then you hear "Three soldiers from the 4th ID were killed this morning in an IED attack near Tikrit." That was where Alan was. With the news like it is now, we would hear of incidents right away, hours before families had been contacted. We would try to plan so one of us was near the phone until names were released.
David spent many nights sleeping on the floor in the den in front of the TV listening for news updates. There were days when I would leave for school (teaching middle school) and David (self-employed) would stay on the internet, in front of the TV, and by the phone to hear names released. Then he would call me at school to let me know that it was not Alan. Once that sank in, then we mourned for the families of the lost.
This went on for the whole year. Yes, that 4-6 month deployment turned into 12 months.
The first 7 months Alan did not have email or regular phone service. He could only call occasionally on a line relayed through a military station to a stateside military installation and then patched through to us. There was a bad voice delay and service was usually cut off suddenly.
April was great about calling us right after his calls to her. This was so comforting to know that at that moment, at least, he was safe. She would also email us copies of his letters-minus the mushy stuff- as soon as she got them. That was such a comfort for us- she was wonderful.
The first 6 months were extremely hard, but then David and I talked about our real feelings with each other. We knew God had blessed us with 2 wonderful children and a daughter-in-law who were all strong Christians.
We had reared Alan the best we could. He was doing his duty and what he wanted to do. We were secure in the fact that God could take care of him over there. We couldn't, and no amount of our worrying could, but God could. And if God saw in His plan for Alan not to come home, Alan would be with Him, we would see him in eternity one day, and God would give us strength to handle it.
That is when we really turned our worrying over to God and really placed Alan in God's hands.
We were still scared, but God helped us handle it. We could really tell a difference in our stress levels, still high, but lower than before, and easier to function every day.
It meant so much for our church family and friends to express concern for Alan, appreciation for his service for us as Americans, and your prayer support.
So many even sent him cards, letters, and/or packages. These meant as much to us as to him- and that was a lot! Alan really appreciated letters and packages from everyone. He especially appreciated hearing from those that were not family, as he just expected to hear from family.
I remember him mentioning when he called one time about how upsetting the news could be over there. When the troops would hear politicians against the war and saw polls against the war, it really hurt them to think that Americans back home were not behind them. They took it very much to heart.
The news mainly seemed to cover the bad things over there. Alan wished the news would show more of what was really happening. They never showed how much we were improving things for the Iraqi people, nor how appreciative the Iraqis were of our help.
His return was delayed for days too. He could not tell us exactly when he would leave Iraq.
Flights had to be secret for security reasons. It was another exciting time just waiting for him to let April know he was in "the States." Finally, she called and said he was in Delaware.  Alan would be in Ft. Hood in a few hours.
Was that ever exciting!!!!
April called us when his plane flew over their house and touched down on the runway. Then she talked to us as she was driving to the gym. Then Alan called for just a minute when they walked in the house.
I can't really describe the relief.
The tears flowed, revealing just how uptight we had been. Just talking to him and knowing that he was in his house, with April, and nobody was shooting at him or trying to blow him up was enough. Lots of people could not believe that we did not fly out there right away. But remember, they had only had 3 ½ months together and we did not want to intrude. We knew she was taking really good care of him for us.
No matter how you feel about the war on terror, please don't hurt the soldiers and their families, even unintentionally, by what you say. Remember, these men and women volunteered to fight to protect our country. They are willing to give their lives if necessary to protect us.
We are so proud of Alan. They don't make the decisions about where they are sent. It really hurts them and their families when people say we shouldn't be there without adding "But I appreciate and support the troops." Remember, they are fighting to protect us, here in Roanoke, from terrorism.
Fighting over there may prevent fighting in our front yards. Some have even given their lives for us. I appreciate every soldier, both now and in the past, and their families who wait at home.
We are proud of Alan and how he has chosen to live his life.
We will be here to support him and his family through it all. Thank you so much for your prayers and support. As Alan reminds us, please don't forget to continue praying for those who are still in harm's way, as well as their families.
To those families who have sacrificed loved ones and to all here today who have served in our Armed Forces, I want to say "Thank you" from the bottom of my heart.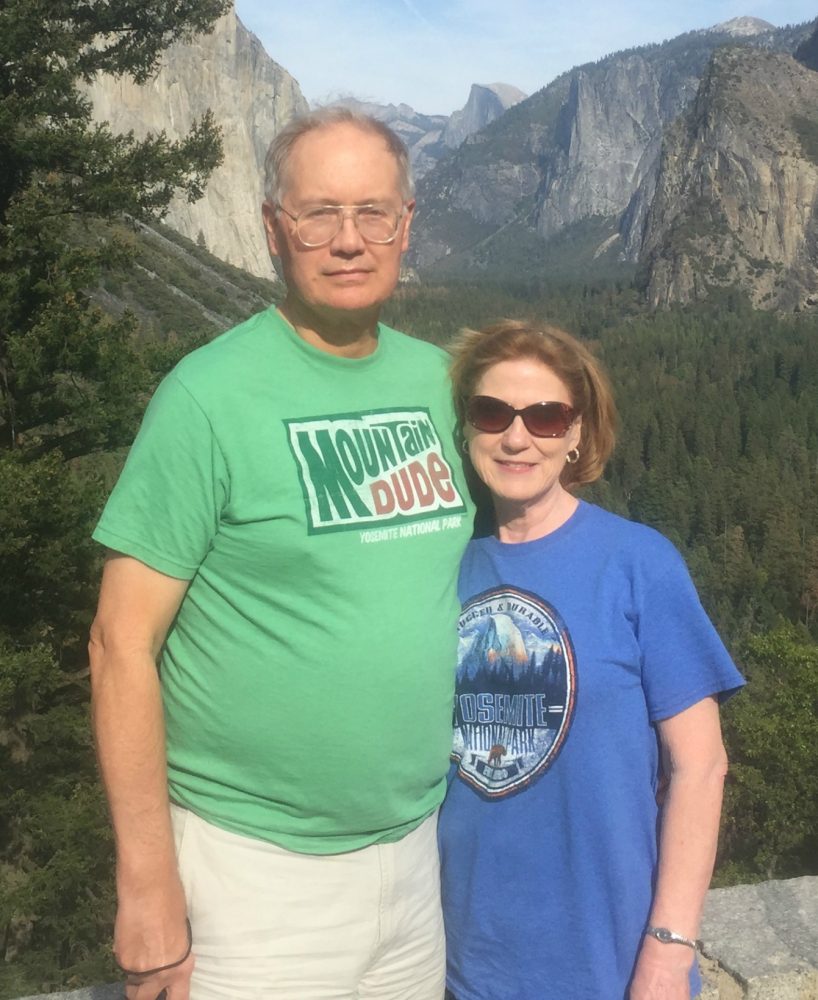 DaddyO and Nonna are now retired. They spend their time taking care of their puppy, visiting family, working word puzzles, reading, teaching Sunday School, visiting their 6 grandchildren, and all sorts of things. They have now been military parents for 15 years and have sent their son to Iraq twice and Afghanistan once.
Next Chapter: When Alan First Deployed: My New Friends at 911
Thanks so much for sharing your story, Nonna! I loved reading the story from a different perspective.
Next week the story continues of handling life alone in Texas, once my husband was gone to Iraq. A new installment of the Real Army Wives series goes up every Monday morning, sometimes even Sunday night! Thanks for following along!
To read last week's chapter, click here.
SaveSave
SaveSave