***Disclosure: This post does contain Stitch Fix ad links. If your purchase through these links, I do receive compensation. However, all the clothes were purchased from my own pocket, and opinions are my own.***
"Stitch Fix, yea or nay?" was a question I posed to my blog's Facebook page a month ago. Before I even tried it out, I wanted to hear some feedback to know if I should bother. Most everyone seemed to think I should go for it, but I was warned that it's not super thrifty.
For a few years now, I've heard my sister-in-law as well as my friend Hillary talk about how much they like Stitch Fix. I've seen my favorite blogger, Crystal Paine, do unboxing videos from her Stitch Fix shipments.
So what is Stitch Fix exactly?
It's a service that provides you 5 new clothing or accessory items in each box through the mail. Each item is hand-selected for you personally by a Stitch Fix stylist. You decide how often you get the box. You can choose just once, every few weeks, every couple of months, quarterly, etc.
Clothes are something I LOVE, but I never actually signed up because I was afraid it would be a gigantic money pit.
Also, since I do love clothes and shopping, I didn't feel like I needed someone to do my shopping for me.
You know what I mean?
How can we know they will choose affordably cute clothes and not just tease us with beautiful clothing that we cannot even afford and have to send back anyway??
Well, wonder no longer. I'm going to give you more information here than even Stitch Fix probably wants me to give you, so you can make an informed decision.
Disclosure #2: I need to invest in better lighting for my photos, so I can wash out my wrinkles and freckles…
First, let me tell you about the Process.
When you sign up, you go to Stitchfix.com, and you answer questions about your body type, clothing needs, and your style. Truthfully, I enjoyed this part because for some reason I enjoy answering questions about myself and my clothing.
Answer as HONESTLY as you possibly can!!! Telling them you wear a 10 when you actually need a 12 will help no one. This is not a fantasy questionnaire. hehehe! I'm only saying this because these are the things I had to tell MYSELF when I was answering these questions.
There are about 25-50 questions, but they are all multiple choice, so no need to panic. Halfway through, I realized I should take screenshots for you to know what to expect:
One time only!
You can't see it in the above photo, but there is also an option to get a one-time box.
Tell them more about you!
They give you an option to tell your stylist more about yourself. Use this!!! I was very specific. I told her I needed more tops, that I love trouser-style pants, and I even got specific on the fact that having 4 babies left me with a pooch. Therefore, please no spandex-tops. Ha!! I even specified that I wear a smaller size shirt if it is super blousy or peasant style.
Also, include your Pinterest profile name if you have one!! You can go on Pinterest and create a board of clothes you like—any clothes at all that you like. It gives them an idea of your taste.
My stylist, Becca, not only viewed my Pinterest boards, but she actually referenced them in the note.
This was my note from my stylist:
FEES!!!!
Okay, let's talk about the fees. Am I saying there is a service fee? Yes, I am. It's $20. That's  part of what kept me from signing up for forever!!!
But if only I had known! If you keep any of the clothes Stitch Fix sends you, they deduct the $20 from that item. Ohhhh!!! See, I did not know that.
My First Shipment
If you want to see the full unboxing of my first shipment, here's the Facebook Live video, but I'm also going to write out everything you need to know below. You won't miss any information by skipping the video. (I know what it's like to be reading in public without headphones!!)
Don't skip the note. (Like I did.) This note includes your message from your stylist and your style suggestions. The envelope also includes the prices of each item, as well as how much your total will be after your discount(s) are applied.
These were my outfit suggestions:
The item in the middle of each block is the item you receive. The items off to the sides are styling suggestions.
There was also a pair of earrings, which I will show you below (keep going).
Did I like everything I got in my box?
….Well, actually I did! It was a home run, but I did not expect that. Please don't expect that you will love everything you get in every box. There's no way.
My box was full of beautiful clothes that I would have bought for myself if I had found them at Kohl's. Totally.
But did they fit??
Believe it or not……

And my FAVORITE part….
Okay, yes, it all looks awesome, sure, but…
How much did all of this cost???
In MY opinion, their prices are inflated to pay the shipping and the stylists. There is no shipping charge on top of what you pay, but there is still sales tax.
Was it affordable??? It was moderately affordable to me.
I could have gotten just the elephant shirt for $48, minus the $20, so $28.
Both shirts were $48 a piece, more than I usually pay.
The dress was actually reasonably priced, in my opinion. $68 is reasonable for a dress. If you were only buying the dress from this box, it would be only $48.
The earrings were $28. $10 to $20 would have been more exciting.
Like I mentioned before, you are also paying for the service.
The only item I felt was way over-priced was the pants, at $88, I was like "Whaaa???"
Oh!!! One more thing about the prices!!
When you answer those initial sign-up questions on StitchFix.com, they ask you your price range. I marked "as cheap as possible" for everything EXCEPT for pants. That may be why my trousers cost more. It's important to me to have high quality pants. I can't explain it.
So how did I choose what to get?
I could have bought 3 of these Stitch Fix items for $104, but that's not including the dress. Finding dresses that fit me well is difficult, so I wanted to get the dress. That would have put me at $172.
4 for $172 (no pants)
or all 5 for only $190 (including the pants)…...You can see why I chose to just buy it all!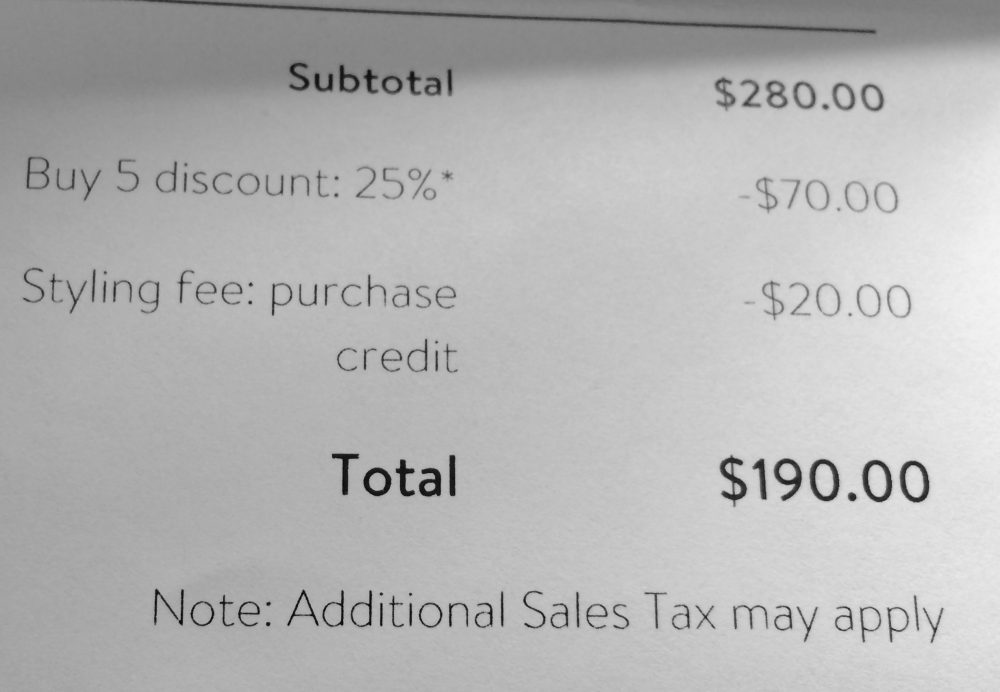 If you buy everything in your box, you get a 25% discount plus your $20 styling fee off.
I did the math, dispersing the discounts in my head where I so desired…
That made it like I was getting the tops for $38/piece, the earrings for $28, the dress for $68, and the pants for $18…..the way I did the math!! Ha!! You could distribute the dollars however you want. I did it that way because if I sent anything back, it would have been the pants.
I'm going to have to go with "Yea!!!", BUT since I bought all of it this time, I had to move my next Fix further out. It was super simple to switch from "every other month" to "quarterly".
This will be a special, quarterly treat that I will be looking forward to.
What about you? Do you need help choosing new outfits? Want to give it a whirl?
Click on the photo below to give it a trial run. Let me know how it goes!! Already tried Stitch Fix? Comment below to tell us what you thought!
SaveSave
SaveSave
SaveSave
SaveSave
SaveSave
SaveSave