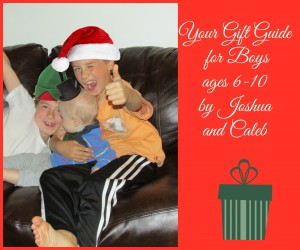 Joshua and Caleb are here to help you figure out how to shop for a group that isn't always easy: the big boys. Yes, they picked out all of these things themselves–not me. They even helped me make that picture. I would have never thought to stick a top hat on sweet little JD's head! 🙂 hehehe
Merry Christmas!!!
These are ideas for boys in the 6-10 age range. Joshua is nine, and Caleb is seven. 
Joshua's picks:
Joshua is asking for these specific Big Nate books, but really I think he will be happy to get any Big Nate book:

(Some of these are affiliate links, via Amazon, that you can click on, and it will take you straight to their store.)
Of course, most boys this age also LOVE video games. I told them they could each choose one video game for their list. Joshua doesn't have a game picked out yet, but he did ask for the Mirror of Mystery Pack for his Skylander Trap Team game. They beat the actual game in three days, but these packs introduce new levels for them to conquer
.
For some reason that the girl inside of me will just never understand, almost ALL boys also love toy weapons. I can't explain it, and yet it is a very clear pattern.
This is the weapon Joshua is wishing for this Christmas:
the Nerf Mega Thunder Bow Blaster
There's also this store called J.M. Cremps that has a TON of great games for little boys. No, I am not an affiliate of this company, but I'm telling you, they have awesome stuff. Both boys want this this year:
Now, let's see Caleb's picks:
Caleb is super easy to shop for because Caleb still loves imaginary play of all kinds, adores toys, and is just an easily pleased type kid. Thank you, Lord, for kids like Caleb!!
Angry Birds Telepods is his choice video game for this season. I believe it's an iPad app that has mini figures that go along with it, much like the Skylander portal concept.
These figure/video game combinations are obnoxious to me, as a parent. However, kids like Caleb that are still young enough to enjoy playing with action figures enjoy them on a whole other level.
Even Daniel and JD play with the little figures, but they obviously don't play video games.
This hover-ball, or as Caleb calls it "one-half sliding soccer ball" has come up a lot in conversation. He's excited about this.
…and this…because my children are highly susceptible to TV advertising…Here's another reason I am so excited about cutting the cable once football season is over!!!
Speaking of t.v….
Teenage Mutant Ninja Turtle weapons. Actually, every single one of my four boys would LOVE any of these TMNT weapons. Caleb asked specifically for these. I never call them the right thing, so we will refer to them as Rafael's weapons. Joshua's preference is for the stick-thing Donatello carries. Big surprise. Joshua's been carrying around a stick, using it as his King's scepter, for as long as I can remember!
Caleb also asked for a watch, which Santa Clause will be bringing, and a camera card so the digital camera that he has (handed down) will work.
Oh, and here's a book series that is really great for Caleb right now. I think all little boys should read this series. The stories are wholesome and fun.
We are all enjoying these. As a gift, though, this is definitely more Caleb's (2nd grade) level than Joshua's, even though Joshua still enjoys reading them.
And of course, what list would be complete for either boy without this guy:
As we speak, Joshua is sitting up in bed reading the one Calvin and Hobbes book that we have, over and over again.
OR THESE:
But a set that big could be a problem for airplane transport with impatient little boys…The key would be to prevent opening the set until we got home, I think.
Okay, Mom, I hope this helped!
 Let me know if you need me to put one together for toddler/preschool boys! That's a whole other kettle of fish, but it seems like people have an easier time with that age group.
Don't forget to stop by this award contest, and give my blog a vote:
Merry Christmas!!