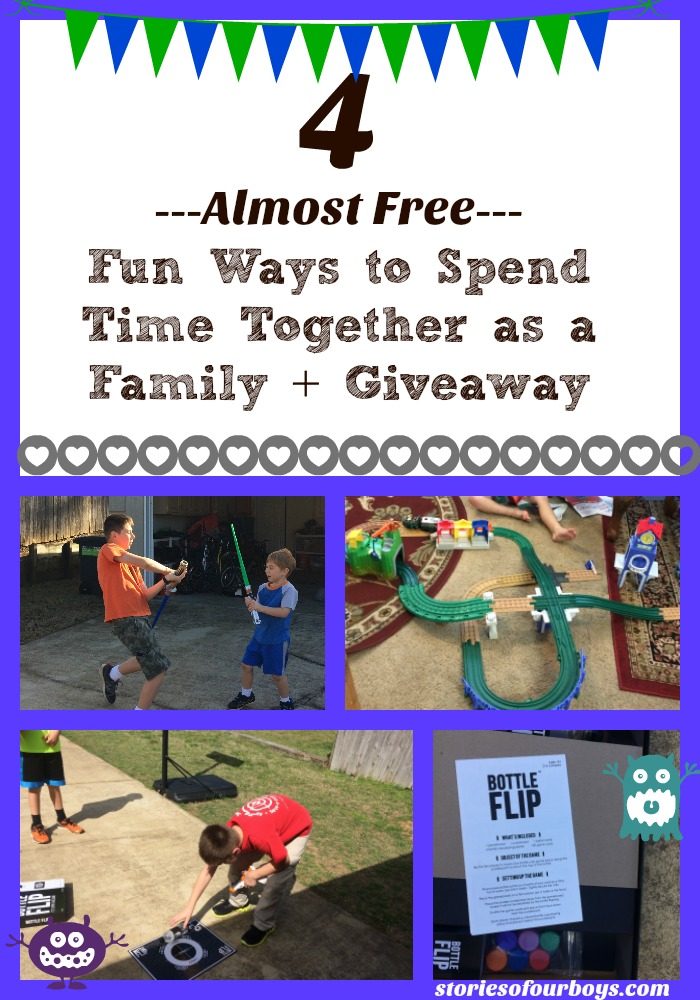 As much as we'd love to be a Disney family, high tailing it off to Orlando a few times a year, that's not really practical for most of us, is it? No, and even if you do, there will be plenty of time between to fill up with memories at home.
Here are 3 things I've found lately to have a BLAST with my children without spending much money at all and without leaving our house.
4 Almost Free Ways to Spend Time Together as a Family
Board Games
This one can be even cheaper than you think. I buy almost all of our games at Goodwill or other local thrift stores. Part of Daniel's birthday gift this year was an Angry Birds game I found for $3.95 at Goodwill. Maybe $3.95 doesn't sound cheap, but when you figure the whole family could play it, it was in perfect condition, and retail it would have been more like $34, it starts to sound like a steal.
This morning we paid Spongebob Monopoly, and while 3 of 4 boys quit early on from boredom, Daniel hung in there and beat me SOUNDLY.
So did everyone have fun? Sort of. Everyone did for a little while. And one of them had the special honor of beating mom. Also, he learned so much about counting money and making change.
Playing Sports Outside…..and yeah, sometimes inside
What we play depends on what they are into at the time. Last year it was always baseball. Now it's mostly basketball, but lately we've been all about badminton.
Here's my best tips for introducing your kids to badminton or tennis:
Buy any racquets at thrift stores. Thrift stores almost always have tennis rackets, and when you are playing at home, you can totally play badminton with big giant tennis rackets. In fact, it makes it easier for the kids to hit the birdie.
If you don't have a net, designate a line on the driveway as your "net". By the way, the one above is a nice one. You can also buy super cheap ones, but I can't vouch for how good they will be, but they might be better than just the line on the driveway. Ha!
Our family just used the crack in the driveway as our "net" until we had time to go buy a net.
Most sports can be simulated at home without actually owning the equipment. In most cases, you just need a ball.
ABSOLUTELY FREE: CHARADES!!!
Alan took some papers, cut them into squares and wrote names of people we know, movies we've watched, and places we've been to on them. Then he made a paper bag for each category, and put the papers in the bags for us to draw out.
The boys LOVED it. It was more personal this way. We used family members, and then they'd act out what they've noticed about those family members. The cutest was when they were being their cousin Wesley, and they got on their knees, to show they were short, and then went around hugging everyone! Ha!!!
For places, we used random ones like the driveway, the pumpkin patch, and places we used to live. Just talking about it makes me want to do this again. We all laughed so much.
Include the little ones too. Just whisper in their ear how to act it out. As long as there's one person to guess, you're good. When toddlers get involved, I promise it will be hilarious. They may even announce to everyone who they are being, like JD does, and that's okay.

Turn something they LOVE into a family activity!
Light sabers? Family jousting tournament
Legos? Building contest! And name a different prize for each kid. Maybe even make little construction paper ribbons.
Dancing? Dance Party.
For example, the ever so obnoxious BOTTLE FLIPPING!!
Does any mom or teacher out there not hate this activity? Why? It's loud. It's annoying, and it always spills water.
Did you know they make games for Bottle Flipping? As in board-game like games? They do!

I decided to give this a shot. This is the very first time I had ever attempted to flip a bottle, and I'm here to tell you it is way HARDER than it looked! I have new respect.
Best of all, my older boys got a real kick out of me participating in bottle flipping with them. My oldest wasn't even going to play with us at first, but once he saw us having fun, he joined in and then insisted that we play again.
In fact, I want you all to join in on this fun, so this week we are giving the Bottle Flippin' Game away for FREE to one of you!
***This giveaway is sponsored by the Bottle Flip Game.***
I love giveaways!!!
To enter just Log in with Facebook or your email below, and click one of the options. If you have trouble, just send me your email address, and I'll enter ya.
Good luck!!!