Daniel had his first week of tee-ball. Alan didn't sign up to coach this year, not even to assistant coach, but he went out there today and helped anyway. And you know what happened? Alan came home so refreshed and happy. It was a beautiful thing to see.
Alan says that Daniel will actually be one of the oldest, most experienced players on his team this year. Yayyyyy, Daniel!!!
Meanwhile, you know what annoys me? Pop culture.
Why? Because it has reached my children, at least one of them, and he has started saying "Dang, Daniel!" all the time. Insert me, looking like an annoyed vulture.
Now some of you have no idea WHAT I'm talking about because you don't know anything about pop culture. Well, allow me to shrink your brain by catching you up. There was this video that went viral in 2016, originally on Snapchat, of these high school kids saying "D***, Daniel," over and over again.
And go figure, the video-maker's name is Josh. So of course, someone told him about it. So now he says, "Dang Daniel" all the time. He's not allowed to say the original version. Of course, Daniel doesn't get it at all. Only I get it.
(If you have no idea what I'm talking about, here's the Ellen clip to explain.)
Speaking of my big boys, I thought this was hilarious. We spent last week hanging out at DaddyO and Nonna's house r-e-l-a-x-i-n-g. It was wonderful. Check out the amazing amounts of sleep I accomplished, according to my Fitbit. I was so proud. (By the way, I noticed Amazon has the Fibit Charge II $20 off right now.)
I wanted to find a funny movie we could enjoy with the boys. I found Father of the Bride and Father of the Bride Part II!!!!!  I talked up how uproariously we would all laugh at this movie.
We watched half of the first movie, and then Joshua proclaimed, "You said this was funny! I don't think this is funny at all!" And then he disappeared upstairs.
What? Not funny? This stuff is HILARIOUS.  I guess there's an age range for this humor. Remember this?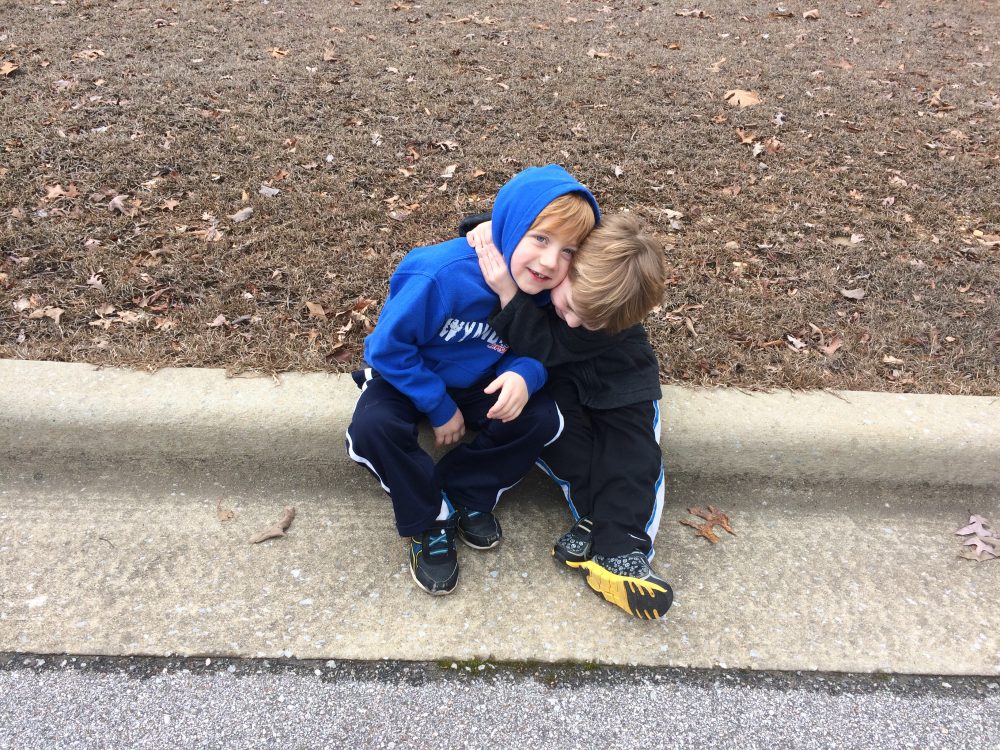 It has been 7 months now since we moved in, and we are starting to feel settled. We're using our GPS less and less, and the boys are asking to go back to California far less. If I've said it once, I've said it a thousand times. It takes a year to fully adjust to a move.
I'd say it takes two years to actually get past surface-level relationships and put down roots. That's the lonely thing about it. No one knows you well enough to relax, and you are still trying to figure out all the new people you've met.
I can learn their names easily, but sometimes it takes time to root out the kindred spirits from the high-maintenance ones.
I feel like Alan and I did this ONE particular thing right that's going to be the thing that makes life fun and frequent moving doable. These 4 boys. I can't really say we gave them each other because God did that. If I had gotten to decide it myself, there would have been a Gracie and a Josie thrown in, and then our whole family dynamic would be different.
But this is better because this is what God gave us. I can't imagine our lives without a single one of them. We have two sets of best buddies, and I wouldn't trade that for the world. The younger ones are learning from the bigger ones things, for better and for worse, ha!, and I wouldn't have it any other way. They fill our hearts with so much joy.
And no matter where we move they all have each other, and Alan and I have each other and these boys.
Best of all, we've never grown too comfortable with any one place or house. There's no confusion about where home is. Home is not a building that can be taken away. Home is right here, wherever we are. Home is us. So we are always home.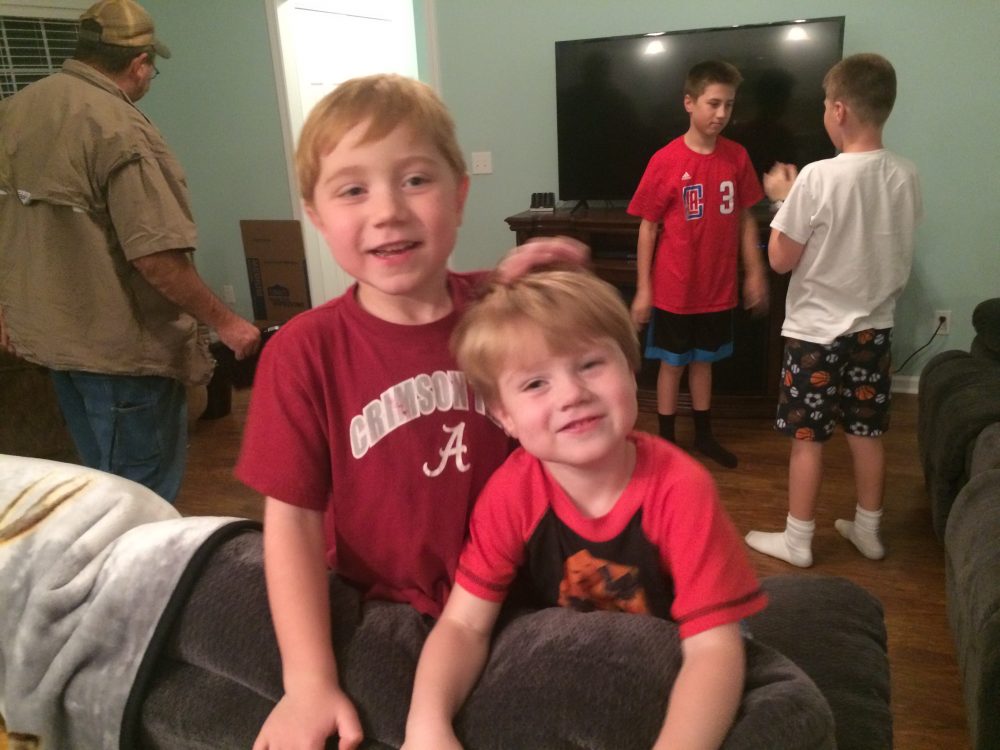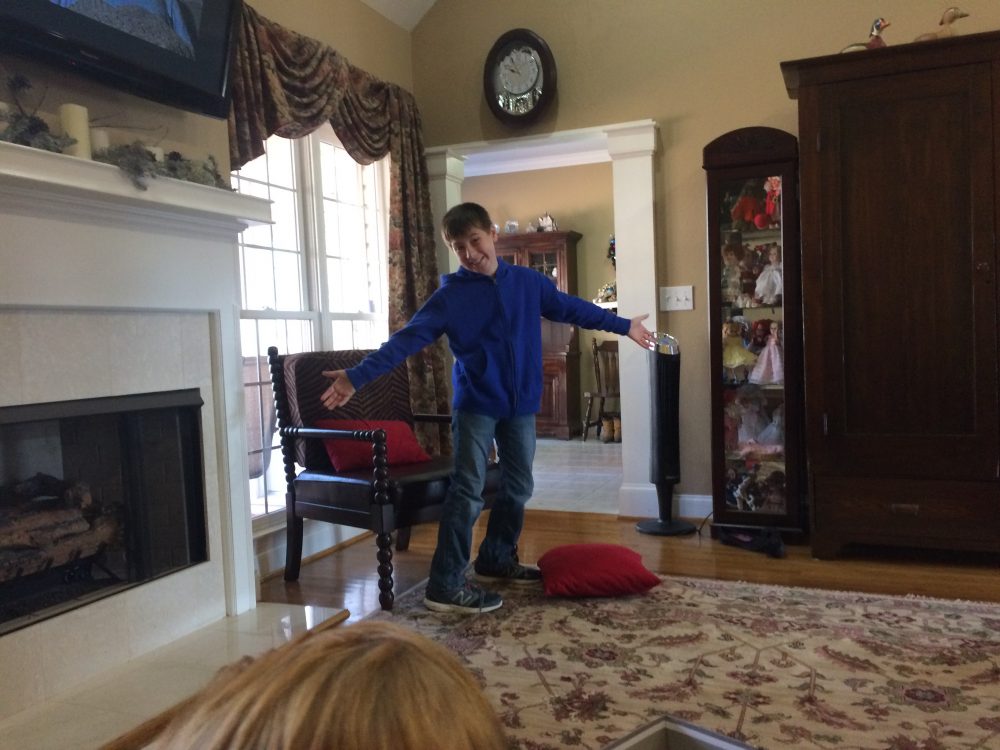 And now here they are, all telling me that Lego Batman movie premiered today, and they are just dying to know when I am going to take them to see it. Yeah…I might have promised them to take them to see that because Lego Batman is a serious obsession around here.
Maybe I can make it happen today……
A new commandment I give you: Love one another. As I have loved you, so also you must love one another. 35By this all men will know that you are My disciples, if you love one another."…            –Jesus  (John 13:34-35)