Cleaning Chores For Kids, By Age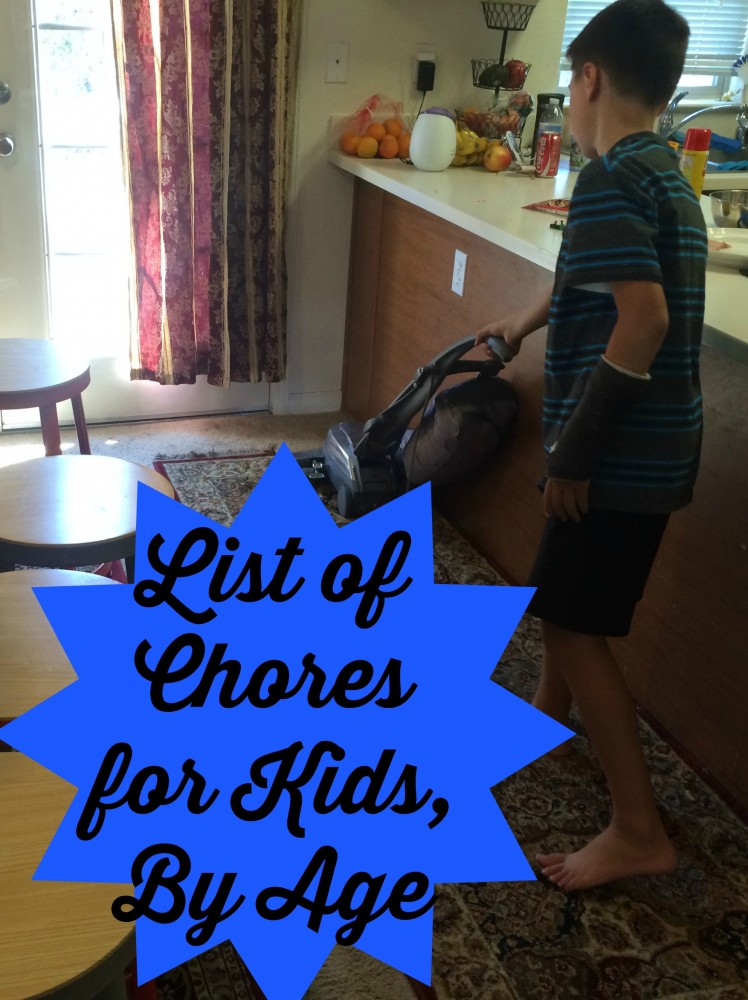 Hello, friends! April is resting a powerful case of tendonitis, so Edna Thompson, of the United Kingdom, is sharing tips with us on age appropriate chores for kids today.
Everybody knows that it is not an easy task to maintain a clean and organized home with kids around. But not necessarily! Try including your kids in the cleaning and organizing process. Let them help you clean the mess they make. Of course, depending on how old your child is, there are different chores they can do. But even the younger ones can be put to work. Give them easy to do tasks turned into a game. This way they will be engaged, and instead of making a mess, they will be fixing it.
Here are some simple tasks, categorised by age groups and rooms that you can give to your children. But keep in mind that; of course, this can be adjusted any way you want because every child matures differently.
And another very important thing to remember is to give them one task to do at a time, especially the younger ones. Give them one chore to do, wait for it to be finished, and then give the next one. The younger the child, the more supervision of course, so never leave them alone and always go and check their work.
But also keep in mind that you should not be fixing their work in front of them.
And the most important thing is to make it like a fun exercise and enjoy the time spend with your child.
Here are a few chores you could give them to do by age:
2-4
Tell them to clean in their room, give them different coloured bins and tell them to sort scattered toys in the bins by colour
Put dirty clothes in the laundry hamper
Put other things like books, glasses, clothes back in their places
4-5
Make their bed
Water easy to reach house plants (with supervision of course)
Feed and give water to pets, if you have any
Wipe the table
Sort clean silverware
Help set the table
6-7
Dust the furniture
Use hand-held vacuum
Sweep the floor
Empty dishwasher
Put away clean dishes
Fold their washed clothes
8-9
Rake leaves
Load dishwasher
Clean after a meal
Vacuum
Collect and fold clean laundry
Collect and take out trash
10-11
Mow the lawn
Prepare easy snacks
Saw
Clean counter tops
Rearrange pantry
12 and up
Wash windows
Mop floors
Paint walls
Shop for groceries with a list
Iron clothes
Even watch younger kids
Of course you know what your child can and cannot do, so you can adjust this in a way that is better for your child. This is just for orientation, but mama knows best. 
Pick a cleaning song and sing and dance while you clean. Make a competition between your children, like who can organize and clean their room faster.
The goal of having your kids helping you to clean the house is with the idea that they learn how things should be done by helping you at first. When they get older they can do them by themselves. Plus you will be spending some time together and doing something useful while having fun with them.
The article is written by Edna Thomson. She runs a small company called Notting Hill TenancyCleaners