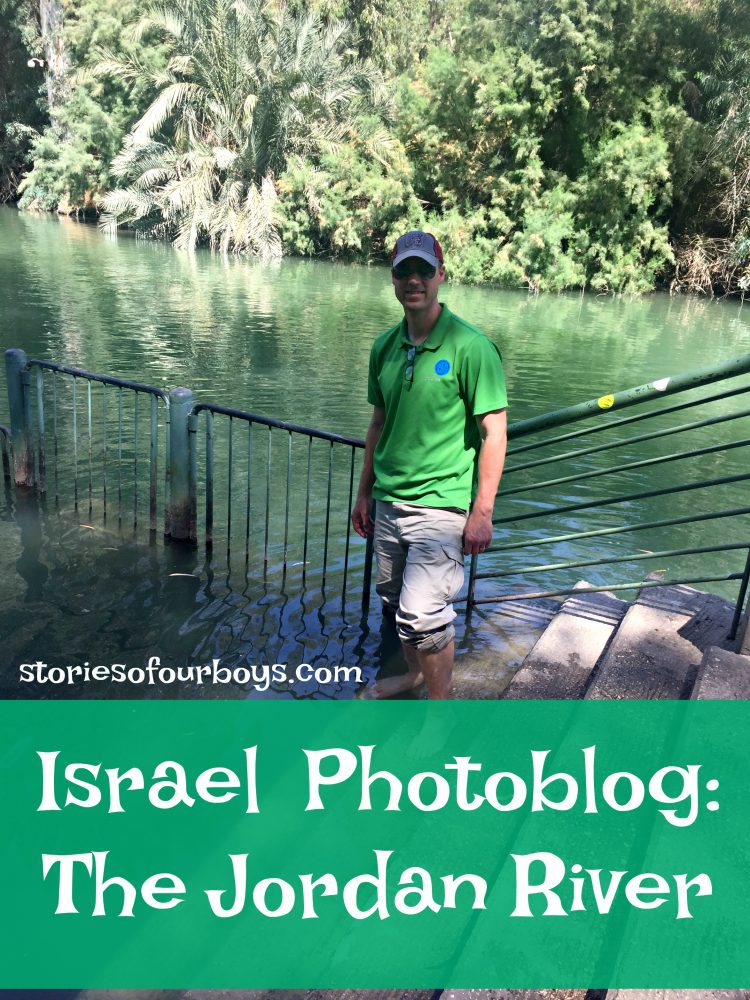 Before we dive in to see the Jordan River, I found a few more beautiful photos of the Sea of Galilee on Alan's camera!! I'm including those here because these showed the lake better than the ones I took!

Panoramic view of the Sea of Galilee
After leaving the Sea of Galilee, it was finally time for lunch. Let me tell ya, I was STARVING. It was a good thing because lunch was fish caught in the Sea of Galilee, locally known at "St. Peter's fish".
And it looked like this……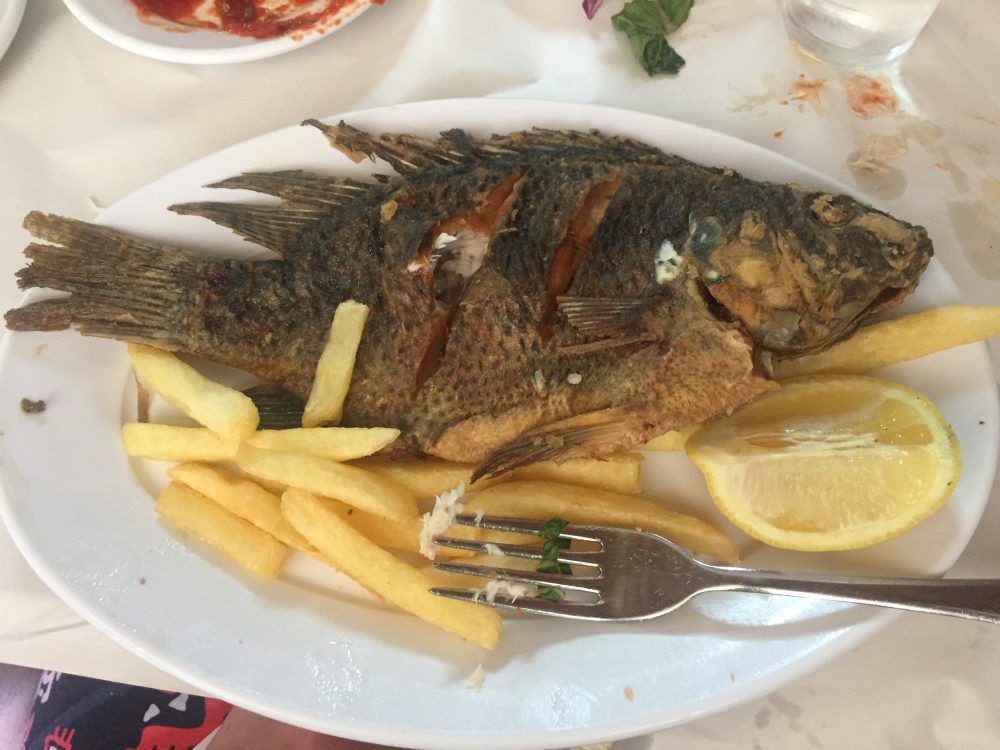 The struggle was real. I'd never eaten fish prepared this way before.
One thing that was exciting about eating out in Israel is that the restaurants bring you several salads while you wait for your food. These aren't salads like our little side salads. These are mixtures of different vegetables, dips, tuna salad, hummus with pita bread, all sorts of things! The "salad" phase of the meal was actually my favorite.
"Do any of you speak English?"
Our tour group was over 1/2 Americans and UK people and a little less than 1/2 French. That's because our tour guide spoke French, English, Arabic, and Hebrew. Impressive, eh?
The English-speaking half all filled up a table before we could get to it at lunch, which left us at the French table. Alan asked if anyone spoke English. They did not.
We all attempted to communicate through our broken Spanish and English, as Alan and I have no French words whatsoever. It was futile. Mostly they talked, and we ate.
The water was FULL of GINORMOUS fish. You could see them coming close to you and swimming around. There were also plenty of ducks. I guess it's too dirty to drink but not too dirty for wildlife to survive in. Extremely green though–it was that green, if not more so, in person. *gag*
Was it a spiritual experience?
It was. You could look down river and see other people in white robes being baptized. That was a blessing to see, and you could picture where you were standing as holy ground. Plus, there's always that sense of, "Wow, we are in the land of the Bible. This is where Jesus walked. The Israelites fought hard for this land, over and over again they fought for it. Still they are fighting for it.
I felt a deep sympathy here for the Israelite people. I want them to have their land in peace and see the temple be rebuilt.
Their land is beautiful, and the air is dry (except in Tel Aviv where the Mediterranean Sea did bring out my frizz). I loved being in Israel, where the patriarchs walked and where the Jews returned, full of hope.
Our Jordan River tour was our last tour day.
We knew we were flying out at 10pm that night, so that made this day extra special. Alan and I hung on to it as long as we could, soaking up our surreal visit to the Holy Land.
I still cannot believe we got to do this!! It was strange to leave my children for 10 straight days and travel so extremely far from them, but to experience this it was worth it. Besides, I knew they were in excellent hands.
Thank you to all 4 grandparents for making this possible!!!
"It is not because of your righteousness or your integrity that you are going in to take possession of their land; but on account of the wickedness of these nations, the Lord your God will drive them out before you, to accomplish what He swore to your fathers, to Abraham, Isaac and Jacob."

[Deuteronomy 9:5]
"… you will cross the Jordan here to go in and take possession of the land the Lord your God is giving you for your own."                            [Joshua 1:11]
For a map to better understand the location and for more information about the Jordan River, click here to visit the National Geographic website article and Map.
Alan and I bought most of our souvenirs that last day at the Jordan River gift shop. Then we headed home…..a 10 or 11 hour flight across the Atlantic. By the way, it's about impossible to sleep on an airplane. We saw some interesting things on that flight, but I'll save that story for the round up post.
We hope you've enjoyed our Israel photos and stories.
I'm planning to do one last round-up of the trip to make it easier to reference all the different sites. For now, here are a few you may have missed:
The Mount of Olives: Jerusalem Part 1
Capernaum: The Jesus Synagogue that you can still see!
Tabgha Photoblog: Place of Miracles and the Sermon on the Mount