Lately, I've started a system where each of our boys has a couple of new chores he must do each day. Yes, even the 4-year-old. I instituted this because I actually cannot keep up with the housekeeping all myself anyway.
I pay them a quarter for each of those jobs, plus I give them extra coins when they exhibit a wonderful attitude.
I'm able to pay them on the spot because I have a big juice jug full of change.
This has been working extremely well for us. Though yes, I always inspect their work, and make them fix things they've skipped over, like little Lego men peeking out from under the sofa.
Today I have asked Josh Wilson, of FaithFamilyFinance.com, to fill us in on why paying children for chores is a MARVELOUS idea, not just for us, but for our kids too….
Why Is It a Good Idea to Pay Your Kids for Chores?
One financial decision you will need to make with your children is if you should pay your children to do chores. There are several different reasons why this is a good idea. For starters, they can learn valuable life lessons. If you are on the fence about paying your children for chores, read more to find out why it can be a good idea.
Adults Work for Money
Adults work to earn money because they have bills to pay. Paying children for chores teaches them the value of work. They can learn about the incentive of working harder to earn more money. Just as you don't get paid if you don't work, you have the option not to pay your child if they don't complete their chores on schedule.
Until your children are old enough to get a part-time job, paying your children for chores can be a good way to allow your children to work for a goal instead of simply being given everything they want.
It's a great way to teach your kids to work for a goal rather than being given everything! via @AprilandAlan storiesofourboys.com #responsibiity
Click To Tweet
Chores Teach Commitment
Chores can consist of daily, weekly, and monthly tasks. Even if you decide not to pay your child for some everyday chores, money is a strong incentive to remain committed for additional chores. Your children can establish a work ethic early on.
Offering to pay your child for optional tasks that you don't necessarily have to do is a good starting place. By not paying your child for every single chore they complete, you can reward them for their efforts while avoiding the entitlement spirit of thinking they "must" get paid for every chore or they won't do it.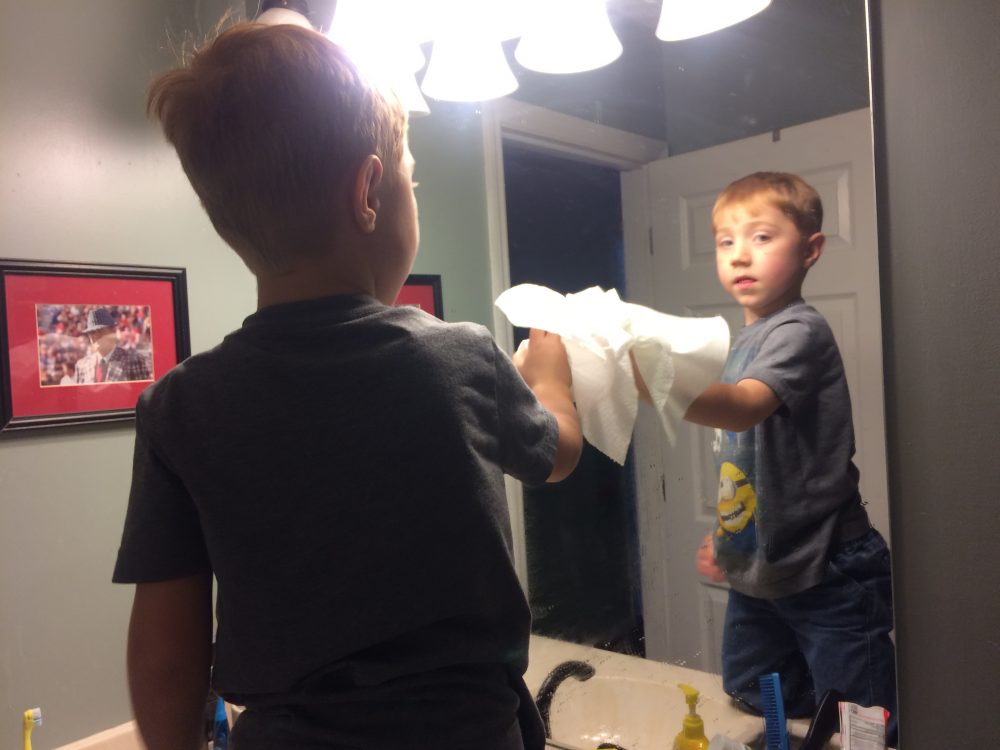 Chores Can Instill Entrepreneurship
Depending on your child's personality, paying for chores can instill a level of entrepreneurship. By realizing they can make money by providing a solution to a need, completing chores in this case, they may decide to pursue their own side hustle as they grow older.
For example, if you pay them to mow the lawn, they might ask your neighbors to mow their lawns for cash. During the winter, they might offer to shovel driveways and sidewalks for extra cash. If you only pay them an allowance for not doing chores, they might miss out on these additional money-making opportunities.
Paying for Chores Establishes Expectations
As the parent, you can set the expectations for when your children will be paid for their chores. If your children don't do it right the first time, have them redo the task to your satisfaction. Chores can be an excellent opportunity to learn attention to detail and working efficiently to maximize their earning potential.
Remember to consider your child's age and experience when setting expectations. Just as there is a learning curve when you start a new job, your children will need to master new skills as well. As they mature, you can increase your expectations and maybe even give them a raise as well.
Chores Can Encourage Communication
Communication is a two-way street in every relationship. Paying for chores can teach your children communication skills that can benefit them in the professional world. On payday, you can review your child's performance and encourage them or tell them how they can improve.
Your child can also improve their communication skills because they will learn how to accept feedback, good and bad, from their superiors. Chores can also teach negotiation. Your child might offer to perform additional tasks if they are trying to increase their income.
Children Can Learn Money Management Skills
Earning money allows children the opportunity to learn the value of saving money for future purchases and accomplishing other financial goals. If you offer them additional money for completing extra tasks, your children can have an additional incentive to work hard to achieve their goals sooner.
In addition to paying your children for chores, you can also teach them budgeting and banking. Instead of just giving them money and letting them go on a spending spree, you can have them divide their paycheck into saving, spending, and giving.
For example, you can help your kids open up a savings account and they can watch as their interest grows. Each month opens the doors for a new learning experience, and even earnings for your children. You should likely use an online account with low minimums and fees to help you children keep more of their money. My children use Capital One which has an account created just for them. This will prepare them for adulthood when a portion of each paycheck goes to taxes and living expenses.
Summary
Paying children for chores is one of the most debated topics about parenting. While no parent is required to pay for chores, doing so can teach your child valuable life lessons. If you decide to pay your child, remember that you don't have to pay them for every single chore, and you can also base the payment on their performance.
Josh Wilson is the owner of a start-up personal finance blog, Family Faith Finance. Check out his blog and learn more about his journey through life.