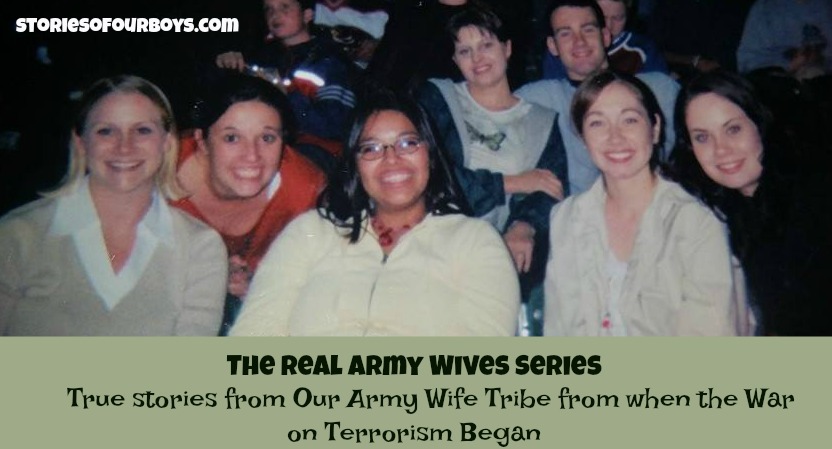 *******This post is part of the series, The Real Army Wives. For last week's chapter, click here.*************** Friday, July 8, 2003 Alan, Hey! I'm being bad. I'm in class, and we are watching a truly boring video. So I've been brainstorming children's names for our future children. These are some that I have come up with. Tell me what you think, and try to think of some names to add to the list. 🙂
Girls:
Gracie Elizabeth  (my favorite) Kathryn Jennings (Call her Katie.) Autumn Faith
Boys:
Cody Alan John David David Alan  (but David is such a common name.) 🙂 I know I said we'd wait 5 years, but I hope you don't really plan on sticking to that… 🙂 I just can't wait for you to get back! I got a letter from you today. It was written June 23, and the CMIC had been attacked in broad daylight. : ( I'm wondering if you are in Ad Dwar yet and how that is going. I REALLY hope you like your new job. I know you'll be great at it. You're great at everything you do. #1 Cadet–RA of the Year–Cum Laude—You are amazing. I love you, April
*******
July was an exciting month.
My house was an active hub where we came together when we were tired of being alone. The house next door was also a hub because it seemed like Katherine and Nick's (The Beefcake's) house was always hosting one or several long-term house guests. First, Nick's cousin Jay moved in. Then there was Phan. Jay stayed the whole year, but Phan was only there for a few months. Later they also introduced us to Tegann and Josh. Between Katherine's house and my house, our little corner of the street was a regular YMCA for 20-somethings.
Those duplexes were an unbeatable support system.
On the flip side, Shelby, on the other half of my duplex, was not handling the deployment so well. By this point she was having an obvious affair, with her new boyfriend's car always parked in the driveway. I remember saying, "Well, if it's any comfort to her husband, she fights with her boyfriends just as much as she ever fought with her husband." I never got to know Shelby. I did help her out with the cops once.
It was in the middle of the day when a lady cop knocked on my door.
"Do you know the people who live next door? I keep knocking, but no one answers." "Yes, I know them. She's at work right now, and the kids are at school." "We received a complaint, and do you know if these kids spend a lot of time at home alone?" Oh, boy. "Well, usually if they get home and Shelby's not there, they come over here, and I watch them." This was true. "Our caller said that there's a two-year-old and a baby?" "No. no. They are like 10 and 7. There's no babies, and I would know. You can hear everything through these walls. That is so weird that anyone would say that. It's not a perfect home, but I don't believe there's any neglect, and I know there are no babies. They are home alone sometimes, but not for long, and the oldest is very responsible." The cop was satisfied and left. Yes, I watched those kids sometimes, but as their neighbor,  I felt like that made me part of their 'village', their built-in support system. I wasn't about to start buddying up to Shelby, but I was happy to help her children. That afternoon, Shelby and her two children knocked on my door. She apologized for the cop showing up and explained that her dad was crazy and was trying to get back at her. He was the one who called the police. I'm sure Shelby knew that I knew what a wreck her life was, but I knew in my bones that for some reason I wasn't meant to be the person to help her, even though I did want to. I focused more on the children.
*********
I also had my own, much less troubling, problems to sort out. I was talking to Elsie about how I'd missed Granny Mary's funeral, which kind of put me in the dog house with my family. I was thinking about going down on July 26th weekend for my other Granny's 90th birthday party.
Elsie thought quickly, "Fly down on the 25th, and we'll be on the same plane!!"
We got Elsie's flight numbers and I booked it. Up to that point, I had flown a few times, always by myself, except for our honeymoon. Elsie and I were so excited to get to fly home together! I wrote Alan all about it, and I told him, "How cool is it that there is a girl–my age–across the street–who I like being around–whose from my home town–and whose husband is deployed too????? That does NOT just happen. That's God working. And you know, during this deployment, I've only seen Elsie get teary-eyed once, and that was the day she was here, and you called me while she was here. It wasn't jealousy or sadness or anger. It was just pure emotion because she was happy for me. It's so weird when you know EXACTLY what someone else is going through."
************
Meanwhile, I began interviewing for teaching jobs and continued my teacher classes, and I felt happy. I didn't need Ambien to go to sleep anymore.
In my letter to Alan, I explained,
"Our relationship has just put my life on such a—an unusual course, but you know what? I wouldn't trade it for anything!! Not only do I have a man who I know loves me more than anyone, but I have a life that matters. It matters. It matters to the kids next door. It matters to the kids I will one day teach. It matters to Sarah, and Cloe, and Elsie. And of course, it matters to you. Isn't that what we all want? To know that we matter? The FRG (Family Readiness Group) people are telling us not to expect y'all home until next March, though nothing is official yet. I'm choosing not to believe it because it is still up in the air. So I'm okay. For now, I'm better than okay. I'm happy. And you are still such a big part of that. Your letters–wow–your letters are a lifeline to me. Keep those bad boys coming."   Last week's chapter
Click here to read the next chapter.
SaveSave SaveSave
SaveSave
SaveSave