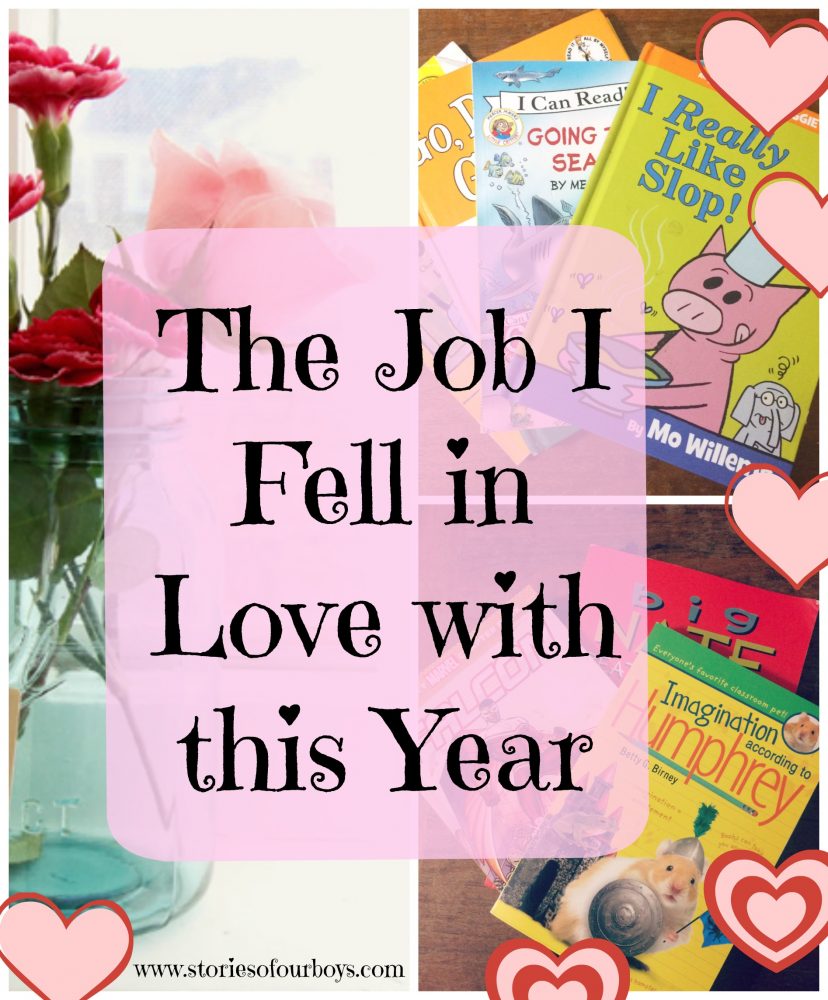 Happy Valentine's Day!
Yesterday was my volunteer day. That's the one day per week where I basically go into work like most American adults. Ha! I put on my grown-up clothes–things like trousers instead of yoga pants–and I work for someone besides my family. I mean, I'm a mom, so of course I do work everyday, but on volunteer day I do a different kind of work.
I love it. I re-shelf books at the boys' school library, and I help Mrs. Dubose with her current project. And once all that is done, I do my favorite part of all. I catalog, label, dot, stamp, and tape new books to go on our library shelves, all while being available to check out books for kids.
This is the best job I've had in ages, and I do it all for free. Volunteering or trying out different jobs has been the only way for me to figure out what I enjoy doing and what I don't.
Don't wait around for someone to ask you to do a volunteer job. Figure out what you'd like to try and go ask to do that thing.
Otherwise, I've always found that if you don't busy yourself with what you enjoy doing, other people will find work that you may NOT enjoy doing for you to do!
That's happened to me a few times too. Nursery duty, anyone?? Aughhhhh!!! Every time I've ever been given church nursery duty, I lived in dread that week of Sunday because I didn't want to do it. We all do a better job and help more people when we do what we're good at, not what we just couldn't say no to.
You may think it's ironic that I love working in the library since I wrote this post: How We Got Banned From the Library, but my inability to return things I borrow on time actually doesn't at all affect how much I love books and cataloging new ones and bringing order to shelves ransacked by tiny hands. How I love it!
I wish I could love restoring order to my house as much as I love tidying up the library. What is that? Why is it that it's more fun to do things away from home? I got nothing. I can't explain that phenomenon.
So you know what I fell in love with this year? The library. Again. It's a love I've had since childhood, though it worked so much better when I had my ever-responsible mother to make me return the books on time.
This time I'm loving being on the other side of the desk. I even have my own account at the school library now. You know why? You'll laugh–I hope. See, I checked out a book on Caleb's account, without his knowledge, and then I lost that book. I know. I still can't find it!!
Well, my boys, believe it or not, never lose books and rarely acquire fines, so when Caleb went to check out a book and discovered that he couldn't because he had a way overdue book, he was pretty upset with me…..So Mrs. Dubose did us a solid, and switched that book to my account.
That was a month ago. I still can't find that book. It won't be the first time I've bought a book that I've lost. Life will go on. The library is still a great privilege. It's still saving us money to check out most of our books rather than buying most of our books.
Remember when I was a young adult, and I tried job after job, and felt like such a flake because I couldn't find one that fit? Well, I'm 36 now, and I'm happy to report that I've found several.
Mom. Blogger. Writer. Librarian. Sunday School teacher.
I officially love all of these jobs. How blessed am I!? Sometimes you just have to give things time and trial and error, right?
How about you? Have you ever found your passion through volunteering? What jobs do you love?