Notes on Transitioning to Leading by Influence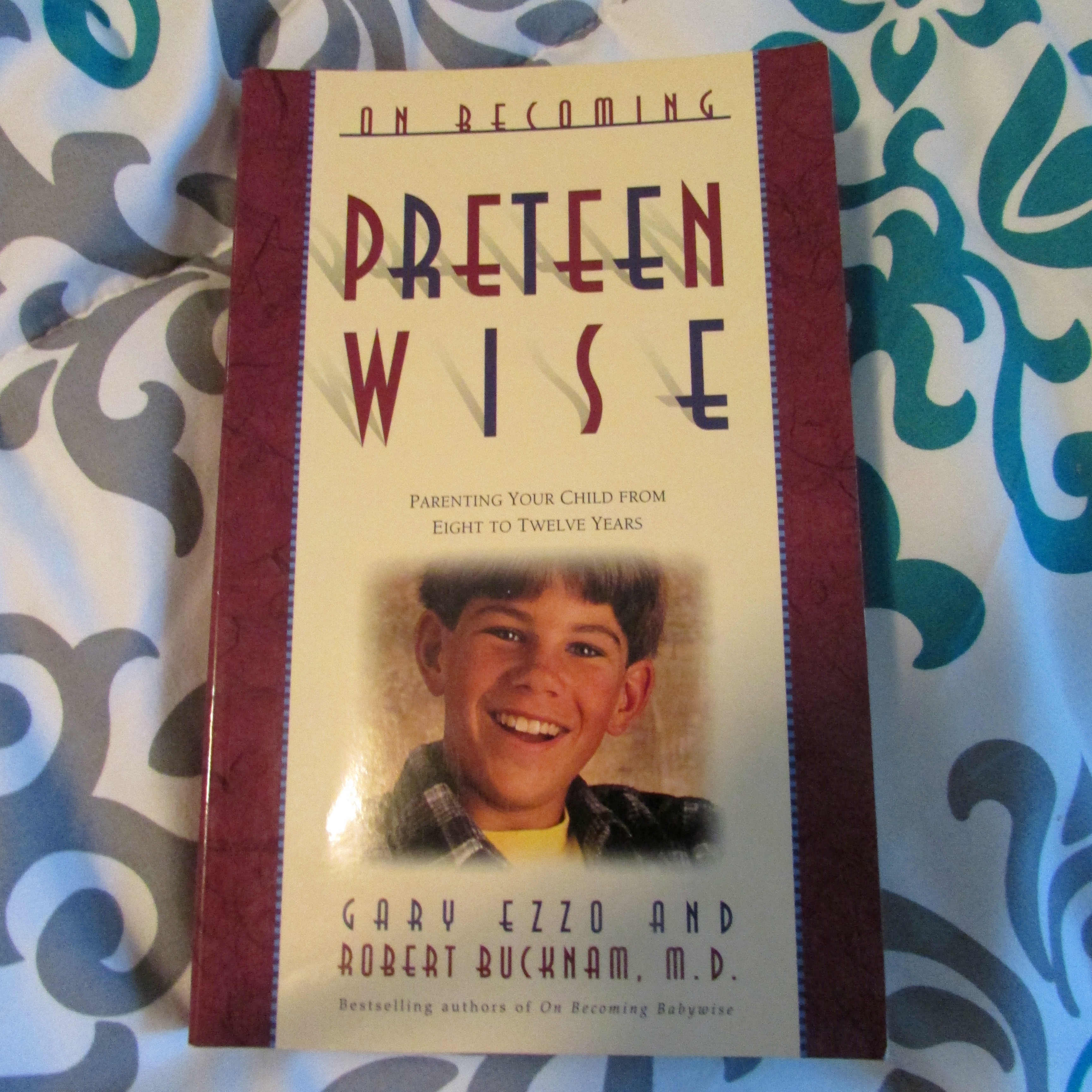 My favorite points from chapter 2 of this book:
1. The second chapter includes a quiz to help you evaluate where your child currently stands in the scheme of things, on a scale from off-course all the way up to healthy and right on track.  The quiz did give me some ideas for things to work on and reassurance for what we do right.
You'll have to buy the book for that. 😉  Here's the link to amazon. You're welcome.
http://www.amazon.com/On-Becoming-Preteen-Wise-Parenting/dp/0971453241
2. A healthy marriage makes for a healthier family.
I know this sounds obvious, but it bears repeating. A healthy marriage offers the children a feeling of security. I've seen how important this is to kids with my children. Occasionally, Caleb will even pick up my hand, put my hand in Alan's, during a church service, and then nestle in between us with a wide, wide grin on his face.
3. Don't be afraid to admit when you're wrong. No one can escape mistakes. Own up to them, even to your children.
4. Choose conflict resolution over conflict avoidance.
5. Make time for your family. "A child spells love T-I-M-E."  (p. 42)
6. Watch how you speak to your children and how they speak to you. A bossy child with a sharp tongue is a problem.
*I've taken (just this week) to making my children, when they are taking the wrong tone, repeat every word they say in a nice tone, and it has helped immensely with this.*
And now for the part I'm still figuring out: Transitioning to Parenting by Influence, from Chapter 3
This chapter begins by reassuring us that we still get to keep our authority, which is of the utmost importance. "Well, yes, absolutely," I'm thinking. You are not abandoning authority. You are just gradually using influence more.
The book also discusses finding the balance between over-using your authority or becoming too permissive, as those attitudes will deprive children of the skills they need to be healthy adolescents.
The key, according to Gary Ezzo and Robert Bucknam, M.D., is to move away from the "because I said so" sort of parenting to leading by life principles. Since these children are capable of understanding the why (and in the case of my children, desperately want to know why–), it should be explained to them as you see fit.
There was a good example story in this chapter about sharing. Instead of mandating that your child share their toys, at this age, leave it up to them. True sharing should come from the heart. If the child then decides to share, they will have joy in their good decision.
"There is no joy in doing right when the actions required are always tied to my authority."  (page 61)
My two cents:
So, you know I've been totally applying this sharing thing. I obviously don't have this influence parenting concept down pat yet. I used the "You don't have to share," bit and saw it work, and on another day it didn't work. Then on another day, I said, "No, you know what, those are the only ones in the house, and you DO have to share those with your brother. He is three, and that would just be too mean."  Joshua totally understood and shared without complaining.
I'll be looking for more ways to implement this and searching the book for more examples. Remember, this is a book review. I'm reading the book because we need help with this. I am not  saying we have it all together by any means!
I think the basic idea is: Teach the kids moral life principles.
Battle over a swimsuit?  Explain all the real reasons you think this swimsuit is a bad idea.
Battle over electronic time limits?  Explain the reasons and what research has to say about that.
Explaining what the Bible says actually works for a whole, whole lot of things. Pleasing God strikes a surprising chord with many children.
This last paragraph from chapter three is really important:
"You may feel a bit awkward as you begin the transition from authority to influence. However, this change is absolutely necessary. Understand that you will use far more of your authority with your eight-year-old than you will with your twelve-year-old. But by the end of the middle years, the authority exchange should be complete."  (p. 63)
What do ya'll think about this? I have no expertise in this area. My oldest is 8!
By the way, if you missed the review on chapter one, you can get all caught up here:  On Becoming Preteen Wise: April's Notes.
"And they brought young children to him [Jesus], that he should touch them: and his disciples rebuked those that brought them. But when Jesus saw it, he was much displeased, and said unto them, Suffer the little children to come unto me and forbid them not: for of such is the kingdom of God."     Mark 10:13-14