Will Nap Anywhere
There are many things my beautiful little boys do well. Yes, I am sorry. I said beautiful.  They are!! Handsome, if it makes you feel better, but my goodness, they look like sleeping angels to me.
This is one of the things we do with FLARE. That's right. We NAP. We are seriously great nappers. I remember one time, in Sunday school, our class was debating rest on Sundays. Who would debate that? Seriously. Don't just agree to rest, embrace it, love it, protect it. The people need their naps!!!
All children look even sweeter when they are asleep, don't you think? My blogging pal Slyvia at Tales from the Mommy Trenches had this post of  her babies sleeping on their daddy, and I thought it was SO adorable. I knew I had to copy cat, but when I went through recent photos, I found most of our pictures are of our children sleeping in the floor, soooooo…
I put together this little napping slideshow for ya. I hope you all get at least one day off a week, to just do this!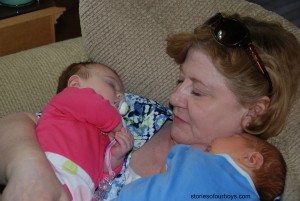 Not one sleeping babe, but two. It doesn't get any sweeter than this.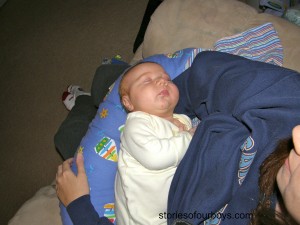 Gotta love the nursing induced coma–a powerful bedtime ritual!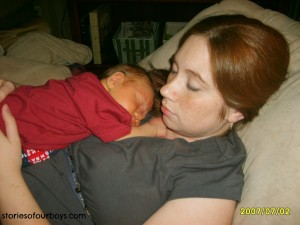 Caleb sleeping on his Mama 🙂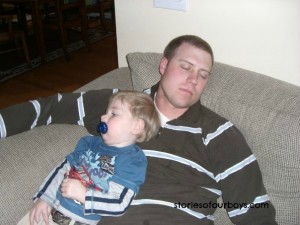 Caleb sleeping on his daddy…or wait, no, Daddy is doing the sleeping!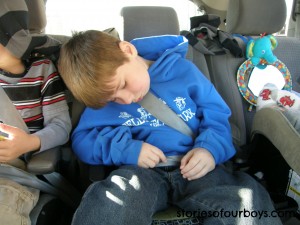 We sleep in the car.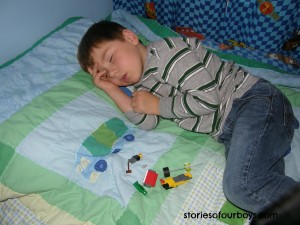 They even sleep in their beds, without us even asking them to. I used to find Caleb sleeping in Joshua's bed.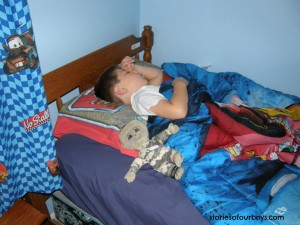 Caleb, sleeping in his own bed, with his Daddy doll, when Alan was in Afghanistan.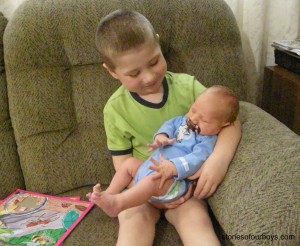 They even trust each other. That's newborn Dan, sleeping on three-and a half year-old Caleb.
 serious rump-in-the-air-sleep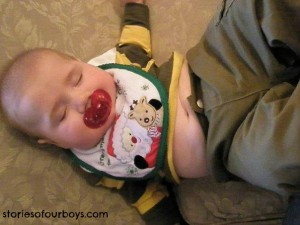 Caleb, 6 months, passed out on the couch, on Christmas day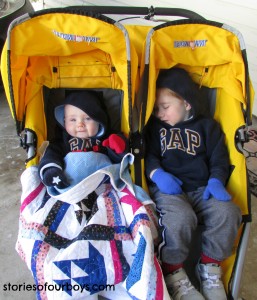 I used to have to wake Daniel up from his nap every day at 2:30, to go get the boys from school. I put his gloves and jacket on him, in his sleep, and carried him out to the stroller.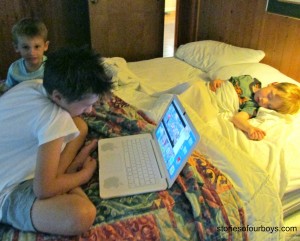 passed out in a room full of kids
I'm going to slide down and go play, wait noooo, nooo, I'm just gonna zzzzzz.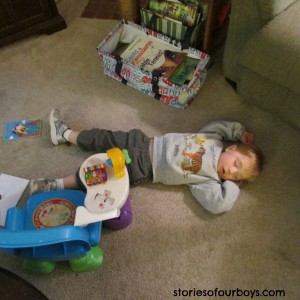 Daniel seemed to prefer dropping down and sleeping in the living room floor.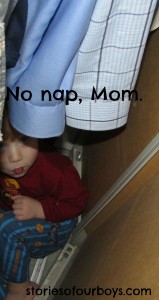 But if I said the words, "nap time," he'd run and hide in Daddy's closet.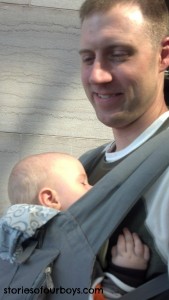 . ….ah, the ever peaceful Ergo nap.
We wish you all a restful day and a wonderful week!
"Then, because so many people were coming and going that they did not even have a chance to eat, he said to them, "Come with me by yourselves to a quiet place and get some rest."  Mark 6:31